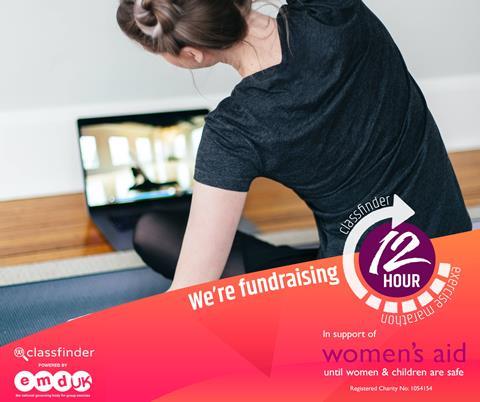 Domestic abuse deaths are three times higher during the period since lockdown when compared to the same time last year. During the first two weeks of lockdown, Women's Aid reported an increase of 41% in users visiting their Live Chat site.
To support women and children that are enduring lockdown in abusive homes, Women's Aid has extended their opening hours and online services during the current crisis. They continue to raise funds with their #SupportSurvivors appeal which will be supported through participation in this event.
Taking place between 8am-8pm, 24 qualified group fitness professionals will lead 30-minute fitness classes. There will be all-age classes with viBeatz Kidz & Teenz, Baby Beats and Darcey Bussell's DDMIX sessions, aimed at children and parents alike. The event will also have half hour slots with popular classes like Zumba, Boxercise, Clubbercise, Broga and RockBox.
There will be accessible classes, with an inclusive session from Sam James of Inclusfit and low-impact classes from Move it or Lose it, Medau and KFA. These will provide gentle exercises for beginners and those with less mobility.
Donations can be made to the JustGiving page where you will find full details of the class timetable.
Classfinder wants to make a difference to those that are suffering domestic abuse during this time by raising vital funds for the charity with the virtual marathon as well as highlighting that not everyone is safer at home during this time.
Women's Aid Federation of England is the national charity working to end domestic violence against women and children. Alongside their campaigning, training and research activities their direct support services, which include Live Chat help thousands of women and children every year.
Classfinder is the UK's largest directory of group exercise classes and aims to create a healthier nation through exercise. With over 40,000 classes nationwide, and the number growing weekly, classfinder is the go-to place for those looking to find a group exercise class. With over 2 million class views already and national campaigns such as This Girl Can signposting users to the site, classfinder is rapidly establishing itself as the definitive class search engine. A virtual fitness class search has been launched during the current virus pandemic.