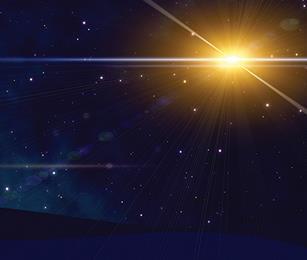 Majestic Lord, creator of the stars. You set them all in place, ordaining that one would direct the Magi to Bethlehem to welcome, and worship, your son Jesus.

May I seek Jesus with the same fervour, and worship at the feet of the one true King.

Generous God, as I fuss over what gifts to give this Christmas, help me recognise they are but a symbol of what you gave to us … the gift of heaven's best, born in the simplicity of an eastern stable that we might one day feast at the table in your kingdom.

May I accept your gift in repentance and faith, determined to make room in my heart for Jesus.

Light of the World, as the twinkle of fairy lights brighten our homes and our high streets, may they remind us that light can pierce through the darkness, brighten our way and help us see more clearly.

May I reflect your light Jesus, all year round, illuminating the path for others to find their way to you.

And in it all, receive the thanks of my grateful heart for this special time of the year, planned before time ever began.

Amen

Catherine Campbell lives with her pastor husband on the north coast of Northern Ireland. Her latest book is Journey with Me (IVP – ISBN 978 1 78359 726 0), a collection of 365 daily devotionals about waiting, walking and finding strength every day.