Pastor and prophet Preethy Kurian told Jemimah Wright the incredible story of how God called her, and how she believes revival is coming to the UK
Preethy Kurian has been called a 'joy-carrier', and her face is certainly beaming as we speak.
Throughout our chat, she laughs readily at herself and in amazement at what God has done in her life.
She is speaking from the East End of London, which has been her home for the last seventeen years with her husband Rakesh and daughter Rhema.
Originally from India, God had spoken to Preethy about England many years before she lived here, giving her a vision of the shores of the UK the day she became a Christian.'
"I was 22, and I had just given my life to Jesus a few moments before, when I heard a voice say: 'Preethy, you will see two moves of God in your lifetime.'
I saw the UK from an aerial view. The Lord showed a wave coming from the Atlantic, hitting the whole coast and washing over the country.
From the UK, it went to Europe and then spread throughout the world. The Lord said: 'You will see waves of revival.'
I didn't even know what the word 'revival' meant at the time."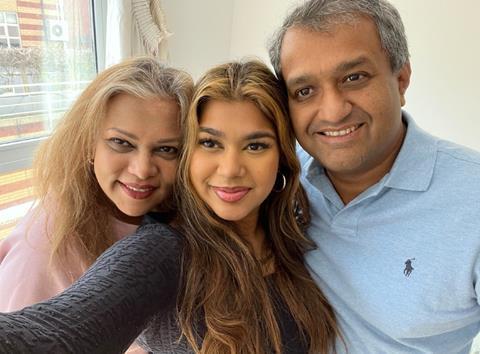 Hearing and experiencing God
Preethy did not grow up a Christian.
She was born in Kerala, India and raised in Saudi Arabia.
"My father was an architect and a non-practising Catholic. In 1986, he went to the Philippines for a heart bypass.
Something went wrong during the operation, and he died.
"Two nights before he died, I had a dream where I saw my mum and elder brother standing beside a large black box, and I knew my dad had died and was inside. A few days later, it happened exactly as I saw. So, at twelve years old, I realised there must be a God who revealed this to me, but I didn't know who he was."
The family moved back to India and, after school, Preethy went to university to study engineering.
After graduating, she got a job as an engineer.
"One day, I was at home, and I heard my mother on the phone. She was apologising for not being able to go somewhere. Unexpectedly I heard a voice say: 'Where she's not going, you go.' I turned around and said: 'Mummy, where you're not going, I'll go.'
"Mum said: 'It's a retreat.' It sounded like a holiday, so I thought: 'That's fine.'" It turned out to be a Catholic Charismatic retreat, which was starting the next day, so Preethy didn't have time to contemplate what she was getting into.
On the first day, she mentally disagreed with almost everything the preacher said. "I was irritated. And it takes a lot to get me irritated.
The next day, the preacher talked about John 14:6, where Jesus says: 'I am the way and the truth and the life.
No one comes to the Father except through me.' "I'd heard Jesus was a good man, a prophet and the son of God, but I'd never heard him described as a liar.
So I said: 'Jesus if you are the way to the Father, I want you to be my way.' "Immediately, I had a vision. I saw a massive hall packed with a sea of women dancing and rejoicing in worship. A young woman led worship; she had a guitar and thick, wavy hair.
At 12 years old, I realised there must be a God, but I didn't know who he was.
"I had never seen worship like that. I looked at this girl, and wondered who she was.
She stopped, looked at me and said to the audience: 'Now I'm going to invite my mother to come and speak.'
I realised that I was her mother. God had given me a vision of my daughter." It was then that Preethy heard God speak about waves of revival hitting England and Europe.
When Preethy was a student, she had slipped and damaged her back.
The surgeon said she'd have to have surgery if she wanted to have a child and carry it full term.
She chose not to have the surgery, but had been in constant pain ever since.
At the retreat, when Preethy got up after kneeling in worship she realised she had no back pain.
"I was completely healed. I didn't know God could heal. I hadn't even asked to be healed. I didn't know that he cared.
That was when I had a shift in my understanding and started to know him as a caring God as well as creator God.
"That night, while in bed, I unexpectedly got a new taste in my mouth. It was the sweetest taste I've ever had. I knelt on the bed.
At that moment, Somebody walked into the room, with a bright light and a sound. I knew I was in the presence of God.
I said: 'What is this, God?' "He said: 'this is a taste of what it is to follow me.'
That was when I discovered God is also a 'calling' God.
I determined then that I would follow him."
The following day Preethy woke up and felt the reality of how much of a sinner she was.
She went to the chapel and started weeping in repentance.
Over the rest of the retreat, she was counselled, delivered and filled with the Holy Spirit.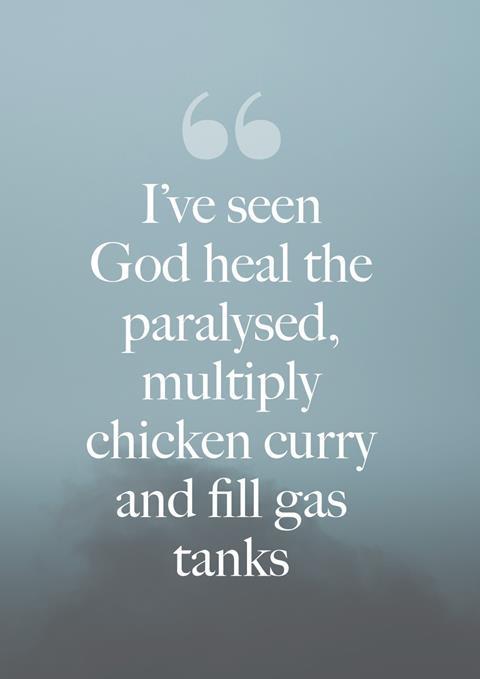 God's hand on her future
After the retreat, Preethy's family didn't want her to go to church, so she spent her time in her room, praying and reading the Bible.
After almost a year her family started to become Christians. "My mother got saved, then my brother.
He had previously converted to Islam, but now he is a pastor.
"During those initial days, God asked me to radically change my life's patterns and standards."
Preethy joined a youth group that really impacted her life.
"We were a small group of people who were on fire for the Lord.
We read the Acts of the Apostles, and we believed it.
We saw it all. I've seen God heal the paralysed, multiply chicken curry and fill gas tanks.
Whatever the need was, he did it.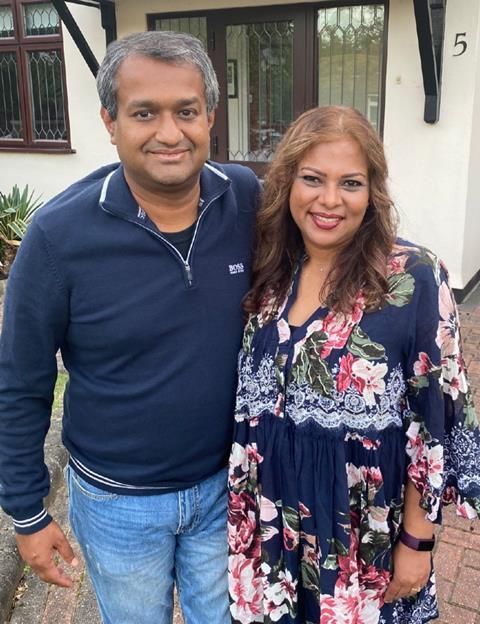 "As was usual for girls my age, I had proposals for an arranged marriage, but I wasn't interested.
One day, my mum looked sad.
When I asked why, she said: 'Because your father's passed away, there's no one to go find a groom for you.'
"In response to seeing her sad, I went upstairs to pray.
I thought God would change my mother's heart about me getting married because I was happy being single.
What actually happened was Rakesh's mother had a dream.
'She knew our family and the Lord told her about Rakesh marrying me.
"Meanwhile, Rakesh was in Dubai, and he also had a dream.
In the dream, my brother appeared, and Rakesh felt led to marry me as a result.
Rakesh called his mum and said: 'Whoever you tell me to marry, I'll marry.' That's how our marriage was organised.
My heavenly Father approached Rakesh's family to approach us!" Preethy and Rakesh married in May 2000, and then moved to Dubai.
From there they went to Abu Dhabi and then Hong Kong, as Rakesh had jobs in finance.
After being married for over a year, Preethy had a vision in which the Lord said: 'You're going to have a child; call the child Rhema.'
"The Lord told me I was having a child before a test could even recognise the pregnancy.
However, a few months in, I started bleeding, and the doctor said: 'You're not going to carry this baby full term.'
But I knew what God had said, so I held on in faith. Rhema was born in India in May 2002, perfectly healthy, and with thick, wavy hair."
I had to get over myself and the limitations I had attached to myself.
Moving to England
"In 2005, while we were living in Bahrain, the Lord asked me to ask Rakesh where he would like to live.
He said London.
A few months later, we were offered a move to England to set up a company.
"When we got to England, we would fast and pray regularly, and the Lord started speaking to us about revival.
He directed us to move to east London. We started a prayer meeting on Friday nights in 2006 and took to the streets to share the gospel.
"Even though the initial years were hard, we saw many people get saved.
We tried to plug them into local churches, but it never seemed to work.
We sought counsel and were advised to plant a church."
Years before, when Preethy was in India, the Lord had said: "When you plant a church, call it Capstone."
"So in 2009, when we were asked to plant a church, the Lord said: 'I've already given you the name.'
"In helping build God's house, I had to believe that he could use me in any role.
I had to get over myself and the limitations I had attached to myself.
A friend said to me: 'If you've been called to be a mouth, be the mouth.'
"I don't think I have yet seen the two moves of God that the Lord spoke to me about when I was 22.
We have seen God move in mighty power, but I believe there is much more to come.
"God still speaks to his people. We need to listen.
When we call, God will answer through his word, dreams and visions; whichever way will get our attention. He hears us, and he cares. That's what I've learned."