Advertisement feature
Digital apps have revolutionised the way we communicate with one another, and one pioneering company has used this technology to bring younger and older generations together – by creating a family newspaper.
Famileo works through an app that allows family members to add photos and messages. These are then formatted into a personalised newspaper that is posted out to a relative weekly, or monthly (prices start from £5.99 a month).
Since it was launched in France in 2015, Famileo has become a household name with around 200,000 family users and it regularly tops lists of the most popular Christmas presents for grandparents. And now it is available in the UK.
Georgie Davies, 29, signed up for Famileo for her grandma, Jean, 91.
Jean is, Georgie says, a 'typical grandma'. "She loves knitting and feeding you! And she's very chatty. She loves chatting to everybody. She's lovely, very gentle and caring."
Famileo offered a way to keep her family connected. The App she said couldn't be easier, even for her dad, who isn't particularly tech savvy.
"Dad has the App on his phone and can very easily take photos and upload them and put a caption up. For me and my brother, it's really easy, you get a nudge when it's time to send off the latest edition, and you can quickly add more photos. It doesn't have to be long, she gets one month, so a handful of pictures is three or four pages, and she can keep it next to her and look at it over and over again."
"We are in an age where none of us print photos anymore. For older people, that's a shame, because if they don't have Facebook or social media then they won't necessarily know what their family is up to, and this is just a really easy way of showing them."
She said it's also been a surprising way of bringing the whole family closer together.
"My brother puts more photos in Famileo than he sends to our family on WhatsApp, he puts loads on the newsletter for grandma, it's hilarious. I think, 'oh, I didn't know you were doing that!' It's just a nice way of all keeping in touch together and also with her."
Georgie's now considering Famileo for her maternal grandma, who has a much wider extended family.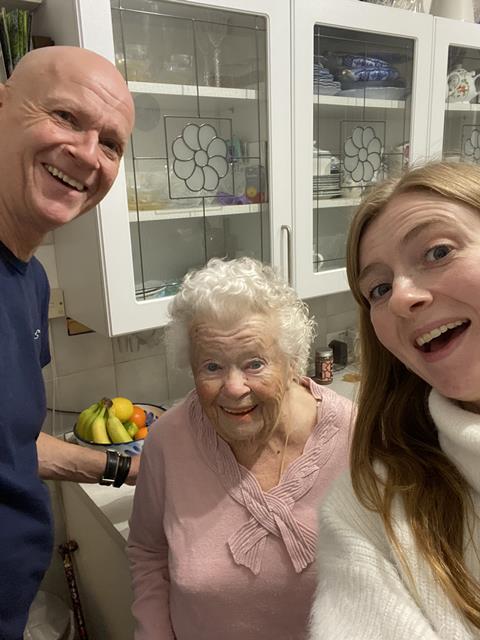 "Teenagers are all so savvy on their phones, they could easily upload a photo for grandma while they're posting it on their Instagram, so she feels included. I think it's such a good thing. I was just amazed there was nothing like it here already!"
Georgie added: "It's been brilliant. It's been a really lovely thing to do, and grandma just loves it. Even though she can't see us every couple of weeks, she gets this, and knows that we're thinking about her."
For more information visit www.famileo.com