'It's so exciting to be heading up a brand with such rich history and potential'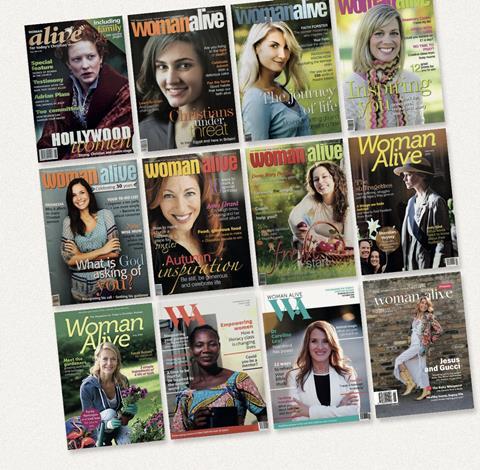 Woman Alive is 40 years old this year! We spoke to Colin Reeves, the founder of the magazine, about the early days: "In 1982 I hadn't long taken over the weekly paper, Christian Herald, from the long-standing editor who was 92 (he was in the Guinness Book of Records as the world's oldest working editor). Looking round a local newsagent I was impressed by the huge variety of women's magazines and realised that, apart from the Mothers' Union monthly, there was nothing for women of faith. We had all the studio facilities, so we recruited freelancer Gail Lawther to get it going with a big launch at the massive Filey Convention. For a short time between editors I took over the job, so Woman Alive briefly had an elderly male editor. Happy 40th birthday!"
Jackie Harris, the editor before Tola-Doll, gave us a bit more insight into the developments that happened under her 16- year editorship.
"One of the first changes I made as editor was to introduce a more in-depth Bible study. This was in response to a reader survey that had been done just before I started. Our first series – on women in the Bible – was inspired by my own frustration of reading through Genesis and struggling with the injustices facing many of the women: Sarai having to pretend she was Abram's sister, Lot willing to sacrifice his daughters to a baying crowd, the misery of Leah and Rachel because of their father's trickery and so on. Discussing my feelings with colleagues and contributors, we developed a series unpacking the stories of women in the Bible, which led to our first book, Women of the Word (BRF, 2005).
"Other changes included updating the design and content of our subscription pages and improving our offers, and introducing new features. I deliberately modelled the magazine on the mainstream women's monthly magazines, so I was constantly looking to see what subjects they were covering, how they approached them, design features and so on. There were lots of new series, new looks and a couple of new logos as we sought to keep the magazine fresh and up to date.
"Outside of the actual magazine, we developed various women's conferences. We worked first with a group called Activate, promoting ideas for friendship evangelism, then joined with a number of organisations to put on weekend conferences for women in Eastbourne and latterly we developed a popular series of women's conferences with BRF.
"My vision was always to produce a magazine that would encourage and inspire women in their faith. I wanted to give women confidence in themselves, their calling and gifting, to tackle the issues that were important to them and share ideas about how to make a difference and to connect with those around them.
"For some years people have been talking about the demise of print media, but magazines are still here! The challenge is always to stay relevant and to meet the needs of your audience.
"On one occasion we received a letter from a reader in response to an article about parenting teenagers. She said she was expecting to read about happy families who had everything together, but we had featured four families who had faced various problems – some ongoing. They were very open about what had happened and what had or was helping and that was appreciated. We never shied away from dealing with tough issues and I think readers liked that. Certainly, I always appreciated people's generosity in sharing their stories and their willingness to be honest about their struggles in order to help others who might be facing similar challenges."
Tola-Doll Fisher says, "It's so exciting to be heading up a brand with such rich history and potential and I'm so grateful for the steady baton which has been handed down to me from my predecessors. As Jackie mentioned, women have faced extreme prejudice for many years – and unfortunately, we still do. For various reasons, it seems really tough to be a Christian at the moment and it sometimes feels like women are being attacked at every corner. So my aim has been to really dig down into what it means to be a female Christian in modern life. What challenges have tech, gender fluidity, laws around maternal health and economic downturn presented to women who find themselves conflicted about how to navigate life with Jesus; in the world but not of it?
"My first year at the helm of WA took place during the pandemic so there were many challenges! But I'm so proud and encouraged by the work we've done on the magazine design and its thriving online platform [WomanAlive.co.uk]. We've been focusing on our print and digital offerings but I really believe God has so much more in store for Woman Alive and we've got some big plans to develop it next year. Watch this space!"
LIST OF WOMAN ALIVE EDITORS
Gail Lawther: 1982–1989
Melanie Symonds: 1989–1992
Catherine Butcher: 1992–1993
Elizabeth Round: 1993–1994
Elizabeth Proctor/Trundle: 1994–2003
Jackie Stead/Harris: 2003–2019
Tola-Doll Fisher: 2019–Present
Both Elizabeth Proctor and Jackie Stead changed their names during their time on the magazine. Liz Proctor became Liz Trundle when she got married and Jackie was Jackie Stead for a few years and then became Jackie Harris when she got married in 2011.