To celebrate the Woman Alive Book Club's 15th birthday, Claire Musters caught up with its founder Amy Boucher Pye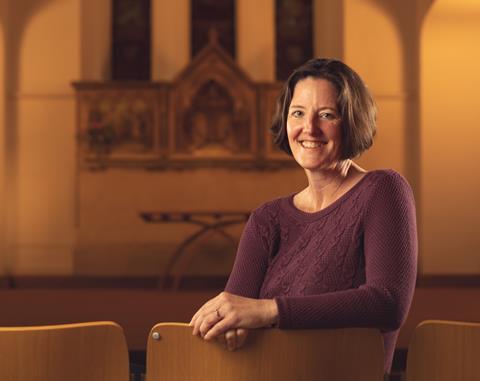 I've always loved books – I even met my husband at a book club. I've run book clubs wherever we've lived, and began this one when I was in the transition of moving from being an editor to becoming a writer. I thought it would be fun to write for Woman Alive so I pitched some ideas to Jackie Harris, the then editor. When we met up for lunch, I said: "How about a book club?" I'd noticed the idea in The Times and felt that we could make it work wonderfully in a Christian context. Ours, however, has lasted for many more years than the one in the newspaper!
Some of the authors I featured that first year include Jennifer Reese Larcombe – her book was our first – Journey into God's Heart – as well as Adrian Plass, Karen Kingsbury, Don Miller and CS Lewis. In the years following we've featured people such as Michele Guinness, Fiona Castle and Francine Rivers. I've highlighted 225 books in various categories, such as testimony, fiction, Christian living books and devotionals, including Advent and Lent books.
We had a different format at the start: I would choose a book and then write discussion questions for it. The readers would write in with their responses and then I would publish some of those a few months later. This meant, however, that we'd focus on one book for quite a long time, so after three years we streamlined the book club by getting rid of the questions and giving readers the opportunity to write in about any book that they were reading. This also helped to grow the interest and diversity. Then we added the author interviews, which has been fun. I've interviewed 136 authors, including Max Lucado, Tom Wright, Paula Gooder, Bobbie Houston, Becky Pippert, Chine McDonald and Sheridan Voysey.
Some of the books I've reviewed have stayed firmly in my memory. One long-time favourite among book club members is Francine Rivers' Redeeming Love. The book that received the most reader reviews was The Shack by WM Young. Probably the most polarised response for a book that I featured was for 90 Minutes in Heaven by Don Piper. It's fascinating what a snapshot of culture the book club has provided. For instance, sadly, some of the authors that I recommended I wouldn't now – such as Bill Hybels and Jean Vanier – as they have been discredited.
Facebook has been a wonderful venue for reader interaction. We've now hit over 2,000 members of the Facebook Woman Alive Book Club, which we started in November 2009. It's become a real community, with people regularly sharing their recommendations or asking for advice. I post a question each Friday to boost our discussions and get us ready for the weekend.
The summer reading challenge – our book bingo – has been going for three years. This idea immediately caught on, capturing people's imaginations. It's something that the book club, especially the Facebook group, gathers together around. We might not all 'win' at the bingo game but we have fun filling the squares with the books we read in the different categories.
I've been listening to more audiobooks lately, especially novels. I read most of my books on my electronic device, partly because I read so many works that aren't yet published. But when I'm reading theology or something that I want to underline and make notes in then I like a physical copy. I think our members are split on this – some engage with eBooks and audio books and others see the only 'real' books as those in a physical format.
Moving from being an editor to a writer was a long and hard process. I was overly critical about my writing and took seven years to get my first book out. Finding Myself in Britain (Authentic) wasn't even the work that I pitched to 15 different publishers and all but one said no to! I'm grateful for the wonderful publisher and editor who helped me find my voice during that writing process. My second book was The Living Cross (BRF), a Lent book on forgiveness, which I wrote while doing my MA in Christian Spirituality.
I'm so excited to have two books coming out in September. One is a Christmas-themed Advent book with my dad called Celebrating Christmas: Embracing joy through art and reflections (BRF). I'm thrilled to collaborate with my father, featuring 25 of his paintings with my corresponding reflections. The other book, which has been gestating for years, is 7 Ways to Pray: time-tested practices for encountering God, being published by the new spiritual formation imprint, Form. It's a hands-on guide to prayer, which I hope will help people to meet with God.
I wrote the book about these seven ways to pray drawing from my own personal experience, my MA, ten years of leading retreats and now spiritual direction (I have just finished a course to become a spiritual director). In the book we encounter praying with the Bible, practising the presence of God, hearing God, lament, the prayer of examen and gospel imaginative prayer. I include personal examples and share stories of amazing saints of old. But a big portion of the book is made up of prayer exercises, because I long that people will encounter God and experience his love, care and affirmation.
I'll be running an online seven-week evening course starting in September based on 7 Ways to Pray so do contact me if you are interested: amy@amyboucherpye.com
I'll also be running two in-person retreats in 2022 – at Lee Abbey, 14-18 March 2022 and Penhurst, 13-17 June 2022. You can also sign up for my monthly newsletter, which always includes a prayer practice, at my website: amyboucherpye.com – I'd love to be in contact with you!