Jemimah Wright shares her own experience of this increasingly popular pastime, and encourages us all to give it a try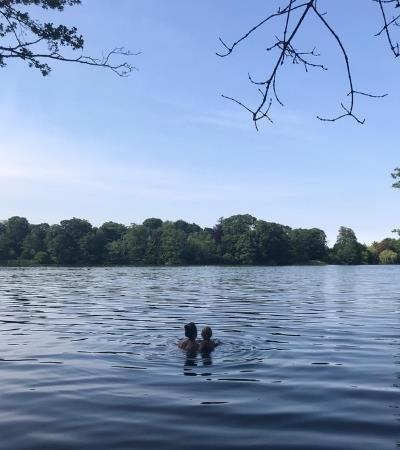 My birthday is in March. This year the day was unusually nippy, but, despite the chill factor and icy wind, to celebrate the day of my birth I joined a 'craze' that has been sweeping the UK, and went wild swimming.
The website swimming.org reported that in the last twelve months, open water swimming in England has grown. Now, 7.5m people swim outside in open water (lakes, lochs, rivers and seas) or outdoor pools.
Mental health benefits
Many thought I was mad to swim in the sea, and I can tell you I did wonder about my sanity as I stripped off to my swimsuit on a deserted beach in Norfolk. The swim, with my brave sister-in-law, was brief. When I entered the water I felt as I had been winded from the shock. But after I got out I felt wonderful. Endorphins kicked in, by body was radiating heat, and I felt alive. My sister-in-law and I were jumping up and down laughing with a kind of euphoria.
This euphoric feeling is in line with what wildswimming.co.uk says: "Cold immersion soothes muscle aches, relieves depression and boosts the immune system."
The British Medical Journal also confirmed in a recent report that wild swimming is good for mental health.
The last time I had gone wild swimming was on a hot summer's day in 2019 near Monkton Combe in Bath. With a friend, I swam down the River Avon, with tall trees overhanging on either side. It was beautiful, tranquil, ethereal. But as it was a hot summer's day, not nearly as challenging as the birthday swim!
Dips during lockdown
Hannah Housman, 40, and her two sisters started wild swimming in a local lake near her Suffolk home during the first lockdown. Hannah says:
"We began going for runs, and then my sister Lucy spearheaded the idea of jumping in the lake at the end. I wanted to challenge myself, and overcome my fear of cold water. The first time it took me ages to get my body in – I was standing thigh-high and shivering for a long time. I have subsequently learnt that it is much better to just run and jump in.
"The benefits for my self-confidence have been huge, and the buzz when you get out is amazing. We have gone about three times a week since last year. Even when it snowed and there was ice on the lake we went in…briefly!
"With the stress of lockdown, and looking after my two small children, I think wild swimming has been a significant factor in keeping me on an even keel mentally. I feel fit, and I have barely been ill this year."
It is important to note that both Hannah, her sisters and myself did not wear a wetsuit! It wasn't for want of trying on my part. As the date of my birthday was looming, I desperately scrolled through website after website to try and buy a winter wetsuit. All were sold out. It seems the wild swimming explosion has been good for the wetsuit industry.
Environmental benefits too
Amazingly, wild swimming could also be good for our environment. Environment minister, Rebecca Pow, recently said waters in the UK will now receive year-round monitoring, rather than simply monitoring during the three-month bathing season, due to the popularity of wild swimming throughout the year. This will help keep pollution levels down, which in turn benefits our wildlife.
Embracing a new adventure
If you feel that this whole blog is one long advertisement for the benefits of wild swimming…you are right. I have been won over, although I haven't been wild swimming again since the birthday dip, but I do plan to.
I made a vow to go wild swimming on my birthday every year, which could mean I will be swimming in the snow, unless I move to a warmer country, which I am seriously considering!
So let this blog be a challenge to you. If you are looking for adventure that is both free and fun, then try wild swimming – you might never look back!
Jemimah Wright is a journalist and author who writes 'real-life' features for women's magazines and shares miracle stories to encourage your faith on Instagram @Walking_As_Jesus_Walked

Jemimah Wright is Deputy Editor of Woman Alive. She has authored three biographies, and most recently is the author of the historical fiction novel Isabella's Voyage.
View full Profile