With the new women's football season kicking off today, Lorna Farrell, chaplain at Queens Park Women's Football Club, believes we each have a part to play in impacting the football world with the love of God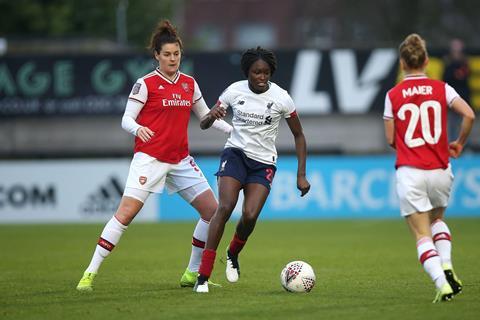 As memories of Euro 2020 final begin to fade, men's football teams are already winning and losing in style across the UK. But that's only half the story. Up and down the country, women's leagues are also looking forward to another exciting season.
Women's football has come a long way in recent years, with increasing success being seen at national and international level. I believe we should all get behind our goal-scoring girls this season. Here's why:
1. Female footballers often have it much harder than their male counterparts.
I'm ashamed to say that as a sports broadcaster 20 years ago, I was never particularly impressed by the women's game and didn't give it much coverage. Big mistake! What I have seen first hand is that not only are the girls as gifted and able technically, but they have to work twice as hard just to be given a chance! Often the women's teams have to train late at night because the clubs give preference to their men's teams, and there are still fewer professionals in the women's game. Most players come straight from work, uni or even school to train.
2. More people are supporting our women's teams than ever before.
Thankfully, more TV coverage means the crowds are slowly building, though the prize money is still totally skewed (the winner of the Women's Champions League only gets €460,000 while the men's team gets €23 million!). The people who come to watch quickly realise they are being treated to an enthralling display of guts, determination and flair that often surprises them. After all, these women can really play!
3. There are plenty of opportunities to share God's love with players and other fans.
There is strong camaraderie in the dressing room at Queens Park Women's Football Club, and I'm sure the same can be said of many other teams across the UK. As chaplain, I'm there to serve the girls off the pitch. Anything from work issues, relationship problems, new arrivals not knowing anyone in the area, to injury or being dropped from the side can affect a player's performance and it's a blessing to be able to be there for them. While evangelism isn't a direct part of my role, I have prayed with and for several players over the six years I've been involved. Everyone knows I'm a Christian and there to serve, and I think I'm also their loudest fan! Sport is a vast community and it's vital that we all impact it with the love of God, whether that's in a professional capacity or as dedicated supporters. Turn up and cheer, go as a church or join a team yourself. The beautiful game is being played by some truly amazing women, and they need your support!
The Women's Super League kicks off on 3 September.
Image: TGSPHOTO / Alamy Stock Photo - Jennifer Beattie of Arsenal and Rinsola Babajide of Liverpool during Arsenal Women vs Liverpool Women, Barclays FA Women's Super League Football at Me - Image ID: 2ABHKM6