Carolyn Castleberry Hux shares the story behind her book, Women at Halftime
For many women, 'halftime' begins with the realisation that what was most significant in the first half of their lives is no longer enough or is not even there anymore.
Did your life and world revolve around raising children, and now you are an empty nester asking: "What now?" Perhaps you are at the end of a successful career, or you are in a ministry position that no longer fits your giftings, passions and calling on your life.
Some of us may be struggling with a significant and foundational relationship that has been taken from us or has ended. Perhaps something happened in your life, and you feel as if life (and even God) is finished with you.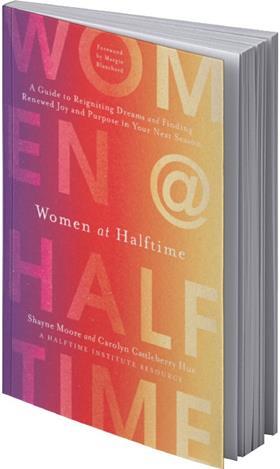 Changing our futures
The book I wrote with Shayne Moore came from the needs of more than 100 women who took part in surveys, participated in women's advisory calls, and shared their stories via interviews and writings.
The idea of turning your dream button back on became an unplanned topic of conversation in a Halftime Institute programme called Fellows, in which a cohort meets four times a year face-to-face, along with one-on-one coaching throughout the year.
During a mid-year retreat, female clients pulled me aside because they were concerned with how Halftime was serving and helping women. In their observations, because the Halftime curriculum was initially developed from a book written to men, even after all these years, the overall current curriculum was still male-centric and did not fully speak to women.
They were specifically concerned with how the language framed this midlife transition from a decidedly male perspective.
The typical halftime story for men didn't fit their reality as women at halftime. So, the proverbial floodgates opened when we asked women to share their halftime stories. Dozens of women drafted their stories or were interviewed by us.
Many more women sent in their thoughts anonymously, shared emotions, broken dreams, new dreams, hope and inspiration. Going together on this journey has the power to change our collective future.
In this book, God has spoken clearly. He wants women to be encouraged with a message of hope. After years of coaching, I realised that this pivotal conversation echoed a common complaint: the 'Success to Significance' model does not reflect women's lives.
This saying even offends many women, because they believe the sacrifices for their children have been the most significant thing they have done or will ever do. In truth, many highly educated and capable women, in choosing sacrifice and significance, turned their personal dreamers off to empower their husbands, children's and others' dreams.
The need to shift the paradigm, resonate and minister to women also caught the attention of the Halftime Institute leadership, and they commissioned a survey to explore how to serve women better.
Feeling like life was over
We listened to women tell the truth about their lives, being guided by the Holy Spirit throughout the entire process. But we also had our own halftime struggles to draw on.
For me, the life I had so carefully planned, cared for and cultivated ended when my marriage of more than two decades did. I felt utterly alone. I had seen it coming for years, just as my children were getting ready to leave the nest.
My goal was to hold it together until the kids were safely away at college so they would not have to deal with the reality of a broken family in person, at home, every day. I thought they wouldn't feel it as deeply if they couldn't see the ending. I was wrong.
One day, as I lay prostrate on my bedroom floor, I gave God an earful. Like so many women, I had sacrificed my career to work as a hybrid mum, staying at home and working flexibly, building my life around my children's schedules.
But now my marriage of 24 years was over, my children had flown the nest and God was not acting as if he cared about my life. I was approaching my 50s, and the world was telling me it did not want me either.
Haunting me was the internal mantra: "Is my life over? What purpose do I still have? Are my best years behind me?" Bracing myself for an uncertain future, I prayed: "Finish what you started in me, God. Your love is eternal—don't quit on me now."
And he didn't!
Needing a new purpose
Shayne's story is written throughout the book and begins with these intense feelings: "I am a cliché. A girl interrupted. A traumatic event disrupted my life, relationships, and career, and I cannot get past it.
For years I have been searching for – something. A job? But not just any job. In the past, I was an author, a speaker, an advocate, and an educator. I travelled as a writer reporting on what life is like for women and girls living in unthinkable economic and domestic circumstances to work for change for women and girls globally. I want that meaning back in my life. I need purpose.
Something I can be all-in on that is far removed from this painful season and anything outside of the four walls of my house and my now-grown children's lives.
"These past years have brought intense darkness. I was abandoned by lifelong friends in an hour of need. I was treated poorly in a professional environment by Christian women I trusted deeply yet betrayed and attacked me.
I was quite literally the person lying on the road on the way to Jericho in desperate need, wounded, bloodied, and bleeding while friends, family, colleagues, and faith leaders, walked around me and over me without mercy. Where was my good Samaritan?"
Shayne's husband had founded the Halftime Institute and signed himself up when he was looking for his next thing. As Shayne puts it: "He found his next thing before he did any of the coaching sessions and after years of listening to me complain, whine, and cry about how I have no life, he donated his sessions to me.
I reluctantly agreed to try coaching because I was so tired of feeling the way I was feeling. I stalled and I had no idea what to do. I had gotten nothing but 'no' down every path. I prayed, cried, and begged God to use me again."
God certainly answered her prayer!

Carolyn Castleberry Hux is a former journalist and cohost of Living the Life on ABC Family Channel. She found her second-half calling coaching women in Halftime and teams in national security for transformational change. Carolyn is a Gallup Certified Strengths Coach, Genos Emotional Intelligence Practitioner, and the author of several positive change books, including It's About Time! (Howard Books). Women at Halftime (Tyndale Momentum) will be available from September.
View full Profile