Here is a taster of a new book full of reflections, carols, poems and prayers for the festive season!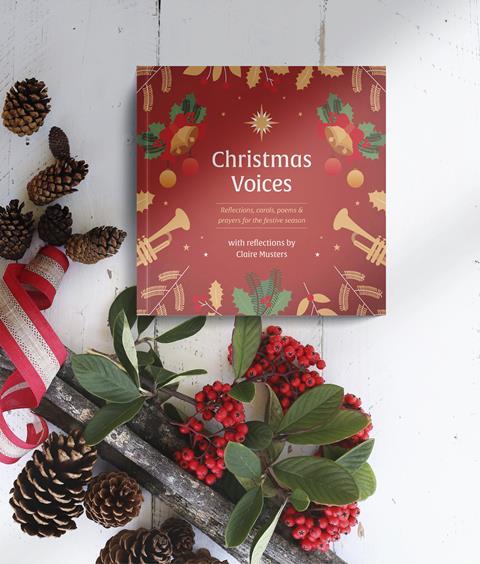 Whether you pick it up at the beginning of Advent or read it over Christmas itself, Christmas Voices offers a series of precious moments to reflect and rest in God's presence. The five sections of the book contain reflections that explore God's promises, the theme of preparation and making ready, and then a powerful trio of gifts: joy, peace and love. Each day, a Bible passage with a reflection written by Woman Alive book club host Claire Musters, is followed by a hymn, carol, poem or prayer selected by a well-known Christian who has explained why it is special to them.
Here we share some of the 'voices' featured in this book who have – or have had – a connection with Premier or Woman Alive.
I love this carol, with its clear proclamation of truth and its call to action. I was thrilled when my fellow journalists at the Eastbourne Herald sang it enthusiastically each Christmas, putting the emphasis on the 'herald' while unwittingly declaring 'God and sinners reconciled'! I rejoice at its subliminal prophetic expectation that one day people 'from every nation, tribe, people and language' will stand before the throne and before the Lamb and cry out: 'Salvation belongs to our God' (Revelation 7:9–10). Maranatha – come, Lord Jesus.
Chosen hymn: 'Hark! The herald angels sing'
Catherine Butcher, author, journalist and communications consultant. She has edited a number of magazines, including Woman Alive
I must admit that when it comes to Christmas carols, I can quite quickly go into autopilot mode once the season rolls in to start singing them. A while ago, I took it upon myself to really pay attention to the lyrics, and year upon year, I'm always struck by these words from 'Hark! The herald angels sing':
Mild he lays his glory by,
born that man no more may die, born to raise the sons of earth, born to give them second birth.
How powerful. What a Saviour!
Naomi Aidoo is a coach and founder of Time & Pace®, helping people with big goals and little time. She is also Director of Digital & Wellbeing for education company Innerscope.
You know that old saying, 'If you want something done well, do it yourself'? Well, this carol is proof that real perfection comes with teamwork. When the great Charles Wesley wrote this carol in 1739, the first line was 'Hark how all the welkin rings'. He knew 'welkin' meant the vaults of heaven, but no one else did, so his ministry colleague George Whitefield tactfully changed that first line to 'Hark! The herald angels sing'. Then, 40 years later, when Tate and Brady brought out their new hymnbook, they decided that this carol would be even better with the addition of the chorus that we all now know and love. And Wesley had stipulated that this carol needed stately sombre music – with exactly the same determination as, a century later, Mendelssohn insisted that the melody he wrote to mark the invention of the printing press should never be partnered with sacred words. So, both men would have turned in their graves to know that, 15 years after that, William Cummings, a young English organist, picked up those words and that melody, and created one of the most perfect and best-loved carols of all! Teamwork won through in the end – and I can just imagine God smiling at the blessing it's given us all.
Pam Rhodes is the familiar face of BBC TV's Songs of Praise, presenting programmes from tiny country churches to huge outside broadcasts, with interviews ranging from Pope John Paul II to Dolly Parton!
Chosen hymn: 'O holy night'
'O holy night' is like the little black dress of Christmas carols! The melody is classy, chic, yet powerful in the message it sends. There is no need for vocal acrobatics with 'O holy night'; it simply requires being sung from the heart. And the line 'Fall on your knees' just says it all: a king is born and a weary world can rejoice and fall on its knees at the hope this news brings.
Esther Kuku, director of communications and engagement at the Resuscitation Council UK and a radio presenter for Premier Gospel.
'O holy night' is the one you will hear me singing most days in the run-up to Christmas. It's not just that this is a beautifully composed carol, but it speaks of social justice as part of God's great rescue mission:
Truly he taught us to love one another;
his law is love and his gospel is peace.
Chains shall he break, for the slave is our brother,
and in his name all oppression shall cease.
This is the God we serve, and for me, it should be sung all year round.
Charmaine Noble-McLean, director of content for Premier having presented a variety of radio programmes and worked in television as an arts/entertainment correspondent.
God the promise keeper
Reflection on Isaiah 9:6–7
Christmas reminds us that God keeps his promises. His plan may not have been what we would have chosen – sending Jesus as a helpless baby. And yet this passage in Isaiah, so often read at Christmas carol services, quickly reveals the significance of this baby boy. He was to bring forth a new government, one of peace, wonder and might, which will last forever and be accompanied by justice and righteousness. Of course, this came through a 'might' that people were not expecting – the ultimate sacrifice – and we are still to see the complete fulfilment of this prophecy. But it gives us a hope to cling to; that he can take the broken parts of our lives and hold us in them – and still bring about his goodness. Even in those moments when the darkness seems to be overtaking the world (or us as individuals), we can choose to remember the promise that he is reigning and he will have the last word.
We can be so full of activity in the run-up to the Christmas period – but for all the hours of preparation it is over so quickly. While many of us may enjoy gatherings around glorious feasts, I am aware that for others Christmas brings the sting of loneliness into ever sharper focus. This passage reminds us that we have a promise of something – someone – far greater than even this season; someone who is everlasting, and full of zeal for us and for his promises to us.
Prayer: I thank you, Jesus, for the vulnerability and humility you showed when you came to earth as a baby – and I believe you will fulfil all that this prophecy says. Amen.
Claire Musters is an author, speaker and editor and host of the Woman Alive Book Club.
Christmas Voices (BRF) is available now from all good bookshops and can also be purchased online at Premier Christian Marketplace: premierchristianmarketplace.co.uk

Claire Musters is a writer, speaker and editor. Her recent books include Grace-Filled Marriage and Every Day Insights: Disappointment and Loss. Claire is also the host of the Woman Alive book club and blogs at clairemusters.com
View full Profile