Potiphar's Wife by Mesu Andrews (Waterbrook Press, 978-0593193761)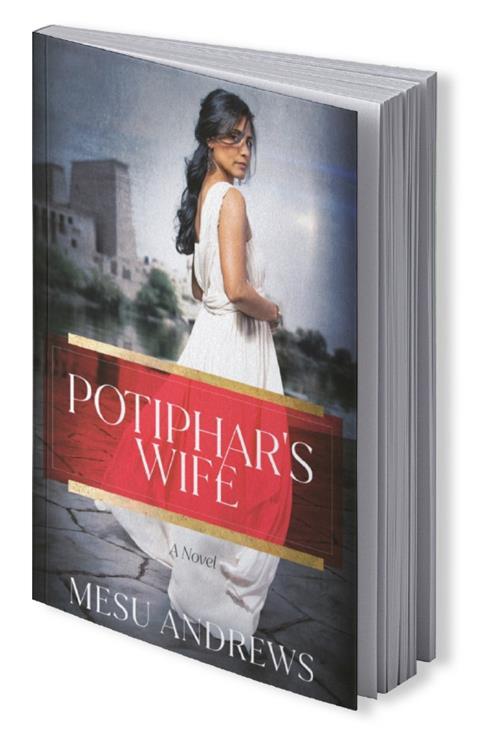 When I heard about Mesu's latest book, the title alone fascinated me and drew me in. We only have a few short lines in scripture about Potiphar's wife (see Genesis 39) and they don't show her in a very good light either. So I was keen to ask Mesu about her choice of main character…
Why did you choose to focus on a character that we know so little about?
In 2019, I felt a nudge to write about Joseph's life and used three words as the guiding themes for the women who inspired his formation: Chosen, Chained and Champion. Leah personified a woman who God chose though her husband Jacob didn't.
Potiphar's wife was as chained in a bad marriage as Joseph was bound in slavery. And Asenath was the champion of Gentile converts, whose sons gained a place among Israel's original twelve tribes.
The most interesting biblical women are often hidden in the shadows of well-known biblical men. If they're important enough to be mentioned in God's permanent truth of scripture, maybe we should explore their story!
Where did the inspiration for having her as a princess from Crete come from?
In both the Quran and The Legends of the Jews, Potiphar's wife is given the name Zuleika, and is from the land of Cush (Ethiopia). I was deeply concerned that even a historically based characterisation of a dark-skinned woman shed in such negative light would further current racial tensions.
When I placed Joseph's sojourn in the Hyksos period – and research confirmed a significant Minoan presence in the Delta – I had enough historical proof to make my fictional character believable as a princess from Crete.
How did you go about your research for this book?
I read until my eyeballs almost fell out! I have to immerse myself in the world to feel like I live there, to become those people so I can build their world on the page (try to, at least!). Each era in the Bible is different and each location unique.
I'd already done lots of research on Egypt for my previous series, Treasures of the Nile, but that was 500 years after the Hyksos and a very different culture.
Potiphar's Wife is my twelfth biblical novel. I love research. It's my favorite part of the writing process. So, I've learned how to catalogue and maintain my research (using Microsoft OneNote).
After assessing many academic resources, I decide which single source I'll use for dating my story and then stick with that one for the timeline on everything. Then I remind myself I'm writing fiction, not a thesis, and breathe a sigh of relief.
Do you feel that you gleaned new insight about Joseph looking at his story through the lens of a different character?
Sooooo much! I never considered Potiphar's wife's pain – what might have caused her to act and react toward Joseph the way she did. I hadn't considered that she might have been just as much a 'slave' as he was. I also never thought about how different Joseph's reactions were or the likelihood that he was actually tempted.
While researching rabbinic literature and commentary on the passage, they were adamant that Joseph's temptation was much like Adam and Eve's temptation in the Garden. He. Was. Tempted.
As I read and re-read the account in Genesis 39, Joseph had very brave words to explain why he wouldn't sleep with Potiphar's wife on the many occasions he resisted. But on the day he got close enough for her to keep his cloak, he simply fled. No words.
Being tempted wasn't a sin. Jesus was tempted but never sinned. Examining this story through Zuleika's (Zully's) eyes gave me grace for myself and others when temptations come – and that somehow makes the temptation easier to resist.
Mesu Andrews on: The books that have changed my life
Redeeming Love by Francine Rivers
It was the first Christian fiction title I ever read and still one of my favorites. I loved the idea that Francine could take a biblical story and adapt it to a prairie romance.
The Red Tent by Anita Diamant
It was shocking to me (sensual and biblically inaccurate) but also fascinating in the depth of its historical research. Ms Diamant revealed the ancient world of rabbinic literature – the treasure trove of Midrash, Haggadah and Talmud – which is where I find much of my subplot material.
Gods and Kings: Book #1 Chronicles of the Kings by Lynn Austin
In this series about Ahaz, Hezekiah and Manasseh, Lynn proved a Christian author could remain absolutely true to God's word, effectively capture the passion of Jewish literature, and weave the two together with mesmerising fiction.
I went directly to Francine River's Mark of the Lion series and Angie Hunt's Legacies of the Ancient River after. They were the only biblical fiction available in the Christian market back in the early 2000s!

Claire Musters is a writer, speaker and editor. Her recent books include Grace-Filled Marriage and Every Day Insights: Disappointment and Loss. Claire is also the host of the Woman Alive book club and blogs at clairemusters.com
View full Profile