Signs & Wonders in everyday life. Your stories of God's intervention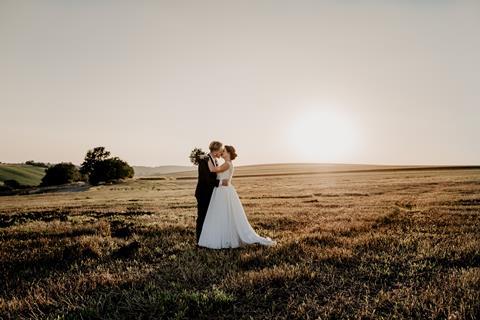 No rain on my wedding day
My husband and I didn't have much of a budget for our 2021 wedding, so we decided against a marquee, hoping the weather would be OK as it was July. However, about a week before the wedding there were warnings for big storms over our wedding weekend. We didn't want to be inside wearing masks, so we decided to go for it, regardless of the weather, and told people to bring umbrellas. All the while, my mum was praying for no rain, and believing we would be rain-free. I was riding off her faith, but lots of people were pressuring us to have a Plan B. Mum just said: "No, it is not going to rain, we will be fine."
It came to the morning of the wedding, we heard reports of terrible rain nearby, and people were sending pictures of the lanes being flooded. However on the farm where the wedding was the sky above us was clear. We overlooked an amazing Devon vista, and there was a wall of dark cloud surrounding us, but it was sunny over our entire ceremony. It turned out it was raining everywhere else, but it did not touch us until midnight, when the ceremony and party were over. Then the heavens opened! It was really amazing to see God's faithfulness and graciousness over our wedding day, and it touched so many of our friends who don't know him yet.
Debs, by email
God's provision of cars
My husband and I are emigrating to New Zealand where he has a new job. At the start of our moving journey I was just going about my day when a voice in my head said: "Write down all the doors I open for you." There have been many! This is the door of transport, so I am writing it down. Four months ago our check engine light came on our car. Concerned, we took it to a mechanic who told us the stream of endless, expensive problems our VW Golf was facing. It would cost way more to fix the car than what the car was worth. He said to me: "Ride it till it dies, but make sure you only do very short trips to make it last longer, then sell it for parts."
I then drove around with a constant fear that I could break down, or get back to my car and it wouldn't start. We only had five months until we were leaving for New Zealand so we wanted to try to make it last, always praying for safety. However, a week ago our car died in its sleep in our garage. We only had five weeks left till our departure date so we started thinking about alternatives. On a whim I decided to put up a post on Facebook that said: "Our car has been living on its last fumes for a few months now and has finally given its last hurrah. Putting this out there in case anyone is feeling incredibly generous and has a spare car lying around that we could use till we leave?"
Within an hour a friend of mine - who was a good friend to me 20 years ago and I have only seen a handful of times since and didn't even know followed me on Facebook - messaged me, with an offer of his car for three weeks. The very next day we got an Uber and picked up his lovely car. We were thrilled! We had plans to do preparation shopping and would never have been able to take the haul of goods we bought that day in an Uber.
But, the story of provision does not end there. We have been stressing about landing in New Zealand and dropping £5,000 on a car in the first month of getting there. My husband knows three people in New Zealand, I know absolutely no one. One of the families he knows lives in Auckland. We are going to Wellington. The daughter's parents, who are also my husband's friends, happens to be out in New Zealand on a visit at the moment.
We had already planned that after we arrive and recover from jet lag, to fly up to Auckland to visit them before the parents leave. Well, one morning last week we woke up to an email from these said parents, offering us their Suzuki Swift for as long as we need it.
As my husband read the email to me the tears started to flow – the sheer relief, the overwhelming gratitude, the shock that this could even be real. How could God provide for us like this, down to the very thing that was my responsibility and stressing me out so much? This door is open! We will walk through. Thank you God!
Wendy, via email
God uses TV to comfort us
My husband and I are currently travelling around the Philippines, taking some time out of London life and busy jobs. It's been such a blessing to have uninterrupted time with one another, especially when so much of life is dictated by office hours and hospital shifts. However, unfortunately we have been quite unwell for part of our travels. On one slightly self-pitying morning lying in bed (after having reeled off all the good things about England we miss) we switched on the TV to find there was a programme about Limpsfield, Surrey – the very village I grew up in and we got married in!
It was so surreal but a small taste of home when we were feeling so unwell and homesick. I really believe it is God's gracious goodness that we have such silver linings in among pain or trials. We are now very much on the mend, but being ill abroad does make you lean into God. You have to trust he knows your next steps. I learned that whatever I'm going through, there's always something to thank God for. Keep looking for the 'grace' linings from him!
Beth, via email
Cushions from God
I moved to South Africa to work for a mission organisation in January this year. I moved into a garden flat, and had a limited budget to furnish it. I went shopping and saw two lovely green cushions. I had been debating whether I could even justify spending money on cushions and decided maybe just the nicer one was an option. But then I saw the green ones, which were a little cheaper, but still, items I hadn't budgeted for. I felt a Holy Spirit type nudge say: 'Those are for you' so I picked them up. When I got to the counter with the cushions and a hand towel, the guy scanned the cushions and then exclaimed: "EH??!!"
He got his colleague to check, and, sure enough, one had come up as £0 and the other had come up as 32p!! The teller joked: 'Where did you find these? Are there more for me?" Turns out they were 'buy one get one free' but had also been reduced to 32p. Best 32p I ever spent, and such an encouragement that God cares about the details in my life!
Helena, by email
What's your story?
Testimonies are an important way of encouraging each other in faith and we'd love to hear your personal experiences of God, whether that's a miracle story or Jesus standing with you in the storm.
Email us: womanalive@premier.org.uk
Please include your first name with your correspondence – but do let us know if you want to share anonymously. Entries may be edited for length and clarity.