Award-winning singer Rachel Walker Mason reflects on the huge success of the online talent show she created during lockdown in order to raise funds for a mental health charity.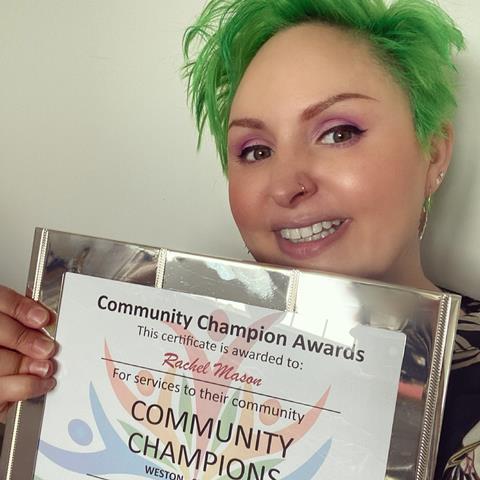 In April 2020 I created an online international arts festival called Unlock Your Talent in order to raise much-needed funds for local charity Vine Counselling Services. Vine are a charity who provide affordable counselling for people in need who cannot pay for the full cost themselves. Their services were more in demand than ever during lockdown, as increasing numbers of people began to struggle with their mental health. Vine saved my life 13 years ago when I went through a very difficult time, so I'm always keen to support them and raise funds for them whenever I can.
The birth of an idea
Pre-lockdown I was a busy musician, working with lots of Grammy winners, winning awards, teaching singing, running choirs and my artist management business. My children were then aged one and two so, as my work was put on hold during lockdown, I was at home with them. I was up one night with my one year old and was thinking about how much Vine Counselling Services were struggling for funds and it was then that I came up with the idea for Unlock Your Talent.
Lockdown felt like the right time to run the festival as it was so important to support the charity while they were struggling but also to give hope to people in such a dark time.
I called on my celebrity contacts to help judge the festival and was overwhelmed with support, resulting in 50 judges across 15 different categories ranging from dance, drama, painting, make-up, singing and songwriting through to short films. The judges included my friends from the West End casts of Hamilton, Wicked, Hairspray, winner of The Voice Ruti, musical director of Pitch Perfect Deke Sharon and Strictly Come Dancing professional dancer Karen Hauer.
To enter the contest people had to pay a fee, which went directly to Vine Counselling Services. The judges and I didn't take a penny for ourselves and we were delighted to raise thousands of pounds, lots of support for the charity and the spirits of all who took part. We had so much support from the press and gained many celebrity fans including Gaby Roslin, Aled Jones, Michelle Visage and even the Duchess of Cambridge.
A great springboard
The talent show proved uplifting and positive for the entrants but also for the judges, many of whom were unable to work as theatres were closed and they were feeling anxious about the future.
We had a tremendous response from people all over the world who entered the festival. In every category we had an over and under 18s section and in some categories an under 10s section too.
There were so many incredible entries that choosing the winners was really difficult! Many of the winners have been so encouraged by their win they have gone on to achieve even more. The winner of the under 18s creative writing category has had her book published, the winner of the songwriting category has becoming a recording artist and in the dance category one of the runners up has been selected to join Irish National Ballet and another has danced with Giovanni Pernice from Strictly Come Dancing, winning The People's Strictly.
After the success of Unlock Your Talent the charity asked if I would consider being their patron, which I was absolutely honoured to accept. And earlier this year I was surprised to be told that I had won a Lockdown Community Champion award for my work creating the festival and supporting the charity.
Rachel Walker Mason is a multi-award-winning musician, and known as one of the most talented songwriters in the industry, having won Album of The Year 2020 and a huge array of awards for songs she has written for other artists. Rachel is also the only British musician to be inducted into the Indie Music Hall Of Fame.
View full Profile