Advertisement feature
Michelle Lloyd is an Evangelist-in-Training, that is, she is on a journey to becoming a commissioned Evangelist for Church Army. CA's training is three-years of practical mission training alongside learning theology. She is also the Pioneer Evangelist at Church Army's Cross Hands Centre of Mission, also known as Impact 242. Cross Hands is a small town in south-west Wales.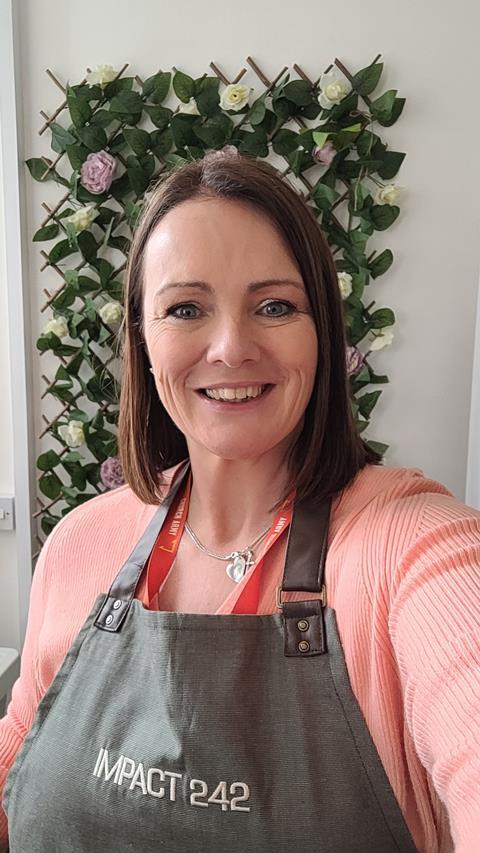 Church Army's Centres of Mission are missional hotspots where they partner with a diocese to identify the most pressing needs of an area. They then commit to working with local churches and other organisations to be a transforming presence in those areas as one, or often two, evangelists move there to live and work with communities and individuals in need.
From Michelle:
I am 45 married with three children. I grew up in a village called Trimsaran, which is 6 miles outside Llanelli in South Wales. My first marriage broke down and I ended up being a single mum with three and six year old children.
A few years later I met Andrew my now husband of 16 years, who I had met previously when we were 17 then parted ways. I believe God brought us back together. He is my soul mate.
Not long after joining Church Army I lost my mum to cancer. In my evangelistic role I meet people with some heart-breaking stories and who are dealing with some difficult situations. I can empathise with them in the heartbreak they feel and I'm able to share how Jesus brings hope, peace, and joy.
Recently I prayed for a mum, at her bedside, just before she died. I had become friends with her when she started bringing her two sons to a toddler group and Messy Church. She had gone through a painful time with her partner who had custody of her boys.
She saw them during supervised session that I was asked to be part of. She would let me pray with her about her struggles and the heartbreak of not having her boys with her all the time. In this small town in south-west Wales there was no-one in her life to give her love and support. Sadly, when lockdown happened it became less possible to see her.
She had been secretly drinking which eventually caused her organs to fail. She spent two weeks in the ICU during which I supported her mum and friends who had travelled down from England. This was a very sad time but I knew that Jesus was walking with me and gave me the words to pray for her soul and helped me through a time of sadness, right up to praying by her bedside before she died.
Often it is through practical and helpful actions that we find out about the heartache people are experiencing.
Through delivering food parcels to families on the local estate, God guided me to two different people, both mums who were both going through the trauma of having recently given birth to still-born babies.
Through my own loss I've been able to walk with them in their grief. Neither of these mums had a faith background but they knew that my role was an evangelist, that I was a Christian and after spending time listening to their stories, both were happy for me to pray for them. I was able to share my faith in Jesus with them and empathise with the heartache they were feeling.
Through encounters like these God has held me strong and surrounded me with a blanket of love from my Church Army family, friends, and my church family. This is same love and support I want others to experience in the community I am serving.
You can find out more about the Cross Hands Centre of Mission and more stories of evangelists like Michelle by visiting www.churcharmy.org