Ingvild Snow shares her insights after the devastating earthquake in Haiti and suggests ways we can make a lasting difference for the Haitian people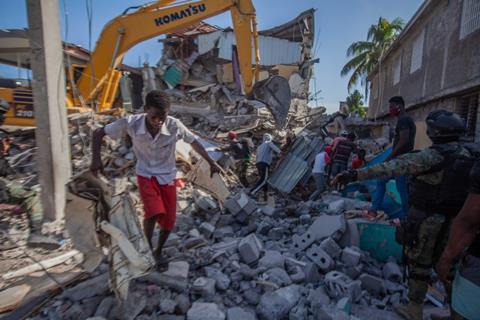 As of Thursday 19 August, five days after the 7.2-magnitude earthquake in Haiti, it is reported that 2,198 people have died and nearly 12,000 have been injured, with hundreds still missing. These numbers are expected to rise. The earthquake has destroyed an estimated 7,000 homes, damaged 12,000 and left 30,000 people homeless. Schools, offices and churches are also badly damaged.
Tropical Storm Grace has compounded survivors' misery, with many sleeping in the streets and in fields, afraid to seek shelter other than under a tent as further tremors were felt on Wednesday. The storm has also complicated and delayed rescue efforts. According to Unicef, roughly 1.2 million people, including 540,000 children have been impacted.
There are so many dynamics to add to the devastation, as Haiti is the poorest country in the Western Hemisphere. From natural disasters to civil wars, violence and unrest, extreme poverty and the brutal assassination of the president just recently, hope is hard to find. Yet this is where mothers are trying to raise their children. Their reality is a daily struggle for survival.
How can we help?
Pray
Pray for a nation stooped in voodoo, corruption and poverty. After the 2010 earthquake, which left more than 200,000 dead, many turned their hearts to God, and a day of prayer and repentance took place across the country. They know who to turn to in a crisis. Did it result in an awakening? Changed lives? We have yet to see a lasting impact, but I know our God heard their cries. The devil does not let go so easily. He might have won many battles over the years on this tiny island nation, but we know the One who wins the war. So we continue to contend for liberty, for breakthrough; for a turning away from the worship of idols once and for all.
We see great promise in the next generation, the youth of Haiti who, because of mobile phones and easy access to the internet, know there is another world out there that is different from theirs. We pray they will ask themselves the right questions and seek answers in the right places. We show the ones he sends us the true freedom found in Christ, and we have seen lasting change and hope for a different Haiti. Pray for strength for the Christian believers and that hope will rise above discouragement.
Give
If you are able and feel led to give funds, give wisely, strategically and prayerfully to organisations or people you personally know. Corruption and fraudulent activity is prevalent. I've seen the good, the bad and the ugly within non-profit organisations and even within the local Church. The government is not to be trusted; as a matter of fact, it's non-existent at the moment. Give to the small operations that will be there to pick up the pieces long after the initial rescue efforts are over and the humanitarian organisations have left.
It is on-the-ground Christians and Christian organisations, whose focus is on the eternal, that will make the biggest impact; who will address issues of the soul and point people to lasting hope. And they will be there to help rebuild weeks, months and years from now. They will get personal with individuals and families and rebuild from the inside out, with faith and dignity.
Ingvild is a founder of YWAM Saint Marc and has been faithfully serving in Haiti for more than 30 years.
Photo credit: Richard Pierrin/Xinhua/Alamy Les Cayes, Haiti. 15th Aug, 2021. People remove debris after an earthquake, in Les Cayes, Haiti, on Aug. 15, 2021 - Image ID: 2GE29XR

Ingvild is a founder of YWAM Saint Marc and has been faithfully serving in Haiti for more than 30 years.
View full Profile