As we celebrate National Poetry Day, poet Liz Carter explains how reading and writing poetry has helped her in the darkest moments of her chronic illness. She also shares a poem written especially for today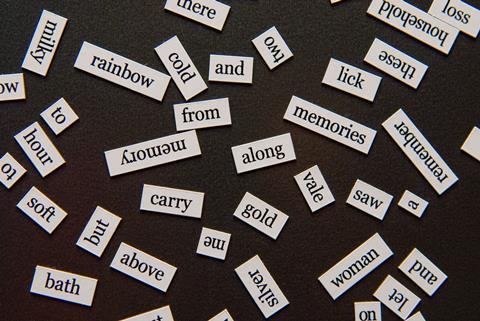 Have you ever been in a situation where you can't find words? Perhaps you want to comfort someone, but no words seem to help. Perhaps you long to express your deepest thoughts, but words can seem empty and trite, and you are left frustrated.
Sometimes I pray and there are no words. My mind is scrambled up with all the words in the world, but I cannot speak them out coherently.
Today we celebrate the ability to craft words as art, to pour out emotions in a swirl of letters, to move and inspire others. Very early on in my life I realised that I loved poetry: I loved the flow and cadence, the gentle waves of rhythm and rhyme, the way I felt when I danced among daffodils along with Wordsworth, and delighted in the mischief of those Practical Cats along with Eliot.
Healing words
Growing up with chronic illness, I soon came to realise that poetry spoke into my pain, too, and somehow took me away for a time as I became absorbed in words that healed and restored. I have always found the poetry of the Psalms so immersive and real, with writers who also found themselves in difficulties and darkness splurging their pain onto a page and finding their eyes lifted up to God as they did so.
I discovered a love for writing poetry, as well, and found that as I allowed the words that were locked inside to spill out on the page, I was soothed. There's something profoundly healing about poetry, and I'd encourage everyone to give it a go – you don't need to be a poet, or even a writer. You don't have to stick to any kind of poetic form or verse – the great thing about poetry is the freedom to play with words, to explore the far reaches of your mind and heart.
Poetry has been a help for me in my darkest times, especially when I've been in pain – physically or mentally. There's a poetic verse of scripture that speaks to me in times like this, when words seem hollow and futile:
"the Spirit helps us in our weakness; for we do not know how to pray as we ought, but that very Spirit intercedes with sighs too deep for words" (Romans 8:25-26, NRSV).
Sometimes it can be incredibly cathartic to let go of the words, knowing that the Spirit intercedes for us in a way that transcends words. Sometimes, when we are steeped in struggle, surrendering the need to find words can be healing. And I've so often found that it's in these times that I can allow even deeper words to pour out, expressing the things below surface level, the things we find it too hard to say, the things the Spirit groans for us and with us.
A poem for National Poetry Day
Sometimes words
are not enough
when we are frozen and
days are too tough
when laughter has faded and
life leaves us jaded and
words must carry us
through time's aching caverns.
Groans too deep for words
interceding;
for us.
Sometimes words
dance with life and
sparkle like rivers with joy and
wide-open skies
where ribbons of light
shatter dark nights
where anthems of day
resound in our pain.
Eternity's poetry streaming through history
interceding;
for us.
Words about worlds and worlds about words
skipping through ages and surging in twirls
of uncontainable hope
through life's trembling flow.

Liz Carter is an author and poet who writes about finding hope in the pain and messiness of life. She lives with long term chronic illness and her books Catching Contentment and Treasure in Dark Places are available in bookshops and online.
View full Profile