This Baby Loss Awareness Week, Christian writer Vicki Whent shares how she faced the heartbreak of losing nine babies.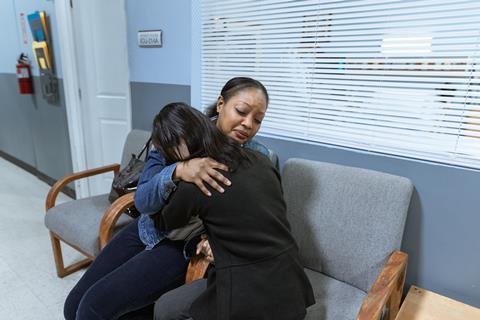 Today, I named nine of my children. It was not an easy task. Despite the challenges of choosing the perfect name for each of them, I faced the far bigger hurdle of believing that I should even name them at all. My nine babies died. Not in my arms or some awful accident. They died in my womb. Somewhere between six and twelve weeks old. My eldest would be 34 years old now, my youngest 15.
Until recently I've never allowed myself to think about them as real babies that I would name. In my mind they were just lost pregnancies. At the time I mourned each loss. Friends offered supportive words. Comments such as "at least it was very early" and "I'm sure you'll soon be pregnant again" left me with a sense that although upsetting, these pregnancies were just a blip on the road to finally having a baby.
My mourning was silent, dare I say, guilty... Guilty because I felt immense pressure to believe that it "wasn't really a baby".
After my third miscarriage I stopped telling people. My mourning was silent, dare I say, guilty. Not guilty because I felt I had caused them, although I analysed every cup of coffee, every exercise class, every stressful day at work. Guilty because I felt immense pressure to believe that it "wasn't really a baby". Guilty because I think my feelings of loss left people uncomfortable and so the response was: "Keep trying, I'm sure you'll get pregnant again". I felt I should push down the pain and loss and instead look forward, forgetting to acknowledge where I was at that moment, mourning the loss of a baby. I was left wondering, was it a person at all, should I mourn? The talk was of the loss of a pregnancy, not a baby. So, the very thought of giving "it" a name never even occurred to me.
My search for answers led me to the Lord and I was pregnant on the day of my baptism. I wondered, could it all be so perfect? The pregnancy ended a few days later. My faith in God led me to face an experience that I had buried deep. My first pregnancy. I was 19 and in my first year at university. I didn't want to be pregnant. That word again. Pregnant. My brain didn't or couldn't think of it as a baby. A pregnancy was something completely different. Within two weeks it was over, and I was no longer pregnant. I told no-one but my family, even to this day.
I graduated with honours and four years later met my future husband. We were soon married and excited to start a family. We had no idea it would be a mountain to climb. As the miscarriages continued, I felt powerless and isolated. No one talked about miscarriage, so we hid our pain and socialised little. After six miscarriages, our first son was born. We were overjoyed. Three years, three months and two more miscarriages later, our second son was born. Soon the miscarriages were in the past. Life was good.
Parenting challenges, coupled with the years of miscarriages, took their toll and, feeling as though we were hanging on by a thread, we attended couples counselling. I was surprised when the therapist suggested I seek individual counselling, to explore emotions and feelings around the miscarriages.
My babies were real, they were alive in heaven, and I would be with them one day.
I agreed and soon felt hidden painful emotions emerge in the gentle space the counsellor created. Slowly, I acknowledged each baby. The world was focused on pregnancies, I was focused on pregnancies, the thought that each of them was a baby, albeit barely formed and minute, was a revelation. As the acknowledgement sunk in, my emotional floodgates opened and the decades of grief, pain and loss flowed out of me. It rocked me to my core. I felt light bursting through me, illuminating my very core, seeking out those dark recesses in my body where dark emotions and thoughts had hidden themselves.
My babies were real, they were alive in heaven, and I would be with them one day. They weren't just pregnancies, they lived. The counsellor discussed with me the possibility of naming all our babies, just as we had the two son's we were raising. The very thought felt like a dream. Could I really do that? I decided that I could, and I would like to share them with you. This article is in memory of them all: Joseph, Isabella, Austin, Florence, Jeremy, Elizabeth (Libbie), Louis, Peter, and Ernest (named after my father).

Vicki Whent is a freelance writer and editor as well as a specialist ASD/ADHD coach, mentor and trainer. Vicki juggles her passion for her work and travel, with raising two energetic teenage sons with her husband Simon in Hertfordshire. 'Trust in the Lord with all your heart, and do not lean on your own understanding' Philippians 4:13 is the Bible passage that Vicki endeavours to live by every day of her busy, and often hectic, life.
View full Profile