Author of Starved, Amy Seiffert offers her tips for tackling potentially volatile political conversations while keeping God at the centre.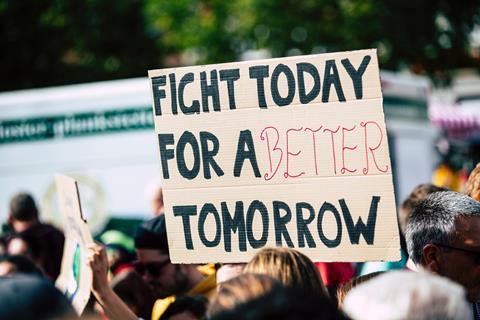 The very word itself conjures up feelings of division, lies, and deceit. Add a pandemic and racial unrest? We have a recipe for the divisive political landscape in our culture today. So how do we do this? How do we move toward one another in a world starved for healthy and loving political conversations? How do we, as Christians who may have differing political views, tackle politics in a godly way? I humbly offer three ideas:
Commit to compassionately listening and learning
Can you imagine a world in which each person sought not to be right, but to listen and learn from others? A world in which we sought to hear and not just be heard? It would be a beautiful place! When we enter into any conversation—political or not—with an intention to listen, we wear the clothes Paul has called us to wear: "Put on then, as God's chosen ones, holy and beloved, compassionate hearts, kindness, humility, meekness, and patience, bearing with one another and, if one has a complaint against another, forgiving each other; as the Lord has forgiven you, so you also must forgive" (Colossians 3:12-13, ESV).
When we seek to compassionately listen, we put ourselves in the other person's shoes and see the world through their eyes. Chances are someone has a personal story connected to their political stance. Honor that experience. Ask questions with compassionate curiosity. Use phrases like these: "Tell me more about what you just said." "I haven't thought of it that way before." "Help me understand that more." If the first way God described Himself to Moses was compassionate (see Exodus 34:6), then we can't go wrong leading a conversation like him.
Win a friend, not an argument
Remember the enemy is the enemy, not the person you are talking to. Satan, the father of lies himself, loves division, lies, and deceit. Especially when it comes to Christ-followers engaging in politics. The enemy would love nothing more than to keep us divided, angry, and hostile toward one another. But Jesus told us all the commandments can be summed up in two foundational ones: love God and love one another (see Matthew 22:40). And love doesn't try to win arguments. Love doesn't boast. Love doesn't get prideful. Love isn't self-seeking or easily angered. (See 1 Corinthians 13.) Love lays down its life for another, including its need to be right. Even when love disagrees, love still loves. Winning a friend means you see the person in front of you as an image-bearer of the Most High God and you honor their dignity, value, and worth. You do not need to defend God, and His kingdom is not in danger. The win is human connection, not tally marks in our scorebook.
Remember you are a Christian first, a citizen of this world, second
American Zachary Wagner writes, "As Christians, we have renounced our citizenship to this nation in favor of our citizenship in God's kingdom (Philippians 3:20). This means that I have more in common with a Christian woman in Nigeria with whom I am bonded by the blood of Christ than I have in common with my co-citizens of the United States."* I have been guilty of putting my hope in the next political leader to fix our problems and change our lives. But only the true King can bring real redemption and lasting change into our lives. I am a citizen of heaven, bringing the Kingdom of Heaven here on earth. He is the King who reigns on the throne of grace (see Hebrews 4:16), whose foundation is righteousness and justice (see Psalm 89:14), and whose court is supreme.
May these three tips help us bring life into political conversations and nourishment into our neighborhoods and communities.
You can buy Amy Seiffert's book Grace Looks Amazing on You here.