Following the news that the prime minister's mother has passed away, Claire Musters reflects on her own experience of losing her mum and urges us all to do better at talking about grief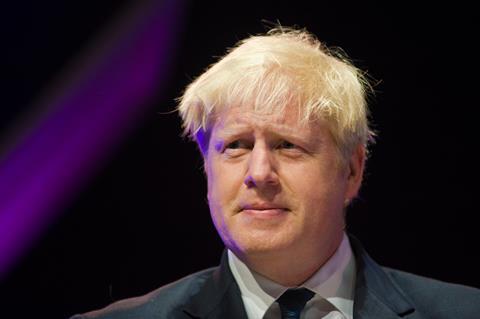 When I learned that Prime Minister Boris Johnson's mother died yesterday my immediate thought was: "I hope that he gets the space he needs to grieve." And then I turned that thought into a prayer.
You see, I have recent experience of knowing what it feels like to lose a parent – to have that "supreme authority" figure, as Johnson described his mother, no longer around. My own mum passed away just before the pandemic. I was incredibly close to her. She had many chronic illnesses, and taught me so much about resilient faith in the face of suffering.
Too busy to grieve
It was just a few weeks after my mum died that we first heard of coronavirus. And, due to complications with her death certificate, her funeral happened in the first week of lockdown. It was the decisions from Johnson's government that meant we could have just ten in attendance, rather than the full list she had put together herself.
Even as we were preparing for the funeral, my husband and I were also planning for our church to move online (he is our pastor, I head up our worship team). For many weeks afterwards, our church was streamed from the studio in our back garden, with all of the family involved in the service in some capacity.
I spent my time trying to find ways to ensure people in our church felt connected to one another, as well as juggling a job that suddenly got busier due to COVID and video calling my dad every evening. I would spend every hour of the day and evening busy, and wonder why I wasn't feeling the depth of grief my sister was. I was just too busy.
And then, around five months in, I hit burnout. I couldn't go on, and had to pull back from a lot of what I was involved in. Once I slowed down, the grief hit like a tornado.
Holding space for one another
I know that in our culture we are uncomfortable talking about death, and rarely discuss our grieving process. Having experienced what it is like to watch a loved one die up close, and also knowing how many of us have been touched by grief in the last 18 months, I am convinced that we need to do better as a society – and in our churches – at being honest about the process.
Too many of us 'deal' with grief by stuffing it down and getting on with life. But there is a cost to doing so, as unprocessed grief can affect our physical as well as mental health. Having just seen an announcement that Johnson has revealed his plans for tackling COVID during the winter, I am worried that his role simply won't give him opportunity to grieve well. Whatever you think of his leadership and his politics, he is a fellow human being who has just lost his mother. He needs those around him to ensure he has space when he needs it, but I am concerned that won't happen.
I know that messages of condolences have been pouring in from Johnson's colleagues – those messages will soon dry up, but his loss will remain with him. It is important that we all stay aware of the ongoing effect grief has on someone. Why not join me in praying for our prime minister in his grief, as well as lifting those you know in your community and church who have lost a loved one in this season?
Image: Jeff Morgan 16 / Alamy Stock Photo

Claire Musters is a writer, speaker and editor. Her recent books include Grace-Filled Marriage and Every Day Insights: Disappointment and Loss. Claire is also the host of the Woman Alive book club and blogs at clairemusters.com
View full Profile