Hope Virgo lifts the lid on the spiralling costs for those trying to get help for mental health issues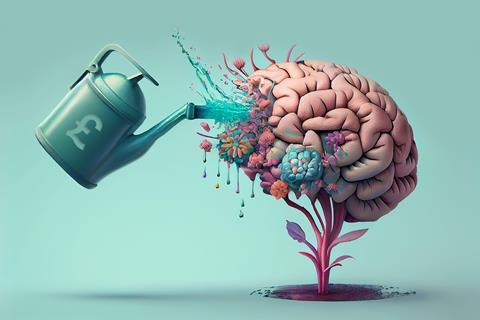 "I was diagnosed with bulimia in 2012. I waited twelve months for NHS therapy and rapidly deteriorated while waiting. I did receive 20 sessions of CBT, which helped, but at my four-week follow-up after finishing our sessions, the therapist expressed a lot of concern that I was slipping back into old habits. But there was nothing she could offer – she told me I would need my GP to refer me back to eating disorder services and wait my turn again."
Meet Emma, who is in recovery from bulimia and ended up paying thousands of pounds for support because she couldn't get treatment on the NHS.
Emma's story isn't unique in the current situation. It's also not the fault of the NHS, but part of a much wider problem. Services are all massively overstretched.
After another referral, Emma managed on her own until 2016. But unfortunately she began to relapse, so decided that she couldn't wait any longer and ended up having private therapy. She comments: "I honestly believe that without the help of my private therapist, I would be stuck in the hamster wheel of relapsing. The 20 sessions offered by the NHS are not enough for people like myself. Both times I was discharged when I clearly needed more help. Many people cannot afford private therapy – what are they supposed to do? I dread to think what my life would look like without my therapist. But with an illness as severe as bulimia, it shouldn't be left to patients to find and fund their own care."
The rising costs of mental ill-health
In my own recovery journey, in 2016 I was also turned away from NHS treatment for not being thin enough. I was then quoted £1,500 by a private therapist to "get me better" with 'just' 18 therapy sessions. This is not a unique experience or in fact isolated to only a few places in the country, it happens everywhere. In fact, for decades it has been the case that support for all types of mental illnesses can feel impossible to get.
It shouldn't be left to patients to find and fund their own care
A report written by Dr Agnes Ayton, Professor Gerome Breen and I, which can be viewed at 'The Cost of Eating Disorders in the UK 2019 and 2020', calculated that the cost of eating disorders on the UK in 2020 was a staggering £9.4 billion. When we break this down, we see huge costs across society from the loss of productivity (£4.8 billion), to healthcare costs (£1.7 billion), and carers costs (£1.1 billion). A study done by the Mental Health Foundation in 2022 (The Economic Case for Investing in the Prevention of Mental Health Conditions in the UK) highlighted that mental health problems cost the UK economy at least £117.9 billion annually. Aside from all these staggering figures we often forget the emotional cost on sufferers too – the extra worries and fears of what they will do if they can't provide for themselves because the cost of therapy is too steep.
Remembering God is bigger
Luke found himself in a similar situation to Emma. He was diagnosed with other specified food or eating disorders (OSFED). The thoughts around food completely consumed him. He felt completely trapped in his illness but, as he wasn't underweight, there was nothing that the NHS could do for him. Luke told me: "it helps to be reminded that I can anchor my life on something far greater, far more capable of receiving and making me feel loved, something that is shared and experienced by billions that can help to take me out of my inner catastrophising thought process, which is very self-oriented and makes the biggest mountains out of molehills."
Reminding ourselves that God is bigger than all our struggles is definitely key and, while that can be hard to do at times, the more we focus on him, the more we will find ourselves doing it as a habit is formed. But, despite knowing this, Luke admitted that he still finds it hard sometimes to fully trust God and to turn to him in prayer during these times. I can relate to that struggle too.
Cutting back working hours to reduce stress
Sam Sayer, a mother of two, lives with bipolar disorder. She told me that: "In terms of economic costs, it took me longer to get my degree because I became unwell halfway through and had to take over a year out to recover. Thankfully my parents were able to help out a bit financially, but it was pretty tricky which added to the stress. I was able to claim benefits but was renting in London, which was expensive.
"In my 20s I lived with a sense of being left behind as my peers were moving on with their lives but I was struggling to keep things going. As I looked around my friendship group, it looked like everyone else was pretty stable and I very much felt like a freak because of the instability I was experiencing. I noticed that some friends became less consistent in my life, as they were unable to deal with what was happening to me.
"Since I had my children I have worked part time and actually I don't think I could manage the stress of full-time working and the juggling that goes on with parenting and looking after a house. My husband earns a decent wage, which means that I can work part time. In order to manage my bipolar I need to minimise stress where possible. This isn't always easy but working less outside the home gives me the freedom that I need."
Experiencing God's practical care
If God is a God of love, and he provides for all our needs, why is support so hard to come by? The current situation isn't right, and must break his heart. Surely we should all be taking action, petitioning the government for more funding to help those with mental health issues, standing up for injustices and reaching out to ensure those in our own community feel less alone?
So, how do so many manage to keep their faith and trust through the bleakest times? It is precisely Sam's faith that has helped her through her own, ongoing struggles: "Throughout all the difficulties, I can honestly say that God has never let me down. There have been very many deep, dark stretches where life has become extremely difficult but I have recovered. It's exhausting to have to be vigilant with my moods, but I do know that I am wonderfully and fearfully made.
Friends who have stuck by me in the rough times were Jesus to me when I felt numb
"There are a handful of friends who have stuck by me in the rough times over many years and they were Jesus to me when I felt numb and desperate to feel alive again. A hug or a word of prayer got me through to the next moment or the next day. I genuinely think that without the love and support of family and friends I may have ended my life. I know that God has been able to use me to help others as a result of my experiences."
If you have experienced any of the issues discussed in this article and need support please do reach out to the confidential Premier Helpline on 0300 111 0101, 9am to 5pm Monday to Friday.

Hope Virgo is an author and multi-award-winning mental health campaigner for people with eating disorders. Through her talks, Hope helps young people and employers (including schools, hospitals and businesses) deal with the rising tide of mental health issues. She has published three books including bestseller Stand Tall, Little Girl: Facing up to anorexia (Trigger Publishing), documenting her own eating disorder journey. Hope's third book, You Are Free (Even if you don't feel like it) (SPCK) tackles issues around mental health and faith. In 2018, Hope launched #DumpTheScales, calling on the government to stop using BMI as the primary measure to determine whether someone with an eating disorder qualifies for NHS support.
View full Profile