Funmi Adewara is the founder and CEO of Mobihealth. Here she describes her journey to starting the multi-award-winning digital healthcare provider, which is saving lives in the global south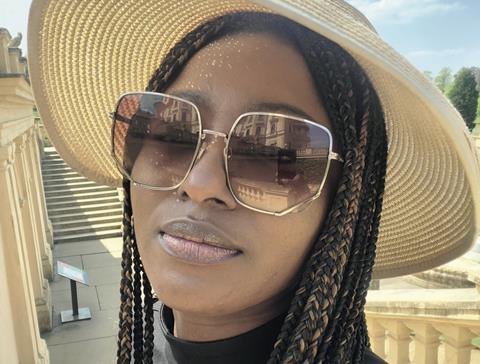 Words by Jane Knoop
When I was a child I experienced a severe injury to my hand, resulting in multiple surgeries. I became a frequent face at the hospital and I was forced, so young, to confront the distressing reality of healthcare in my home country of Nigeria. The hospitals were overrun and doctors were scarce. I later wondered how many more lives could be saved if medical expertise was more accessible. I vowed then that I would become a doctor and do what I could to help change this desperately sad, repetitive narrative of healthcare across Africa.
From the start my dreams were big. Ellen Johnson Sirleaf, the first female president of Liberia and a true inspiration of mine, said this: "The size of your dreams must always exceed your current capacity to achieve them. If your dreams do not scare you, they are not big enough." For Sirleaf the odds were stacked against her, and the same was true for me. I was from a working-class background, the first in my family to attend university and a woman launching out into the male-dominated world of medicine, and then business.
Undeterred by my limitations, I set out to train as a physician and later as a bioscience entrepreneur at Cambridge University. I went on to work in clinical medicine, the pharmaceutical industry and business development. Only God could have made this possible. I dreamt, and he made a way. But God's dreams are even bigger than my own. In 2009 at a church in the UK, a female pastor approached me and shared an astounding prophesy over my life. She said: "God is going to use you for something great in the biomedical world. What God does through you will be acknowledged on a global scale." I would later know this was for Mobihealth. I was surprised and humbled that God would favour me, but in the years that followed I lost sight of the magnitude of God's dream for me. I exchanged the dream of God's kingdom for a worldly dream, and I'm not even sure how it happened. The devil has a way of catching you unawares.
The size of your dreams must always exceed your current capacity to achieve them.
In 2011 I married a successful politician come businessman, and laboured with him to build a multimillion- dollar asset portfolio. I knew what it meant to 'live the dream' in the eyes of the world; from living in a single room B&B, to living in luxury. I wanted for nothing; with a maid and a cook to tend to my needs, nannies to assist me with my children, and a driver to take me where I willed. Life was so comfortable. Yet I felt a real emptiness. Where was God? I wanted the fire back. The fire you feel when you first encounter Christ and want to shout his name from the rooftops. So my prayer became this: "God, I want more of you. This is not the life I wanted or the dream that you placed on my heart."
God heard my prayer and opened my eyes to the bondage I was living in and the brokenness of my marriage. I was so ready to forgive. I wanted to fight for my marriage for the sake of my children, but the wounds were deep. I was left abandoned, with my bank account emptied and two young children to care for. I was in a very vulnerable position, made worse by experiencing the tragedy of a painful miscarriage. Shattered by the circumstances, there was only one place I could run. I was drawn to my knees in prayer; alone, confused and stretched to my limits. But I trusted that God would draw close and that I would see his goodness again in this life. And I did.
It can be a challenge sometimes to ensure that God is central when it comes to our business affairs. But he must be.
This was the worst period in my life, and this is the time God chose to start Mobihealth. Surely he isaGodwhousesusinthe midst of our weakness and brokenness. Six months after the collapse of my marriage and life as I had known it, I felt the gentle tap of the Spirit of God. He whispered that it was time to stop crying for what had been; he had a new dream for me and my children. The name Mobihealth came to me and that night I bought the domain name for a website. I knew this came from God – he confirmed my passion with his peace – and what followed was a flood of ideas, events, connections and miraculous coincidences. A mere three months later and Mobihealth was up and running, providing accessible digital healthcare to underprivileged communities in Nigeria.
It's OK to be ambitious as Christians – Christ was ambitious! But there is a very thin line between healthy ambition and narcissism. We must constantly ask God to increase as we decrease, keeping our eyes fixed on the purpose of our calling – to see him glorified. I was at my weakest when Mobihealth was born, and it is now a multi- award-winning digital health service, operating in Nigeria, the UK and expanding into other African countries. This could only have been God. His glory is the focus of all my ambition. I remember when I received a World Bank award in 2020. I was surrounded by incredible women whose initiatives have made a significant impact. And yet from among the 2,400 my name was one of seven that was singled out. How was I among them? I am an ordinary woman, with a simple dream from God. I know it is only because of his grace that I have been able to make a difference in this world. It is God's success, not mine.
Of course, there are challenges. But who said this journey would ever be easy? There are times when the devil tempts me; situations when I am put under pressure to compromise my beliefs and integrity; moments when I doubt myself. But I keep God at the centre: it is he who keeps me humble; he who gives me courage to stand up for what is right and fight for justice rather than worldly gain; and he who enables me to constantly dream bigger than my current capabilities. And he does not disappoint.
I see in the UK that there is a tendency to separate the spiritual and the secular. It can be a challenge sometimes to ensure that God is central when it comes to our business affairs. But he must be. Everything about me is woven around my faith. He is the inspiration and motivation for all I do. If you have dreams, chase them. The devil will make you feel inferior, but fix your eyes on Christ and you will know that anything is possible.