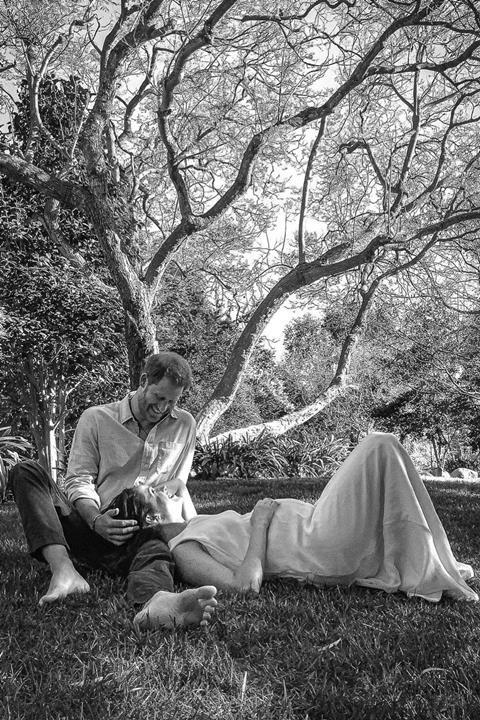 I have to admit that, almost a year into the coronavirus pandemic, I have become accustomed to reading and reporting on bad news day after day. There are some days that I am desensitised to it all, and there other days it hits home. However, occasionally there are moments that allow you to escape it all and focus on stories that make your heart smile. The Duke and Duchess of Sussex announcing that they're expecting their second child was definitely one of those moments and true to the concept of the domino effect, I proudly shared the news of their announcement to my nearest and dearest!
Why was I so excited about this announcement that doesn't affect me in the slightest? Here are three reasons...
The Timing
Harry and Meghan decided to announce the pregnancy on Valentine's Day, a fitting tribute to the memory of Princess Diana who also announced she was pregnant with Harry on Valentine's Day in 1984. Many people were already prepared for the "love is in the air" mood and seeing this announcement, for me, was just another reason to celebrate love on Valentine's Day. What a wonderful way for the royals to remind the world that despite that the intense challenges they faced as couple over the past few years, their love is still going strong, and dare I say it? Love wins.
The Photo
Speaking of romance, everything about the photo taken for their announcement was absolutely perfect. If it wasn't for my husband's complete dislike of elaborate pregnancy shoots, I definitely would have done the same with both my pregnancies!
What I saw in Harry and Meghan's announcement was a fullness of love and joy. The stunning black and white photo gives a whimsical vibe as the couple are in the middle of the woods gazing lovingly into each other's eyes. Barefoot, Harry sit beaming at his wife who rests a hand on her visible bump as she smiles back at him. Right in the middle of a global pandemic, I was incredibly impressed to discover that the photopgrapher, Misan Harriman, shot the photo remotely through an ipad!*
The Hope
As my husband and I discussed the beautiful announcement, we couldn't help but remember that last November, Meghan opened up about experiencing a miscarriage in the summer. I cannot imagine the heartbreak and pain a couple suffers after losing a baby. Sadly, according to pregnancy loss charity Tommy's, one in four women in the UK have experienced miscarriage and can relate to the pain this high profile couple suffered. The Duke and Duchess Of Sussex announcing Archie was going to be a big brother was another ray of hope, a breath of fresh air and the reassurance we all need, that no matter what we're going through, joy comes in the morning.
"Sing praises to the Lord, O you his saints, and give thanks to his holy name. For his anger is but for a moment, and his favour is for a lifetime. Weeping may tarry for the night, but joy comes with the morning." Psalm 30 4:5 (ESV)
Tola Mbakwe is an award-winning multimedia journalist for Premier radio
*SOURCE: British Vogue "With the tree of life behind them and the garden representing fertility, life and moving forward, they didn't need any direction, because they are, and always have been, waltzing through life together as absolute soulmates," says Harriman of observing his friends through the lens of his iPad remotely from London to Santa Barbara.
Image: Misan Harriman