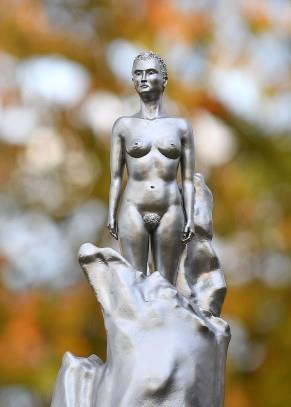 Mary Wollstonecraft's A Vindication of the Rights of Woman (1792) is an iconic proto-feminist text and established her as one of the great ancestors of feminism. She argued that, far from being naturally inferior to men, women and girls were forced into subjugation by law and oppressive societal norms. A self-taught working class woman herself, she called for women to receive the same rigorous education as men and encouraged them to seek financial independence.
Through a range of radical tracts, collected letters and novels, Wollstonecraft not only advocated for greater rights for women but also attacked the unfair power of the aristocracy, championed republicanism and spoke out against the slave trade. She was once one of the most famous women in Europe. Yet, until this week, there was not a single public memorial to her in all of the UK.
On 10 November, prominent British artist Maggi Hambling unveiled her memorial to the great eighteenth century writer in Islington, North London. The 10-foot sculpture is cast in silver bronze and set on a black plinth inscribed with the quote:
"I do not wish women to have power over men but over themselves"
A naked figure of a woman emerges atop an amorphous mass of female forms that rises high above the heads of those who come to see it.
Hambling said her design "acts as a metaphor for the challenges we women continue to face as we confront the world".
However, the figure's nudity has been met with criticism. Many argue the naked figure is just another image of a conventionally attractive, anonymous woman. In a tweet that has gone viral, writer Tracy King wrote "I know a thing or fifty about statues of women and this is exactly what you get if you let lazy art values come before the politics the statue is meant to represent. It's a shocking waste of opportunity and can't be undone. But hey, tits!"
Leader of the Women's Equality Party, Mandu Reid retweeted King adding, "Was it necessary or optimal for the new #MaryWollstonecraft statue to depict her as naked? Is it problematic? No. And Yes. #RepresentationMatters."
Hambling responded by stating that the figure was not intended to represent Wollstonecraft herself but a symbol for all women. "She has to be naked," Hambling said, "because clothes define people. We all know that clothes are limiting and she is every woman." Hambling went on to comment that "as far as I know, she's more or less the shape we'd all like to be" drawing further criticism.
I am torn. I believe that the naked female form can be radical and confronting especially when deliberately taken out of the context of sex. After all, we still live in a world were women's pubic hair is policed and images of breastfeeding and menstrual blood is considered taboo. However, with devastating rates of violence against women in this country and worldwide, it is easy to see why the naked, anonymous figure of a woman alone in a park is at best tactless and at worst feeds into the prevailing belief that women may only take the stage in public life in the form of sexual objects.
I don't know if this memorial to Wollstonecraft does more harm than good. However, what I am sure of is that one statue is not enough. Only 1 in 5 statues in the UK depict women and they include the nameless - and often nude - figures of myth, fiction and allegory. The vast majority are white, slim, able-bodied women. Mandu Reid is right: representation does matter. If we want a world where all women are free to live their lives as they choose we need to celebrate the diverse talent women represent in our public spaces.
Olive Mackintosh-Lowe is a writer and feminist activist currently writing a historical fiction novel based on the lives of Mary Wollstonecraft and fellow radical writer Mary Hays.