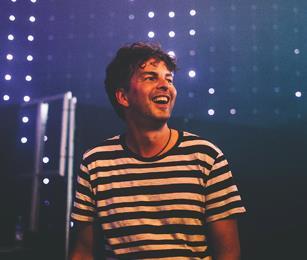 Fifteen years ago Pete Greig embarked on the adventure of his life. Dissatisfied with the programmes he was busy running at church, he persuaded them to make more room for God. Years earlier, in Cape St Vincent, he had had a vision of an army of young people and he began to believe that perhaps that army was supposed to march on its knees.
His latest book, Dirty Glory, shares how those small beginnings, in the very first prayer room, began a movement that has now reached across half the nations of the world, in 12,000 locations.

I'm pretty sure God speaks more than we listen. Didn't Jesus keep warning us that without ears to hear we will miss his meaning? Most people think they're ordinary and yet they live such extraordinary lives. Beautiful patterns are forming all around us, all the time. Coincidences take place continually. Most people have experienced some kind of miracle in their life – God speaking clearly, providing wonderfully, healing supernaturally, helping in the nick of time. That's why writing a book like this is such fun – it's an opportunity to remember. There are almost 200 references to remembering in the Bible, because we so easily forget.

It's fascinating to me that the only place I ever have to justify or explain prayer is the West. In the majority world everyone just gets it. And they see more miracles as a result. They perceive life differently – less materialistically. They believe more easily and receive more supernaturally. But even in the West no one really has a prayer problem. What we have is a problem with priorities rather than prayer. If we go to the doctor and get a terrible diagnosis, we don't leave that appointment saying "I really ought to pray about this, but I have a prayer problem." We all just cry out "help!"

We need pastors on their knees, wholly dissatisfied with the busyness of life … Jesus didn't come as a CEO. He didn't send us an e-mail. He came as a friend of sinners, attended parties, went fishing, talked to his Father and rescued humanity through relationship, rather than religious procedures.
I didn't marry Sammy as a strategy for making babies. I found that I wanted to get as close to her as I possibly could, and the result has been these messy miracles we call children. They are utterly wonderful, but they were never the objective. Still aren't. Everything flows from the intimacy of relationship. And it's the same for churches. Give me a pastor who prays and out of that intimacy there will be plenty of messy miracles! If they can manage a few projects and programmes it's a bonus, but that should never be the job description.

My personal pilgrimages have taught me that the Holy Spirit can fill places as well as people. It's fascinating. The ancient Celtic Christians called them 'thin places' – locations where the veil between heaven and earth is somehow thinner. I have one or two of these 'Bethels'– places where I sometimes wake up blinking and echo the words of Jacob: "Surely the Lord is in this place and I was not aware of it. How awesome is this place!" One of them is in the Outer Hebrides, one of them is a particular chair in my house, and one of them is Cape St Vincent in Portugal, which is where Dirty Glory begins in quite a dramatic way!

It's amazing to me that prayer features on almost every page of the Bible, and yet we teach about it so rarely at church. I think it's partly because prayer can be confusing. A lot of people think 'why do I need to pray if God already knows and will do what he wants anyway?' Prayer can also be frustrating because God is not a slot machine. It often doesn't work the way we want. We also carry around disappointments where our prayers have failed in the past. This can be agonisingly painful.

In my own life I have had to wrestle with my wife's chronic health challenges. The Church is often less honest about these things than the Bible. God's Word is startlingly real. It doesn't gloss over the fact that Jesus himself experienced at least three unanswered prayers. And the book of Psalms is about 50% lament. No wonder the one thing the disciples explicitly asked Jesus to teach them was how to pray. Not how to preach. Not how to plant churches. And in response he gave them the 'Our Father'!
We live with the tension of living with unanswered personal prayer as well as experiencing miracles simultaneously. How do we do it? Well, personally, Sammy and I have often relied heavily on the love and support of our friends and family. We are designed for community. We have also learned to celebrate the small. Pain is inevitable in life, but joy is not. We angle ourselves towards pursuing joy. We tend to laugh a lot. We try to listen well. We celebrate the ordinary. And, finally, I'm a big believer in plodding. Just putting one foot in front of the other. Some days success means getting your trousers on the right way round. Everything else is a bonus!

When Sammy's illness necessitated me being at home more, God coached me through the mundane … I remember taking our youngest child, just a few months old, into the prayer room one night. I was happy to have some space, even if it was 3am. But then he woke up and began to scream. I was cross. This was meant to be my serene time with God. But then I decided to change his nappy as an act of prayer. I asked God the Father to clean me up, to care for me. I repented of the smelly stuff in my life. I allowed him to change and hold and comfort me. The very thing that had presented itself to me as an interruption had become an invitation to encounter the Father in a deeper way.
I believe we minister to God's heart when we pray. I tell a story in Dirty Glory about a time we took the kids to enjoy the playground at a local pub. I was exhausted and collapsed into a leather sofa dispatching the boys to play. One of them did so, but the other looked at me, told me he had missed me and climbed into my arms. He wouldn't leave. He didn't become more my son in that moment. I didn't start to love him more. But his act of unnecessary affection ministered to my tired father's heart in a way I can hardly describe.

When we choose to pray while others are lying in bed, or when we worship despite our struggles, we minister to God's heart with unnecessary acts of affection. He won't love us more. We won't become more his kids. Yet it's a beautiful kind of worship.

There were times when the excitement of pioneering wore off … Most people pioneer once in life. They get married. They start a band or a business. They move to a new town. It's a time in which they feel fully alive. But then there is an overwhelming temptation to settle down. To stop taking risks. To become beige. I wrestled with that temptation profoundly. I found myself burnt out and reading the Ikea catalogue more than the Bible. I had to wake up and rage against the beige! Jesus promises us "life to the full". We want this to mean a life full of joy, and it does. But it is also a life full of suffering, just like his. The real heroes of life and faith are those who pay the price to keep pioneering, fuelled by love more than fear.

Resting in God's presence is one of the most important, but most difficult things we will ever learn to do. I'm learning to embrace life's changing seasons. Not to resist them. We're not meant to be like a genetically modified crop – continually fruitful and always growing at the same pace. It's not healthy! Sabbath seasons of rest are essential in our weeks and our years and our lives. I'm not just talking about a week's holiday in Majorca.
In the book I describe a season in the Midwest of America after a particularly exhausting and painful few years. On the first morning there, my watch stopped and the Lord told me not to replace the battery. We thought we were there to do great things for God, but in fact God had us there to do great things for us. In the words of Psalm 23, he made us lie down in green pastures … he restored our souls.

Make prayer a continual conversation with God. Your relationship with him is at its best when you talk to him about trivia. What did Adam and Eve talk to him about before there was any sin or sickness, or suffering in the world? They must merely have asked him questions. Admired his creation. Shared their thoughts.

This is one of the keys to living with greater gratitude. If you ask God for small things like parking spaces, you will find yourself giving thanks to him for a patch of concrete outside Asda on a wet Saturday morning. If you ask God for inevitable things, like your daily bread, you will be thanking him for a loaf of the stuff in your own bread bin.

Your prayers really do change things. Dirty Glory is full of extraordinary, true stories of God answering us in ways that will leave you in little doubt that prayer really does make a difference in the world. Prayer doesn't just change us, it changes the world. Your choices and words really are that important. There are things that won't happen unless you pray about them and keep praying about them. In the words of the soul group Hot Chocolate "I believe in miracles".

The times of waiting in between our prayers and God's answers are important. God sometimes answers our prayers with a 'no' or a 'not yet', and it can be agonisingly difficult to wait. But these in-between seasons can strengthen and mature us. Faith can become faithfulness. The Bible is, in many ways, a book about waiting for God to act.
If I always gave my kids everything they asked for they would not be healthy or happy. If I always gave them everything I wanted to give them, they would be spoilt. If Gethsemane teaches us anything it is that our unanswered prayers can become the biggest blessings of our lives.

Prayer should not be viewed as a comfort blanket. Prayer can be profoundly disruptive. It comforts the afflicted, but afflicts the comfortable! There is no better measure of the person you are becoming than the way you are praying right now. And God loves us too much to leave us where we currently are. To inherit our destiny we must refuse to settle in familiar comforts.

Prayer should be accompanied by action. I used to believe that we should pray as if it all depends on God and live as if it all depends on us. These days I think we should both pray and live as if it all depends on God, but that is not in any way passive. Faith is active. Prayer without action is just religion in hiding.

I once had the privilege of interviewing Archbishop Desmond Tutu. I asked him how he had kept the fire alight in his belly all these years and without missing a beat he said "Oh that is because I pray." Prayer propels us out to get our hands dirty.

When terrible disasters arise we may often feel numb or even paralysed. We know we should pray, but we don't know how to do it. We wonder what to say. We secretly doubt that our prayers make any difference. My rule of thumb is very simple. I pray through the following 'Ps': Firstly, I intercede for the people affected by the tragedy – those bereaved and grieving. Secondly, I pray for politicians, police or peacemakers trying to sort out the mess. Thirdly, I pray for pastors and priests, seeking to proclaim the Gospel, bind up broken hearts and bring comfort.

The key to prayer is simply saying 'yes' to God. There was a moment at the 15th birthday celebration of the 24-7 prayer movement, which took place in St Stephen's cathedral in Vienna. The place was packed with people from so many nations and denominations. We received messages from the Archbishop of Canterbury and the Pope. I kept thinking 'How on earth did we get here from the anonymous prayer room in Chichester where we began without any budget or business plan or important friends?' And the answer is simply that we didn't say 'no'. We just said 'yes' and kept saying 'yes'.
Keys to cultivating a life of prayer
Keep it simple — Keep your prayers simple because God hears our hearts. It's not about having all the right religious language. Talk to him through the details of your day.

Keep it real — Be honest with God about what you are really feeling and thinking. Pray the way God made you. This might mean praying creatively with music and journaling, or physically with the lectio divina at the gym, or privately on your own in the bath, or socially with others in a prayer group.

Keep it up — Prayer is often like stacking dominoes – eventually you get the breakthrough, not because you found the right technique but just because you didn't give up one prayer too soon. Praying with others can be helpful in maintaining our prayers, especially through difficult or dry seasons. And try to create simple, achievable, enjoyable spiritual disciplines, even – especially – in the busy-ness of family life.
Jesus says it is to the Father's glory that we bear much fruit. He guarantees to turn bad stuff into good stuff if we will just keep loving him. The best decision you can ever make is to say 'yes' to that kind of God. The most stupid and dangerous thing you could ever do would be to say 'no'.
+ Find out more about Pete and his latest writing projects at www.petegreig.info or visit www.24-7prayer.com for more about the 24-7 prayer movement.