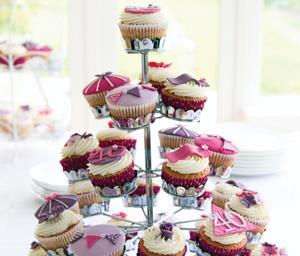 Claire Musters turned 40 during the summer, which got her thinking about how we can celebrate and embrace such pivotal points in our lives, rather than shrinking away from them. Here are some ideas from Claire and her friends ...

1 Be thankful

How: It is a great discipline to cultivate a heart that is thankful. Why not start by challenging yourself to thank God for five things each day – I found it made my outlook so much more positive after a few days! You can also create a thank you journal by looking back at some of the big (and small) answers to prayer over the past decade. Write a thank you to God for each one and place the prayer in a new book to make your answered prayer journal.

Consider: "I will praise you, Lord, with all my heart … I will praise your name?for your unfailing love and your faithfulness" (Psalm 138:1–2).

2 Evaluate your position

How: Give your-self an honest evaluation. Jennie Pollock, who turned 40 last year, spent the time leading up to it thinking about where she has come from and what she has achieved: "Our culture says we're over-the-hill, yet we haven't achieved all we thought we should have. It is easy to dread what lies ahead, and regret what lies behind. But fear and regret are not generally considered the hallmarks of a godly life. So what would it mean to approach this phase in a way that is glorifying to God and healthier for me?" Why not spend some time considering your own life, pinpointing what it is that you know you need to work on in the coming days, and asking God to help you cultivate more of his Spirit in order to achieve that?

Consider: "The fruit of the Spirit is love, joy, peace, forbearance, kindness, goodness, faithfulness, gentleness and self-control … Since we live by the Spirit, let us keep in step with the Spirit" (Galatians 5:22–3, 25).

3 Make a memory scrapbook

How: Each one of us has great memories of things we never thought would happen in our lives, as God has taken us on our own personal adventure. It can be a really great way to celebrate your achievements so far by putting together a scrapbook of photos, certificates etc of your best memories. One of the ways that Jennie felt able to face her own milestone with joy was to ponder her best memories: "I have driven, all by myself, across the USA. I've walked through ancient Ephesus. I've climbed Big Ben and the Eiffel Tower. I've swum with stingrays, ridden a camel and milked a herd of cows. And I've discovered that flying fish really do exist – to name but a few of the amazing adventures I never expected to experience."

Consider: "Many, Lord my God, are the wonders you have done, the things you planned for us. None can compare with you; were I to speak and tell of your deeds, they would be too many to declare" (Psalm 40:5).

4 Be proud of your age

How: We all know that our culture puts youth on a pedestal and, as we get older, we often buy into the trend of trying to hide our age. While our culture may tell us we need to be ashamed as we get older, God views things very differently. He values age and the wisdom and experience that come with it. If that is the case, who are we to shrink away from celebrating the age we have reached? Determine today to accept your age, grey hairs, scars and wrinkles, and even be proud of what they represent – the journey you have been on with your God. This is definitely one I am going to work on myself!

Consider: "Grey hair is a crown of splendour; it is attained in the way of righteousness" (Proverbs 16:31).

5 Take time out

How: Whether you are a mother, grandmother, wife, full-time worker, I am sure a lot of your time is spent helping others. So make sure you take some time out near your milestone that is just for you. Do whatever it is that recharges you – whether that is a bath by candlelight, a duvet and DVD day or a long walk in the country – and do it without feeling guilty! Even God rested after he had finished creating the world – and most of us could do with learning to rest more often.

Consider: "Then God blessed the seventh day and made it holy, because on it he rested from all the work of creating that he had done" (Genesis 2:3).

6 'Be' with those that do you good

How: You know the people – the ones that you come away feeling refreshed after visiting, rather than drained because you've given out so much. Yes, it is as important to give as well as receive, but, as a general rule, women are not so good at the receiving part. We can only give out when we have something to give, so make sure you spend some quality time with those who help to build you up and encourage you to be all you can be. Suggest going out and having some fun with them!

Consider: "Therefore encourage one another and build each other up, just as in fact you are doing" (1 Thessalonians 5:11).

7 Cultivate a new spiritual gift

How: By the time we reach the ripe old age of 30, 40, 50, 60 … we can often feel that we've found our spiritual niche. That we know the ways in which God uses us and feel quite comfortable with that. And yet God is a God of such deep richness, and has a wealth of gifts for each one of us that he longs to give us. If you've always watched that person who seems to have specific words that unlock people's situations and wished you could be like them, ask God if he can give you a word this week. I did just that a few weeks ago and was blown away by what God did in individuals' lives. Remember, God doesn't want to be boxed in and we can often limit him by placing limitations on what we are prepared to do.

Consider: "If you, then, though you are evil, know how to give good gifts to your children, how much more will your Father in heaven give good gifts to those who ask him!" (Matthew 7:11).

8 Do something you have always wanted to do!

How: There are so many places that you have always said you wanted to go to – restaurants you've read rave reviews of and want to try, museums and galleries that have exhibitions you want to see – even countries you've never visited. Another writer friend, Cathy Madavan, is turning 40 this year too, and wrote a '40 things for 40 list' on her blog, some focusing on going out to new places.

She comments: "The hard bit so far has been making my 40 great ideas happen – life is so busy, but that is exactly why it is good to stop and focus on living life rather than just existing in it." Spend some time thinking about what it is that you've always wanted to do. Now go and do it!

Consider: "I have come that they may have life, and have it to the full" (John 10:10).

9 Give something back

How: Often as people grow older, they feel they want to give something back – either to their community or to a cause they are passionate about. For example, last month a man in Bradford on Avon decided to do 50 good deeds in 50 days to celebrate his 50th birthday. Have you ever considered doing something you've never done in your local community to make more links with your neighbours? You could host a tea party, volunteer in a local charity shop or drop-in centre, listen to children read in class – something that allows you to give back to your local area. It doesn't need to take much time, as I know we are all busy – just something that enriches both the lives of those around you and you as you do it.

Consider: "Give, and it will be given to you. A good measure, pressed down, shaken together and running over, will be poured into your lap. For with the measure you use, it will be measured to you" (Luke 6:38).