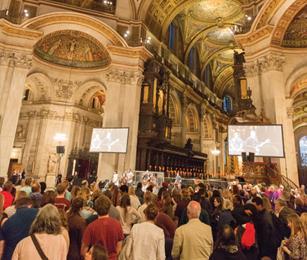 This could change your prayer life!


This month sees the second Thy Kingdom Come prayer initiative (25th May to 4th June 2017). Sharon Barnard looks at the ways last year's 'wave of prayer' touched the lives of some of the women who took part

Last May the archbishops of Canterbury and York invited churches to "join constantly in prayer" (Acts 1:14) between Ascension and Pentecost – traditionally a time when the Church focuses on prayer. The response was overwhelming. Hundreds of thousands of people from all denominations and different traditions from across the UK and around the world caught the vision. Over the 10-day period people poured into cathedrals, prayed in groups at home and in their churches, and many through the day and night as well.

This year, as Archbishop Justin Welby invites Christians around the world "to pray as one for people to know Jesus Christ", the vision for Thy Kingdom Come (TKC) is even bigger. The Church of England says it hopes to see at least 80% of its cathedrals and churches taking part, as well as many other denominations and fellowships.

Dr Ruth Perrin, a Durham University academic who attends King's Church in the city, went along to the TKC event at Durham Cathedral last year, one of several 'Beacon' events that took place in cathedrals across the country.

"I was sitting in the front, and as I looked back I could see the cathedral crammed with people worshipping Jesus – it was fab.
"I think the main thing for me was seeing a real mix of generations from all over the North East worshipping and praying for our region together. What was special was the demonstration of unity. A lot of churches and denominations were represented and seeing them all praying together was so inspiring."

Rev Caroline Strudwick, curate of the Upper Itchen Benefice, who attended the Beacon event at Winchester Cathedral to offer support to people before and after the service, says she was "moved profoundly by the huge number of people – both organisers and attenders – and by the goodwill of the crowds outside the cathedral and the joy of those inside.

"I was also very struck by the full immersion baptisms, and will always remember the sight of the sun slowly setting on the west end of the cathedral as the day drew towards its close."

She adds, "I was very pleased to see the enthusiasm with which our various six parishes embraced the opportunity for thrice daily prayer in our churches in the week running up to the cathedral event. It was also a wonderful opportunity for the ministry team to encourage lay involvement in leading prayer and I think those involved benefited from it greatly.

"I think that events like this are important for many reasons – they take the Church out of the churches and into the community in a visible way; they provide an accessible means of contact between Christians and non-Christians and among Christians of different traditions, and they are a visible affirmation of the presence of Christ and his Church in the community."

As part of last year's TKC, St John's Church in Hoxton, Hackney organised a week-long prayer and worship service which involved men and women coming together to pray round the clock.

"The church was open 24/7 to anyone who wanted to pray at any hour of their choice," explains church member Bosede Owa. "Seeing people coming together to pray was a great encouragement. Personally, praying alone in the presence of God was so elevating because I was able to focus and hear him more clearly.

"For me TKC was a spiritual revival. It is like a fire burning within me and makes me want to tell people more about prayer. It draws me much closer to God and now I pray often in the night.
"I would encourage everyone to go along and experience God for themselves. Most of our church members who were involved said it really changed their prayer lives. I can't wait for Thy Kingdom Come 2017!"
People really sensed God at work
Rev Canon Sophie Jelley, director of mission, discipleship and ministry at Durham Cathedral, organised a TKC Beacon event at the cathedral last year which she also co-hosted with Phil Togwell from 24/7 Prayer. The evening celebration was the culmination of a week of prayer held in the cathedral's Galilee Chapel and drew people from all denominations across the North East.

We hosted the week together with students from Cranmer Hall theological college and created beautiful interactive opportunities to inspire people to pray for themes emerging from The Lord's Prayer.

We found people coming to contemplate in the early hours or gather with their student prayer group at lunchtime, and a couple of recently released ex-offenders felt compelled to stay there because there was something special about it. We also held prayer gatherings each evening on different themes led by different groups.

The Beacon event was a praise celebration with testimonies and interviews, Bible teaching from Bishop Paul and sung worship led by the inspirational Lou and Nathan Fellingham and their band. It was quite different from the usual cathedral style, but it was very much appreciated by those who attended.

We know that we drew a crowd from across the region, which was ecumenical and all age. We had a little gathering of children with their picnic tea on the floor in front of the stage. They all joined in when it was time to pray for one another! We also had a large number of students from the university and interviewed one about the evangelistic outreach that is happening across the city's colleges.

People were there who had never experienced this kind of thing before and were deeply moved and really sensed God at work.

The week did much to encourage me too. Phil Togwell has a great way of encouraging you to pray your "best prayers" and to "have fun" as we adventure with God in prayer. Many people had never experienced praying in these different ways before so it felt pretty ground breaking.

I especially enjoyed the prayer event for children and families on the Saturday morning. One young boy, who came along with his gran, loved it so much that he brought his whole family along to the Beacon event on the Sunday and was delighted to meet Bishop Paul.

Events like this are important because they help us to be intentional in our prayer for those we long to see and to discover more of Jesus. They remind us that prayer is a corporate act – we do best when we do it together, and we also encourage one another to persevere. We get to see God at work simply by making the space for him to move by his Spirit. In quite a few places these gatherings have acted as a kind of breakthrough in which God is doing a 'new thing'.

During the event we launched the prayer for our Talking Jesus Durham mission in March this year. I came away encouraged that many committed to pray for this initiative so far ahead and to support us whether they were Anglican or not. It reminded me that the kingdom is so much greater than one denomination.

Our close neighbours in Newcastle are hosting a TKC Beacon event this year and we will be hoping to support and encourage them in any way we can. We're planning to host a TKC event in Durham Cathedral in 2018.
+ For more information about this year's event, resources for churches and details of local events around the country visit www.thykingdomcome.global