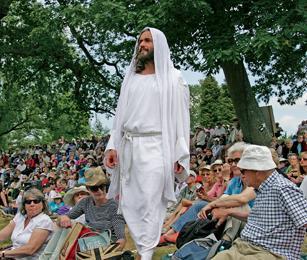 'We just wanted to do something for God'

When Ann Hutley and her husband Peter first decided to put on a nativity play in the grounds of their home, they had no idea it would become a world famous production ...
Our lives changed forever after we visited Medjugorje in what was then Yugoslavia in the 1980s.
As a child I had been very moved by the film The Song of Bernadette and when my eldest daughter told me the Virgin Mary was appearing to people there, I simply had to go to find out more.

My husband Peter came with me on my second trip in 1989 and he too felt the presence of God. We returned home determined to do what we could to share the Christian message.

Home was a beautiful 13th century house in a 1,000 acre estate, in the heart of the Surrey countryside, which we had bought in 1962. We were originally looking for a farmhouse which we could extend and would allow Peter to commute to London in under an hour, but we fell in love with Wintershall.

We moved in with three small children, two large dogs, one cat, no furniture, no money and our heads full of dreams. There were 16 old, empty bedrooms without curtains or carpets, an old-fashioned bathroom and an ageing green Aga – which is still going!

Looking back, we had really no idea what we were doing and faced a lot of hard work, but living surrounded by nature was something we had always dreamed about. God must have certainly been with us, even then.

We gradually increased the land as finances allowed and, in time, we were able to buy the land and hill adjoining us, together with an enormous barn full of straw and old animal droppings! The family had often walked up there and prayed that it might belong to Wintershall one day.

There was no electric light and no water, but we needed the land to extend the farming and ensure access to our reservoir. Previously we had only been allowed access once a year. We said if we could buy Holly Barn, as it is known, we would do "something for God". It was all very simple. We decided we would perform a nativity play in the hay barn, lit by candlelight to add to the truth and beauty of the story. What would health and safety say today I wonder?

The original play was initially cobbled together with a few friends around our kitchen table. We had a small cast of about eight and I made the mince pies for the interval refreshments. Today, we have a cast of around 80 and our audiences number many thousands every year.

It was really Peter's character, drive and spirituality that enabled these events to become a reality. The early days were filled with natural drama, not least finding friends willing to sacrifice a busy Christmas weekend with a long walk up a wet and windy hill for rehearsals.

It really has been a united endeavour, made entirely possible by the enormous loyalty and love of an amazing cast of volunteers – of every denomination and none. Without them and without God, there would be nothing but a few random thoughts of mine!

It was Peter who wanted to stage a Passion play. It took him two years to write and I remember saying to him that it was the sole prerogative of Oberammergau ... what qualifications had he got? Thankfully he took no notice of me and The Passion of Jesus was staged for the first time on our tennis court in 1993.

In 2010 we took the play to Trafalgar Square as a gift to the people of London. Now we do two performances on Good Friday every year, with two further performances on Easter Saturday in Guildford. It's become a highly anticipated Easter fixture.

Our third play, The Life of Christ, came in response to the then Pope's call to action for the Millennium. This is a five-hour, open air production and Peter burned the midnight oil for over a year to write the script. The topography of Wintershall provides natural auditoriums and stages, with lakes and woodland adding character to the various scenes.

We did have moments of doubt about this one, especially one time when it was raining and we feared no one would come. I remember standing in the hall and saying to our director: "It doesn't matter a jot .... If one person sees it and gets the message that's all that is important."

Since then we have had many, many moments of confirmation and many thousands have watched The Life of Christ here at Wintershall.

We passed on the baton to our eldest daughter Charlotte de Klee in 2014. She lives mainly in Scotland, but has a cottage here and returns to produce the plays which remain an integral part of life at Wintershall.
She brings her drive, enthusiasm and sincere spirituality and belief in God to the continuation of our ministry and has recently started a new education programme, with the help of our education officer. Together they have great plans and initiatives for the future.

Peter and I now live in the old stable block that used to be a dumping ground for all the unused bits and pieces – stables, cowshed and even a camel stable for the play one year. It makes a unique and characterful home for our old age and the stable courtyard is a challenge as a garden. We gave the main house, where we lived for 60 years, to our eldest son Nicholas and his wife Jane, and he is responsible for the farm and estate.

Edward, our second son, is a devout naturalist, conservationist and historian, and deals with the trees, forestry and the replanting that is so necessary. A talented actor, he also adds colour to the plays.

Henrietta, our youngest daughter, was born at Wintershall and is the glue that keeps us all together. She manages the donkey, horses, sheep and any other animals we have in the play, and she knows every stick and stone of the place. She has acted in all the plays and without her constant presence we would be a very weak team indeed.

Peter and I continue to be intensely interested and supportive in any way we can to the life and work here at Wintershall. These plays come from the heart and they will continue as long as God wills it.
Ann Hutley was made a Dame of St Gregory in 2004 and her husband Peter received an MBE for services to the community. In 2013, Peter was awarded an OBE for his work in promoting Christian understanding and his charity work.