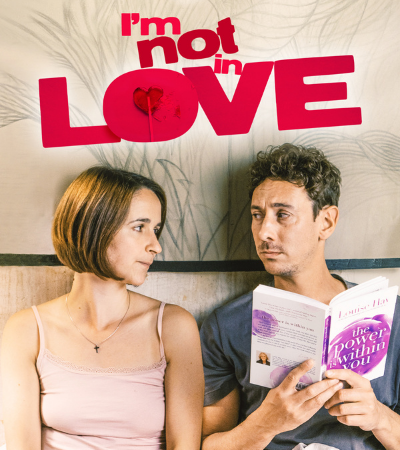 FILM REVIEW
To say that I am a rom-com fan would be an understatement. I'm convinced that I'm the primary contributor to Richard Curtis' retirement fund.
I have an encyclopaedic knowledge of the often-disparaged genre and will happily announce "Is it raining? I hadn't noticed" in the middle of a storm or inform people on the mechanics of whistling.
Still, for all their fun and fantasy, there is something damaging about the fictional scenarios played out in these popular movies and the expectations they inspire in us.
Life is not full of grand declarations. No one bursts in to stop a wedding and not once has anyone I know done a mad dash to the airport to stop someone boarding a plane. New rom-com I'm Not In Love, has shunned those tired tropes in favour of a more realistic scenario.
A very real quandary
Rob, in his late 30s, has been with his Christian girlfriend, Marta, for a while. She, being 38 and concerned about the ticking time, is keen to get married and try for children. Rob is plagued by a number of questions: does he love her? Can he do better? Should he still be with his ex? Should he get married at all?
In his mission to gain clarity on all these points, Rob makes some questionable decisions, all spurred on by his attractive loose-cannon friend. While some of the film's 'rom-com scrapes' are not day-to-day (ie accidentally ending up in a hotel room with a swinging couple) the feelings that motivated them very much are.
The "hope deferred" making her "heart sick" (Proverbs 13:12) that we see from Marta as she waits for her boyfriend's levels of commitment to catch up to hers, is something that we see regularly both in our churches and out.
Plus, the ledge of indecision caused by a crippling fear of choosing the wrong person, is one that I've coached many a friend down from in my time (both male and female).
Telling the truth about love
In among the frustrating doubt and terrible advice from friends woven through this film, there are some absolute gems of wisdom. A married friend of Rob's says: "Why are you always waiting for someone amazing? Don't fall into the amazing trap." Ironically, it could be argued that the rom-com genre has been instrumental in the setting of the "amazing trap" that has fooled so many of us.
During a lunch with his mother (who is played by Del Boy's wife on Only Fools and Horses), she tells Rob: "Love is very simple. The secret to staying together, is staying together. That's all there is to it."
This pragmatic and unromantic representation of love may not be why someone rents a rom-com, but I am all for it. Separating the 'love fact' from the 'love fiction' is the first step in preventing the high expectations that have left so many people in the Church and beyond desperately disappointed with the state of their romantic lives.
While this film may not have the Hollywood shine of My Best Friend's Wedding or the neat ending of Notting Hill, what it does have is heart, humour and, most importantly, truth.
I'm Not In Love is now available to rent and buy on digital here
Lauren Windle is a speaker and journalist. She has a Masters in Addiction Studies and runs a charity recovery course for people struggling with addiction. Her book, Notes on Love: Being Single and Dating in a Marriage Obsessed Church (SPCK) will be published in July 2021. Find out more about her at laurenwindle.com