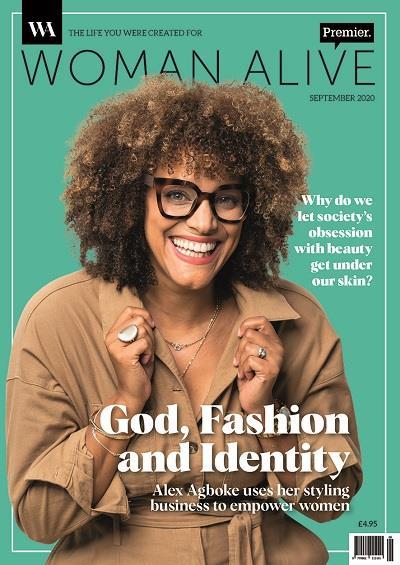 Bubbly and personable, Alex Agboke lights up any room she enters. The former Lion King singer, founder of affordable styling company StylePeg and now a leading brand-image stylist, Alex has always had a passion to break women out of boring fashion choices to choose clothes that reflect who they are inside. American fashion designer Rachel Zoe once said: "Style is a way to say who you are without having to speak" and this is what Alex strives to do as a personal stylist. However, for Alex, style alone is not enough; it has to go hand in hand with identity. "If we don't know who we are, how can we begin to know what our style should be?" This is something Alex herself has painfully experienced.
Identity crisis
Many of us have felt the odd one out, but for Alex it was the literal truth. Alex was adopted and grew up in Aberdeen, a black girl living in a white community with no black role models. Her adoptive mother died when Alex was just eleven and her father, a taciturn Scot, found it hard to openly express his love. It was hardly surprising that Alex turned to relationships to find fulfilment, only to retreat, hurt and rejected. "I kept falling for men who valued me for my looks when I longed for someone who'd just love me, the 'real' Alex."
At the same time, Alex's planned legal career after university had lost its allure and she decided to take a risk and move to London to pursue her childhood dream of becoming a singer. There she met black women who were bold and confident in their style and threw herself into embracing the exciting colours, patterns and hairstyles of black culture. Life was good and when she was invited to join the cast of The Lion King after being spotted singing at Pizza Express in Covent Garden, it seemed she was living the dream. Why then did Alex still feel something was missing?
Alex had Christian friends in the cast and when they invited her to go to an Alpha course backstage, she was intrigued. "I wasn't expecting to find Jesus in the theatre but he was looking for me. When I surrendered my heart to him, I felt real peace, knowing at last that I was accepted and totally loved just as I was."
Managing transition
Alex met and married her lovely husband Kolade, but giving up her stage career for motherhood was a wrench. "I found adjusting to life outside the West End really difficult, especially as I was also struggling to accept my post-pregnancy body. Who was I now? I felt completely lost." All that changed when Alex retrained as a colour consultant and discovered the transformative power of colour. "The whole experience was so addictive that I went on to launch StylePeg, an affordable styling company to empower women by helping them discover colours and styles that suited their personality."
It was an uphill struggle, as what a personal stylist does is hard to define. "You're confronted with statements like: 'Aren't we all capable of deciding what to wear? Why pay someone?' I believe the benefit of a personal stylist is that they have loads of practical knowledge but what they focus on most is you. This means they'll come up with a style that's highly personalised, more 'you' than you ever thought possible."
By 2019 Alex was specialising in brand-image consultancy, working with male and female clients including celebrities such as Diane Louise Jordan. Cathy George, CEO of Crafting Curries, sought Alex's help, feeling that her own sense of style had been completely eroded by years of wearing no-fuss outfits as a teacher. Alex and Cathy found words to describe Cathy's personality – passionate, vibrant, enigmatic – and discovered through colour analysis that vivid colours, reminiscent of colourful Indian spices, made her shine. The final look – classic, elegant and strong, complemented by striking jewellery reflecting her Indian heritage – not only communicated Cathy's brand values but made her look like a million dollars.
But then came COVID-19 and face-to-face consultations stopped overnight. Like many other business owners, Alex was forced to rethink how she did things. "I found myself returning to my core vision of making personal styling more affordable and I suddenly realised that with everything going online, it gave me the opportunity to do just that."
This inspired Alex's latest venture, The Gospel of Good Style podcast (launching autumn 2020), which combines her faith and her passion for making good style available to everyone, whatever their budget. "I felt challenged by God to be more open about my faith as Jesus said to go out into the highways and byways – we're all called to be ministers of reconciliation." Upcoming topics include building a capsule wardrobe, identity and fashion, why we're afraid of ageing and lots of insightful interviews with both Christians and non-Christians on style-related topics.
9 tips for online shopping success
1. Read customer reviews for honest opinions on fit and quality.
2. Carefully check returns policies.
3. Is the item too expensive? Create an online profile and leave it in your basket for 48 hours, as you may receive a discount voucher.
4. Sign up to newsletters/ download the shop's app to hear about new promotions/sales.
5. View model videos to see what clothes look like in real life.
6. Check garment care instructions – do you really want an everyday top that needs dry cleaning?
7. Keep a record of your sizes at your go-to shops, as size charts vary widely.
8. Allow a cooling off period before you click 'Buy'. Do you still love it?
9. Set up a wish list and use it to curate your buying.
Style integrity
As Christian women we can feel confused about style and fashion. Is it OK to pursue beauty and style or is it just vanity? What about Paul's warnings against outward adornment, wearing gold jewellery and fine clothes? (1 Peter 3:3). Alex believes it's all about our heart's motivation. "Of course, we shouldn't treat fashion as an idol, but nor should we avoid it – after all, we're in the world to shine as his people. Just look around at God's creation – it's not monotone but full of amazing colours and designs so why do we think we should be drab and boring? The beauty and style within each one of us is a gift from God and we should celebrate it."
Another way Christians can show style integrity is by making considered choices. We've all heard horrifying stories of children working brutal hours in fast-fashion factories in third world countries, and the fashion industry is also a major polluter, recklessly using chemicals and processes that harm the environment. "We need to think beyond how cute an outfit might look on us," warns Alex. "We should aim to buy less but also buy in an informed way, avoiding companies that make profits at the cost of human lives or the environment."
Rock your style
Alex suggests five key steps to help each of us start on our own style journey
1. Edit your wardrobe
Start with an honest appraisal of your wardrobe. Is it cluttered with fashion faux-pas and mis-buys? Before throwing them out, work out why you haven't worn them. At the same time, can you rework items you already have? Try a ten-day remix challenge to discover what new looks you can achieve.
2. Be realistic
We may wish we had less or more curves, but it's a mistake to pine after clothes that aren't made for our type of figure. Instead use your time on social media to find flattering clothes to suit every shape and size.
3. Create a mood board
Study people whose sense of style you admire. What styles of clothing are you drawn to? Feminine and floaty, sharply tailored, casual, sporty or dashingly eccentric? Collect images that inspire you and use elements from them to create your own unique style. Always dress to be the person you want to be, not the person you think you should be.
4. The power of colour
If you want to completely revolutionise your wardrobe, colour is the easiest way to create an impact. And don't believe certain colours are off limits – find the right shade and you will look amazing. So, embrace colour and be adventurous with it. 5. Build a capsule wardrobe Identify the clothing categories that you need, such as: work, casual, going out etc, storing any seasonal wear that you won't use. When buying new items, think classics for longevity, fun with on-trend items and wow factor in your key pieces – jackets, shoes, dresses – balanced by neutral basics. And there you have it: your very own collection of carefully curated pieces that you can mix and match to suit every occasion.
Find Alex at thebrandimagestylist.com
Instagram: @thebrandimagestylist
Facebook: @thegospelofgoodstyle
Podcast: The Gospel of Good Style (launching autumn 2020) on Anchor and iTunes.
WOMAN ALIVE 20% STYLE DISCOUNT
Use code WASTYLING20 for 20 per cent off Alex Agboke styling services (not incl subscriptions) in 2020 – see thebrandimagestylist.com for details.