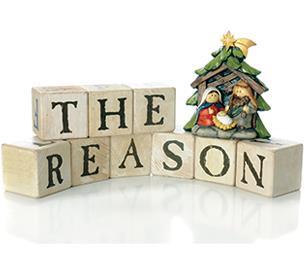 Isn't Christmas too commercial now?

It's easy to become cynical about our modern festive season, but there are still good reasons to celebrate, says Trisha Foote

To Christmas or not to Christmas, that is the question … I wonder if this is something you have asked yourself in the last few years? It's certainly a question I've thought about myself because there's no doubt about it, Christmas has become more commercialised and we have to ask ourselves, is this honouring to God?

Think about it: drawers full of unwanted gifts, alcohol and food consumed in large quantities, cards and wrapping paper discarded into overflowing rubbish bins, relatives banging on the door, not to mention shopping in busy crowds, needing extra money and tempers fraying over a hot turkey!

Is all this helping us to be more Christ-like? Or are we in danger of making a mockery of Christ and his amazing grace of humbling himself and coming down to this sin-soaked earth to set us free? And of course there is the argument that it is not Jesus' birthday in December and that we are celebrating it on a pagan date. Would we be serving him better by boycotting the whole thing?

And yet … for me there is still good reason to celebrate the season.

Peace seems to abound at this time. You may be familiar with the story of Christmas during the First World War, exactly 100 years ago. It seems that it was started by the Germans putting out candles and Christmas trees on their trenches. Then they began singing carols, including Silent Night. The carol was not really known in Britain at that time, but the beautiful tune must have spoken to the British soldiers and they responded with their carols. Greetings were exchanged and then there was a meeting across No Man's Land, with food and other gifts being given. The dead were brought in for burial and there was even a football match between the two rival sides!

How incredible is that? That in the midst of war came love and trust. Is it a coincidence that it was at Christmas, a time when love can enter our hearts if we let it? As someone who is always keen to use every opportunity to share the good news, Christmas is the perfect time of year because people who would not normally go to church will happily step inside.

One of my favourite carols is O Little Town of Bethlehem, and when I sing the words, "But in this world of sin, where meek souls will receive him still, the dear Christ enters in" I think surely this is the Gospel in a way that everyone can hear it?

There are lots of simple ways to enjoy the celebrations and to honour Christ. Here are a just a few ideas . . .
+ Cards — Choose Christmas cards with a nativity scene and a scripture to remind those we love that this is the reason for the season. Pray over each card that you write. And buy them from a charity so that you are contributing to a good cause as well.
+ Gifts — Why not send a gift with a meaning? Choose a living gift of a goat or cow that will bless a family in Africa or India. Or make your own gifts and show that you have given your time and that you have put your love into it.

+ Recycle — Save all your cards and paper and use them to make new cards or gift cards for next year.

+ Church — Take someone who doesn't know Jesus to a carol service or a Christingle. Ask God to show you who to take.

+ Sing — Could you gather together some people who can sing carols with you, and go to your local pub or centre for the elderly to share Christmas with them?

+ Food — Budget wisely so that you won't have a huge amount of excess afterwards and find recipes that will help you to use up the leftovers.

+ Others — Is there someone who is lonely who could be invited over for a meal or could you offer to help out at the local homeless shelter?

+ Time — Reflect on what the season really means to you and spend time with God. Pray for all those you love – and those you don't! This will de-stress you too. Luke 6:38 promises: "Give, and it will be given to you. A good measure, pressed down, shaken together and running over, will be poured into your lap. For with the measure you use, it will be measured to you."

I believe that in our secular society of Santa and consumerism we can be lights that stand out for God. So let's ensure we keep Jesus at the centre of everything we do and seek to spread his joy and love. For this is the way to celebrate this glorious season of Christmas.