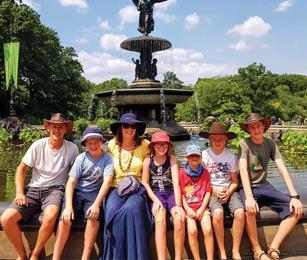 We'd been excited by the idea of a 'family gap year' ever since we heard about a family who'd spent six months touring America in a camper van, but 12 years passed before a legacy from Geoff's granny made fulfilling our dream a possibility.

We wondered if it might be more practical to start saving for university, but the more we thought and prayed about it, the more we realised this unexpected blessing was truly a gift from God and demonstrated his abundant love for us as a family.

We saw God's hand in the timing, as all our children (Dan, 15, Micah, 13, Nathan, 12, Evie, 10 and Joby, 6) were still at home. And then realised that God in his graciousness had prepared the way for us, as during the 12-year 'delay', friends had conveniently relocated to destinations on our travel wish-list.

I laughed when my friend compared our pre-travel planning to pregnancy, but it was an apt description. For months we talked about nothing else, as we prepared ourselves both emotionally and practically for something life-changing!

Our discussions helped us realise that we wanted our trip to have a lasting impact on our family. We wanted to use the time creatively to become closer, to reconnect with friends, to draw closer to God through his creation and to understand more of the world we live in.

I was definitely out of my comfort zone and I think God knew it was a big jump for me, so he was there encouraging me right from the start. I'd felt a niggling anxiety because we didn't know the Christian students who'd be renting our house while we were away, but when they walked through the door one was a leader from Dan and Micah's Christian camp. How great to know God was in control!

The whole trip certainly developed our faith muscles and it was exciting to see God answer prayers for a place to stay or a vehicle to get around in – not easy when you're a family of seven! We lived in some stunning houses, enjoying verandas with marvellous views and once even a hot-tub. The children were blessed with trampolines, pets and Xboxes, and kind owners even left tasty treats like a huge dish of pasta bolognese or gorgeous homemade pavlova.

It was really faith-building for us as a family to see God provide for all our needs and humbling to experience such kindness and generosity, both from our friends and complete strangers.

One of our main goals was to experience God as creator on our travels and the colours, sights and sounds of our 'gap year' were mind-blowing. The Bible tells us that we learn about who God is from his creation: "But ask the animals, and they will teach you, or the birds in the sky, and they will tell you; or speak to the earth, and it will teach you, or let the fish in the sea inform you. Which of all these does not know that the hand of the Lord has done this?" (Job 12: 7–9), and this was certainly true for us.

As we travelled through Australia, New Zealand, the USA and Canada, we were often literally open-mouthed at God's infinite creativity as we explored bubbling mangrove swamps, luxuriant rainforest, waterfalls, serene lakes, rocky canyons and cathedral-like forests.

One particularly memorable experience was a day of sharp contrasts. We started the day at Yosemite National Park in California, playing in the snow against a backdrop of towering snow-capped mountains, only to descend hours later into sweltering temperatures of 40°C in arid Death Valley in the Mojave Desert.

We felt so privileged to experience close-up encounters with incredible wildlife that we'd only seen online, in zoos or on natural history programmes, including kangaroos, rock wallabies, parrots, a platypus, snakes, turtles, tree frogs, lizards, and lots of creepy crawlies.

Our kids will never forget the joy of swimming alongside sea turtles or having a determined white-eared honeyeater perch on their heads and try to yank out strands of hair to adorn its nest. Our animal encounters were informative too. Did you know a baby echidna is called a puggle or that baby koalas have to eat the mum koala's poo to learn to digest eucalyptus?!

One of the highlights of the trip was extended time catching up with old friends, but we also took great delight in experiencing other cultures, trying new foods and discovering different styles of dance, music, art, worship and church.

We especially enjoyed getting to know a lovely Maori family who taught us how to make poi (tethered weights used in Maori cultural dancing), but it was a bit of a shock to find that to native peoples like them, European settlers weren't the 'good guys' we'd always thought, but oppressors.

We also used our travels to dig deep into the geography, natural history and history of the countries we passed through, visiting key places like Fremantle Prison in Australia, built in the 1850s by convict labourers, and the Statue of Liberty in the USA.

It wasn't all plain sailing however. Right at the start we faced a huge obstacle when Geoff's company wouldn't give him a sabbatical. We prayed about it and it still felt right to go; so, although it seemed a risky decision, Geoff handed in his notice. Once again, we experienced God's goodness when, halfway through the trip, Geoff received an amazing offer for a job which would be waiting for him when we returned.

Our biggest prayer challenge was a real life or death situation when we got a shaky call from Zannah, a UK friend visiting us, who'd gone on a solo mountain hike: "I'm lost and have seriously injured myself". We called out Search and Rescue and after an anxious night praying for her safety, the rescue team managed to track her down using her phone's GPS. Amazingly, she was released from hospital just in time to celebrate Christmas with us.

For me as a 'nester' the main issue was terrible homesickness. I was really touched by the way my family rallied round and supported me, but I also learned some important lessons as I struggled through this. I now know that 'home' is more than a place; it is the people you love, and I also know more than ever that God will always be there for me.
HOW WE DID IT
We got lots of inspiration from: www.dotrythisat home.com, the Meek Family's website on family adventures
Our travelling book-list was based on Give Your Child the World; Raising Globally Minded Kids One Book at a Time by Jamie C Martin
We rented our UK home out through our local university Christian Union website
Our accommodation was a mix of staying with friends; housesitting, where you stay in someone's home in exchange for looking after pets, livestock etc (www.kiwihousesitters.co.nz and similar sites in other countries) and Airbnb
To keep up with schoolwork we asked schools for the year's syllabus and also found useful advice on Facebook worldschooling groups like Worldschooler Connect. You can also find useful advice at https://educationalfreedom.org.uk
SEVEN TRIPS FOR HAPPY TRAVEL
Try a trial trip first
Pack wisely – less is more!
Take photos of travel documents
Start at a gentle pace to allow for jetlag
Think about everyone's needs – essential when different ages are involved. And let your kids contribute ideas
Have a contingency plan for airport delays etc
Be flexible – and keep your sense of humour!
Clare Blake is a freelance writer based In Bristol