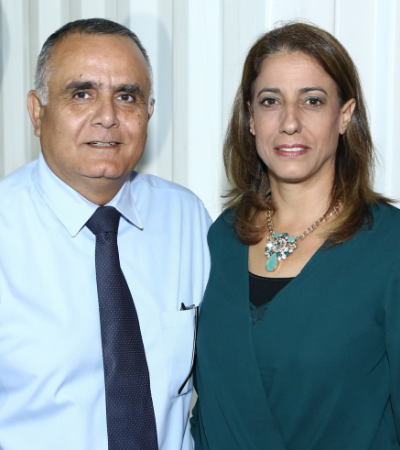 Please pray for our country as it is facing very difficult days. We are in a state of alert and tension is rising to boiling point. There have been attacks, stone throwing, protests and killings every night. We were born and raised in this country and have not experienced the rapid development of riots like we've seen in recent days. It is difficult for our minds to understand and process the seriousness of the violence and hatred that has accumulated on both sides over the years.
Unforgiveness on both sides
This hatred is caused by a lack of forgiveness for past grievances. We know that the only solution and hope for healing and restoration is found in Jesus Christ. The recent situation was more religiously stimulated rather than political. In Judaism, Islam and Christianity, the city of Jerusalem, the city of Light, is a sacred place and, therefore, a place that is disputed over. All are working and fighting for her without knowing her true nature. It is like she is a dormant wick and each religion ignites her and adds to the flame.
Here on the ground, pain, sorrow, fear and worry are everywhere. There are innocent people who are being killed on both sides, extending to all regions of the country. We pray that the Lord will change the evil thoughts and intentions into the right ones, and that through the Lord's counsel hearts will be calmed. There is great sorrow over the great losses we are experiencing, including the loss of loved ones and of homes and possessions. In addition, there is a deep fear of our neighbouring countries as rumours and myths are circulating of a coming war in the Middle East. We are praying for divine intervention for our country. Please join us in prayer.
Our son Tino and many other young believers are serving in the Israel Defense Forces [mandatory for all those over 18]. They need prayer for protection as they fight to protect this country. In Haifa, we have prepared and opened the Christian Soldiers' Centre to receive any soldiers or people who are in need, regardless of race or religion. We hope and pray God would use us and this place to be a beacon of light, love, blessing and peace. We want to encourage those that come and take the opportunity to share the good news of our Lord Jesus the Messiah. Pray for us to keep this place open to be a shelter and blessing to those who take refuge here.
Daily life in the country
We need to pray for safety and stability in our country. We know that the situation will not return to the normal that we knew before the coronavirus pandemic, yet we are starting to settle into a new normal with loosened restrictions and the reopening of many businesses.
Many still have fears and concerns about the current situations and the safety and security of the country and its citizens. It seems that we've returned to the law of the jungle where rape, fraud, theft and violence runs rampant.
In all the events we've faced over the last year and a half, people's psyches and mental health have been affected to the point of exhaustion. Among believers, many have diminished faith and hope or have retreated from their faith altogether. Many have made drastic changes to their lifestyle and some have made decisions for the worse. We see it as our responsibility to encourage and guide the believers we know to Christ and share his love with them. We also want to be preachers of righteousness to the lost.
Update from Elizabeth
Things have changed – cease fire supposedly. It is not peace, and there is no guarantee of what will happen later again between Israel and Gaza or other Arab countries around us. Hatred has deeply penetrated the hearts of both parties; it is currently dormant but it will explode again one day.
We need miracles and the mercy of our Lord Yeshua.
Pastor Najeeb and Elizabeth Atteih serve Immanuel Haifa church ministries, which are threefold: Heart to Heart ministry – discipling and helping refugees in Jordan, the Christian Soldier ministry – supporting Arab Christian soldiers serving in the Israeli army, and the House of Bread ministry – aiding poor and needy families in the Haifa and Nazareth areas. Pastor Najeeb and Elizabeth are also involved in reconciliation work between Jews and Arabs, and Israelis and Palestinians.