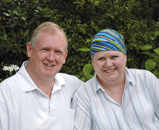 "I'm trying to live each day to the full"
Lynne England, 42, was diagnosed with breast cancer in February. She describers how she and her husband Gerald, a URC minister, have coped
As soon as the consultant examined my left breast and muttered, "I do not like the feel of this," I knew that I was in for a long, tiring day. After a mammogram, followed by an ultra-sound and blood tests, I was free until my appointment for the results. What does one do with a couple of hours, knowing that one's life could change forever? Gerald and I headed for the garden centre - a short walk amongst beautiful, colourful flowers reminded us that life was to be lived. The lunch we had was chicken soup, somehow that detail will remain with me forever. I cannot say that we enjoyed it - but it kept us busy.
Returning to the hospital, we took our seats . . .watching as couples emerged from the consulting rooms. It did not need a rocket scientist to tell us that some had clearly been offered a reprieve, whilst others looked stripped of hope.
Finally, it was our turn. The consultant did not waste time with pleasantries, and very clearly delivered the news we had been dreading all day. There were two lumps (one I had never felt at all. He wanted to do a mastectomy. I felt like I had been punched in the stomach. What about my students? I could not leave the job I had just started, I began to tell him. Could it be done at half-term, I wondered, so that I could be back to teach? My pleading amounted to nothing - a hospital bed was booked for ten days later.
Our teenagers were both involved in exams and we decided that news of this magnitude needed to be kept quiet - and so for five days we told only my mum and my head-teacher. It was so easy to do - I felt and looked normal - I did not feel sick. During each day, the liveliness of my students, blissfully unaware of what was happening in my life, kept me from despair. But at night, the fear paralysed us.
We found prayer almost impossible. Of course we knew that God was powerful, that he could heal, but it suddenly became very academic - my heart felt dead, as if the cancer had spread right through my body and filled even my soul with poison. I remember uttering the word "Help" on that first night - and that was the most difficult thing I had done in a long time.
A few days later, I began to get used to this Jekyll and Hyde lifestyle and decided that I did not want our friends and family to know what was happening. Everyone had enough going on in their own lives to cope with yet another sad story - I wanted to protect them. Gerald was not amused to put it bluntly. As a couple, our ministry had always been based on the concept of the Body of Christ - that we were called to uplift each other, encourage each other and that it was now that we needed to be vulnerable.
I was not scared of being vulnerable - I just did not want to upset those who were closest to us. After all, being friends means caring for others - and I felt we could care by not burdening them with more. My wise husband kept quiet - knowing me better than I know myself - he knew I needed time.
Eventually, we explained to our children what was happening - just the plain, immediate facts. Now that we had broken the silence barrier, I did my usual and went to the opposite extreme - I wanted everyone who believed in the power of God to be praying for us - and so I e-mailed our friends all over the world. E-mail is a wonderful thing - within minutes we were receiving messages assuring us of prayer for healing, as well as encouraging stories of others who had been through it all.
We were still finding prayer difficult and knowing that others were surrounding us and bringing us before God, here at home and abroad, provided an amazing peace and calm, for the first time since receiving the diagnosis.
The day of the operation dawned and I was still sending e-mails to the teacher taking over my class as I remembered things I had forgotten to tell her! I think I was trying to pretend that it was a normal day. Eventually I found myself in hospital, on a trolley, with an NHS gown, individually fitted designer white stockings and a huge black arrow to mark which breast was to be removed. One of the last things I remember was having both my breasts flashed at a very young student doctor as he was shown my markings - one of the last people to see me looking normal.
My stay in Worcester Hospital was as pleasant as it could be - everyone, from consultants, to nurses and dinner-ladies, and the many in between, were thoughtful and cheerful. There were drugs to combat the pain, and others on the ward to cheer me up - I was not the only one facing the unknown.
Chemotherapy started a month later. My fear of needles as well as the difficulty most have trying to get a vein to produce blood resulted in me finding myself back in hospital having a Hickman Line put in. It sounded awful, but it has made chemotherapy as well as blood tests so much easier. Even as the first drug was being injected into me I could not help but feel that it could all be a lie - except for the loss of a breast I felt fine - until an hour or two after returning home.
First the tiredness enveloped me like thick fog and I could feel all the energy being sapped from my body. Then the nausea. Nobody needs to be told how awful it feels to be sick, or worse, to want to be sick, but nothing happens. But that all passes - with copious quantities of ginger, herbal tea and marmite toast. It is the fatigue that is most debilitating and the best way to cope seems to be to listen to the body - not something that is easy to do.
Just after the second round of treatment, I realised that strands of hair were randomly coming out. Then the day came when I washed my hair and a fistful was left in my hands. The emotion was overwhelming and I wept buckets of tears. Gerald just held me - no words were needed. Only a few tears for my breast - it had become the enemy and needed to be removed for survival - but my hair, so innocent, it made me feel exposed.
However, by this stage, I already had a wig and had bought some scarves and started to experiment with various looks. No-one quite knows what to expect and I have even had a compliment about my cool bandana from a teenage boy!
Thankfully, enough has happened in my life for me not to believe that I have done something wrong and that cancer is a punishment. To muddle through all that would expend too much energy - energy better used for living, for the future. I am determined to be as positive as I can and to find humour in each situation - and trust me, it is not hard to find!
Our experience is a reminder from God that each new day is special. It is so easy to begin to live in the future and, like so many, we had begun to focus on the next day, week or year. Today is a gift and I try to live it to the full, create memories with our children and tomorrow, start again on another exciting adventure.
Some days are as dull as ditchwater and our children will tell you that, like hundreds of other parents around the UK, we moan and nag. We are just two ordinary Christians with hopes and dreams, wanting to live as God intends us to. It is God giving us the courage, as well as the example of many others who have gone before us. On our own we would have little hope at all.
After 14 weeks we celebrated "halfway through chemotherapy" with a butterfly party for our closest friends and family. The golden sun and brilliant blue sky set the tone for a happy afternoon. I found butterfly material for the table, butterfly chimes for the garden and made chocolate butterflies. The symbol of new life reminds me continually that no matter what the future holds, we have new life in Christ.
The most exciting part of it all is that when Gerald and I feel desperate and emotional, unable to even talk to our Lord, our friends and family are doing it for us. Barbara Johnson sums it up perfectly in her book Plant a Geranium in your Cranium: "Keep your chin up. When it gets too heavy, God will send his angels to hold it up for you." We are blessed with amazing angels, working over-time.
Breast cancer facts
* Breast cancer is the third most common cause of cancer death in people in the UK, after lung cancer and bowel cancer.
* Approximately 41,700 people are diagnosed with breast cancer each year in the UK. 80% of breast cancers occur in women over the age of 50.
* Men can get breast cancer but it is rare. Around 250 men are diagnosed every year.
* The incidence of breast cancer in British women is increasing by more than 1% each year.
* Survival rates beyond five years are improving, probably due to increased breast awareness, earlier detection and improved treatment.
* Earlier diagnosis and better treatment have led to a 29% fall in breast cancer mortality rates since 1989 (1993-2002).
* It is estimated that around 172,00 women are alive in the UK who have been diagnosed with breast cancer in the last ten years.
Source: Breast Cancer Care. For more information contact Breast cancer Care, Kiln House, 210 New Kings Road, London SW6 4NZ Tel: 020 7384 2984 or visit www.breastcancercare.org.uk