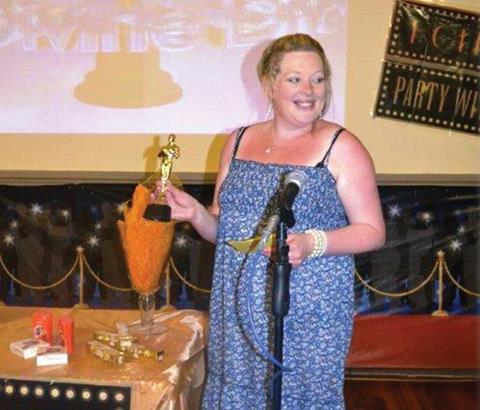 Simply divine
Rev Canon Sue Sheriff, vicar of Tadcaster, tells Karen Carter how Loose Women, Come Dine with Me and a touch of Bollywood are bringing a diverse group of women together in Yorkshire
One of our church members at St Mary's, Tadcaster, won the use of a hot tub for the weekend – not a standard prize in a CofE raffle! She used it for a birthday party and we thought, "why is it that we can invite our female friends to this sort of thing, but often feel that we can't invite them to church?"
We had a Women Who Lunch and Pray meeting at which a small group of us talked about some of the women we cared about and discussed the type of leisure activities we could bring them along to. We then invited more Christian women across the area to a Pudding and Prayer get-together so that we could look at it in more detail. As a result, we decided to launch Divine Divas. The 'Diva' stands for Dynamic Inspirational Vibrant Adventurous women. The idea was to have a group that was clearly Christian, but not off-putting to those who didn't happen to be involved in church life. A core group of eight of us, with ages ranging from 20s to 50-somethings, is involved in the planning.
For our first meeting we decided to go for belly dancing because several women in the group had tried it and said it was great fun. We decided to be very open and honest about the fact that there was the church element because we didn't want to get people there under false pretences. So we decided on a topic for the night and invited a friend of mine – a wonderfully 'DIVA vicar', Laura McWilliams from Scarborough, to come and tell her story and it was great.
People seemed to go for the whole thing immediately. The venue we use is licensed and we set the tone by inviting them to bring whatever they wanted to drink. There are always ethical issues around these questions of course and we don't go so far as to provide the drink, but we feel it important that they can bring in a bottle of wine if they want to. So far we haven't had any problems with this – people seem to respect what we're doing and only drink in moderation. If it was causing any sort of distress, we would obviously think again.
We didn't want anyone to feel excluded by always organising active events, so we next arranged a Loose Women panel based on the TV show of the same name. I chaired it with three very lively Christian women, all with a wide range of life experiences, who made themselves very honest and very vulnerable. Cosmopolitan magazine was taken as our source of topic in the first half of the evening, so that meant we were talking about things like How to Have the Best Sex Ever – but from a Christian perspective!
We set our age range as being old enough to discuss childbirth without cringing and young enough to have a go at belly dancing. It's more of an attitude than any sort of age restriction, but we tend to get 20 to 40-somethings, made up of about 25% churchgoers and 75% non-churchgoers. Attendance has never really dropped below 40.
Bollywood Nights, featuring Bollywood style dancing, included the testimony of a young, Muslim convert to Christianity. People were really moved when they realised the personal cost of her being a Christian and that was the event when they started saying it was 'their' church. There had always been relationship stuff going on, but that event was certainly a turning point.
Come Dine with the Divine Divas was another great success. Men were allowed to help with the cooking and wait on the tables but after serving the meal, they had to get out! They were known as the Divine Men.
For Divine Divas goes to the Oscars, we had a fantastic time planning an Oscar-style celebration. The local carpet shop even provided a red carpet for us! In preparation for the evening, we spent hours compiling a much-debated list of the top four movies in certain categories, including Best Action Film and Best RomCom. We didn't want to just have so-called chick flicks; instead we tried to do something for all age groups. My colleague, curate Claire Cullingworth, did a short talk using themes drawn from various films to illustrate the Christian message. It turned out to be a brilliant night, one of the best so far.
We have never set a strict timetable as to when Divine Divas will take place, though our aim is to have it every couple of months, reflecting the fact that this is largely a new, young community. One of the things we ran up against quite early on was people's busy diaries and those of their children too. So we have learned to respond to the particular local culture we find ourselves in; I think that's really important.
Divine Divas doesn't seem to be a clear bridge to bringing people into church because, for some of them, Sunday church is not appropriate or convenient, or they don't really relate to it. At the moment Divine Divas seems to be developing a community in its own right, but it's very much at an early stage.
The whole thing begs the question about what does Church mean? What I hope will come out of this is that people will develop a relationship with Jesus. Even now I do find that some non-churchgoing friends, who have no particular claim to faith, will text and say "pray for me, this is happening". I'm not sure – if 'church' was to be taken in its tightest of terms – that Divine Divas will evolve into having an organised liturgy and singing hymns. However, if we're talking about evolving to a place where people are happy to pray and to chatter about the Bible then I think that could easily happen. I guess we could call it a cell group or a Bible study or church, but I'm not sure we'd be too keen to try and pin it down too much.
Some of the more mature members of my traditional congregation come along to Divine Divas and thoroughly enjoy it. People have been very supportive and they're just genuinely pleased to see people involved with church in its wider sense.
In future I would like to see Divine Divas growing in numbers and confidence. Instead of bringing in someone from the outside for the speaker's slot, I would love to be able to say to the group, "So has Jesus done anything for you?" "Has God made a difference in your life this week?" and the Divine Divas themselves would just stand up and tell their own stories.
We have learned to respond to the particular local culture we find ourselves in; I think that's really important.
Could you do it?
If you are interested in doing something similar where you are, take a look at why you want to do it. A shared passion for our friends brought us together in the first place and it is great to see the way it has evolved from that. I'm glad that we:
• Didn't tie ourselves down to a particular time or schedule of events; it would very quickly have become a burden
• Always worked on the premise of how it's good to have fun in the purpose of sharing the Gospel
• Paid great attention to detail. Putting a lot of effort into making the place look good has made our guests feel special
• Thought through the whole issue of alcohol. We didn't want to permit drinking to excess, but also didn't want to ban it outright. If you are going to get involved in reaching out to people who don't generally do church, then you have to remember that we are living in an age of choice. We didn't want to take the moral high ground, but we also didn't want to get so worldly that we lost the cutting edge of what we were doing. I'm glad we took the risk!
Divine Divas is featured on the fresh expressions DVD expressions: ?making a difference available from ?www.freshexpressions.org.uk/shop