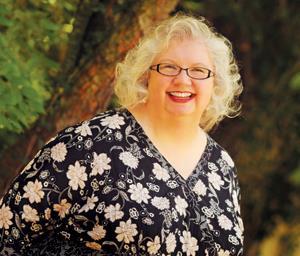 "I absolutely love encouraging women"
LIZ CURTIS HIGGS is a popular speaker and author, having written 30 books with more than four million copies in print. She loves meeting people, exploring the stories of women in the Bible and writing novels set in Scotland of old. Amy Boucher Pye found out about her life and her passions
I grew up in small-town America, the quintessential Good Girl. Then I turned 16, got my driver's licence, and strapped on my Bad Girl shoes. For me, the 1970s were a blur of sex, drugs, booze, and rock 'n' roll.
In 1981 I met two Christian colleagues who hugged me regularly and loved me unconditionally. Little by little my heart softened toward God. Later, I showed up at their church, determined to see if there were any others like those two: funny, loving, non-judgemental, Bible-toting Christians. There were whole pews full of them. Then I heard God's Word. And I knew why I'd come. When I gave my heart to Christ a few weeks later, he gave it right back to me, good as new. The first verse I memorised will always be my favourite: "Therefore, if anyone is in Christ, he is a new creation; the old has gone, the new has come!" (2 Corinthians 5:17).
I have something in common with all of the Bad Girls in the Bible. Many of my readers say the same. Most sin has pride at its root – something I understand all too well – so it's easy to relate to their struggles, their temptations and their failings. The sinful woman of Luke 7:36-50, who bathed Christ's feet with her tears, dried them with her hair, kissed them with her mouth, and anointed them with her perfume, is my favourite of the Bad Girls. I think it's because she worships the Lord completely, without worrying what others think of her. That level of devotion is breathtaking. And convicting. Yet, it's also inspiring.
I met my husband Bill at a wedding (you'll be happy to know, not our own!). He worked as an engineer at the local Christian radio station and I had my own show at a secular station in town. We began chatting after the ceremony and I liked him immediately. Smart, kind, attentive, funny – all the things a woman might hope to find in a man. Of all the earthly blessings God has brought my way, my husband is at the very top of the list.
How do we keep our marriage strong? We spend as much time together as possible, yet nurture a few individual interests. Bill enjoys tinkering with his amateur radio equipment, I love going to the movies or getting lost in a novel. And we pray together, often.
Every Friday and Saturday, I'm likely to be speaking at a Christian women's event. I love people and mingle about from the moment I arrive until the last woman waves goodbye. Then I go home and collapse – though still with a smile on my face! In my Sunday to Thursday life, I stay home and recharge, and pour words onto the page instead of across a stage. I love those quiet, solitary hours, surrounded by my Scottish research books and translations of the Bible. Writing is how I've always expressed myself. Come Thursday evening, I'm ready to head out the door again, and eager to be with my sisters in Christ. It's an odd, hybrid sort of life, but it seems to work.
When I'm working on a novel, things start getting really fun at about the halfway point, when the characters take over, and it's my job simply to keep up with the drama and write it all down. With non-fiction, my favourite part is when I discover something in a biblical story that I've never noticed before. It's like finding hidden treasure.
For as far back as I can remember, I've loved the music, stories, and folklore of Scotland. But that affection grew much deeper in 1995, when God whispered three words in my heart that made little sense at the time: Scottish historical fiction. Pretty daunting, when I had yet to visit Scotland, was a so-so history student during my university days, and had never written a novel!
Less than a year later, my husband and I made our first of many trips to Scotland. I quickly found the setting for my first series of novels, nestled in bonny Dumfries and Galloway, then began collecting the research books that serve as the backbone for my stories. Now I travel to Scotland annually, either to do research, visit friends, lead a tour group, speak in churches, or explore a new part of the country. I've had the joy of travelling to many foreign lands, but I'm still happiest when the plane touches down in Glasgow or Edinburgh.
I enjoy period films for the same reason I prefer historical novels: I love to be swept away to another time and place, to imagine how people lived and worked, how they dressed and dined, how they spent their days and nights. Every detail of every decade interests me – Elizabethan, Georgian, Victorian, Edwardian. My favourite period films are those I can watch again and again: Sense and Sensibility, Little Women, The Count of Monte Cristo, Emma, The King's Speech, not to mention some of the marvellous BBC productions of recent years, including Bleak House, Cranford, and Little Dorrit. And yes, we are serious Downton Abbey fans at the Higgs house. The first season remains my favourite. Midway through the third season we almost bought "Free Bates" T-shirts. We're still in mourning for you-know-who.
I believe that if we keep our eyes open, our hearts softened and our thoughts in tune with the one who made us, we will discover him constantly at work in our lives, day in and day out. A friend calls at just the right time. An unexpected cheque arrives when we need it most. A relative facing cancer gets a promising report from the doctor. Luck and coincidence are not in God's vocabulary, so they aren't in mine either. Instead I look for blessings and ... uh ... opportunities for growth! (The optimist in me avoids the word 'challenges', though sometimes that's the best description.)
One God-incidence that comes to mind happened in Scotland a dozen years ago. I was tramping about Glen Trool, snapping photos with my brand-new Canon. Suddenly, my foot slipped and gravity took over. Down I went, tumbling over some sharp rocks, my camera leading the way. By the time I came to a stop, my lens was covered with dirt, my foot was pinned underneath me, and I was in a good deal of pain. I was also entirely alone. The visitor centre hadn't opened for the season, and no one was anywhere in sight. I called out for help, feeling more than a little foolish. But I had to do something. Out of the blue, appeared an older man with a shock of silvery hair and a sturdy build. "Och! What's happened here, lass? Have ye taken a tumble?" He helped me to my feet, plucked the camera from my hands, deftly brushed off the dirt, and examined the lens with a practised eye. "A scratch or two on the case. Nothing to fret about." He made a minor adjustment, then handed the camera back to me. "Good as new." That's when I noticed the professional-looking equipment draped around his neck. "Are you a …" "Photographer," he said with a nod, then cupped my elbow. "Come, let's get you onto level ground." Minutes later, he disappeared from view round a bend in the road. Imagine, in that vast, empty glen, a man with camera know-how and strong arms showing up at the precise moment when I was desperate for both. God at work, I'd say.
Challenges I face? Finding time to hang out with friends, to relax without feeling guilty, to keep up with my extended family scattered all over the US. I take on too much, sleep too little, fret too often. All the usual anthills of everyday life.
Joys in life? It isn't the awards and the accolades, though of course, such things are a blessing. What I treasure most are the letters and e-mails and Facebook posts from readers or audience members who pour out their hearts to me and show me what God is teaching them. I absolutely love encouraging women. It makes everything inside me sing.
Want more?
+ Liz has three upcoming UK speaking engagements: 20 June in Surrey; 25 June in Inverness and 2 July in Edinburgh. For more information see www.lizcurtishiggs.com/calendar
+ Find out more about Liz's ministry at www.lizcurtishiggs.com and see more photos of Scotland at her new site www.MyScottishHeart.com
+ We have five copies of the new editions of two of Liz's books for you to win. Bad Girls of the Bible explores what we can learn from some of the women in the Bible, whilst Mine is the Night is a dramatic, Scottish retelling of the biblical love story of Boaz and Ruth. For your chance to win, send your name and address to Woman Alive.