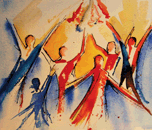 Finding joy again

When her parents, Eddie and Barbara Askew, died within seven months of each other, Jenny Hawke found her whole world changed

Security and change have always been in tension in my life, unless the change is on my terms. I believe in "Winnie the Pooh" endings. I like making things better.

Three years ago, my life changed with one phone call. My lovely mum had woken unable to speak, or move her left side. Dad was reassuring, "It is not serious," but it was. Days and weeks were blurred by worry and weariness, as we traveled the grey miles of the M1 and walked down the long hospital corridors. Dad was quietly stoical, inwardly shocked. The life-change they faced was enormous; disability, slowness of speech, and a growing sadness in Mum's eyes.

We did what we could. The hardest thing was the role reversal within our family. Mum, always the cheerful and energetic carer, was now the quietly cared-for. It was a painful time.

Two years passed with increasing worries of what the future might hold.

Then one weekend, Mum had a heart attack and was taken to hospital. We all gathered and she said her goodbyes. By some miracle the effects of the stroke seemed to lift and we could see the 'real' Barbara again as she spoke to each one of us. She had had enough and was letting go. God's presence and timing were palpable. We had precious time with her, we prayed with her, sang songs and held her hand. During the following night, 19th Feb 2007, Dad and I were called in. She died peacefully and with great dignity. She seemed to be sleeping.

As a family we grieved, but we were strangely at peace. It was a "good end" to a good life.

The focus changed now, as my sister and I supported Dad, who was devastated by his loss. Theirs was a great love, spanning 65 years. They met at 16, married in their twenties and within a month were on a ship to India as missionaries with the Leprosy Mission. Years of service were followed by a full and happy retirement.

Now Dad was lost. We settled into a tentative routine. We talked of holidays: Christmas in India to scatter Mum's ashes and return to our childhood home. Life moved on around us.

Five months later, another phone call. My sister spoke; " Dad's had a stroke." Now I was lost, my security disintegrating and there was nothing I could do. This was not our plan. God knew how precious he was to us. This could not be. And yet here I was by his bed, horrified by events.

During the night, a second and more serious stroke robbed him of movement in his left side. He became sadly accepting, looking smaller in the wheelchair as he struggled to gain recovery. I knew he was trying for our sakes. My mind raced out of control, trying to look ahead but seeing only pain .

Then in September, he had the final stroke, taking his sight and speech. He knew we were there and could hear us. My sister Steph and I sat for nine days, waiting, watching, willing him to let go, wanting him to stay . . . the loosening of such deep ties is a desperate process.

He died on the 27th September 2007, seven months after Mum. As the hearse arrived again outside their home, the awfulness of our situation became even more real. It was too soon. The same grieving friends at the church were stunned by this double loss.

Grief is a physical pain, an ache so deep it takes the breath away. Tears come and go, but the ache, the longing, remain. I found a tiny part of me seemed to believe that if I longed enough and cried enough, he could and would come back. We felt, and were, orphaned. There was no one in front of us now, no safety net to fall into, no wisdom to rely on.

In some way I was prepared for the pain, but not for the total shift in my faith.

I felt I was on different rail-tracks, still going in the same direction, but separated from the reality around me. Church left me cold, the language unfamiliar, and the worship too hard to bear. My theology was frayed and my hope deeply scarred. In my mind, I saw a picture of a compass needle spinning. I had lost my magnetic north.

There would be no happy ending here.

When Mum died, I remember Dad struggling with the pain of loss being too hard to bear. His minister gently suggested that the deeper we love, the greater the pain when death separates. Over the months, he came to an uneasy peace. We found his journal, hidden away amongst his papers, which revealed his journey through his grief. The last entry he made said: "I am blessed beyond measure".

He was referring to us, his family. That single phrase has comforted me more than anything else. As we began the long process of dismantling a lifetime's possessions, we laughed and cried together, discovering photos, books and letters, reminding us of better times.

It is now over two years since they died. The pain is less raw, but I miss them both every day. I miss sharing my life with them. I miss the hugs, the laughter, the curries and, most of all, the way they lived out their life and faith.

We did go to India for Christmas, but we took both their ashes. We placed them near our childhood home, in a grove of quietly graceful trees by the edge of a lake, close to the church they built and worshipped in.

My life has taken a strange direction since then. I am painting, exploring my faith through art and selling some of my work. I have co-written a book about Dad's journey through grief. I am running prophetic art workshops and occasionally speaking on Quiet Days. Five years ago, this would have been unthinkable, but God is a redeeming God and through enormous pain, can and will bring enormous good.

I have learnt that God is always there, when pain is unbearable and breath is ragged.

I have leant that heaven is real, and I have a hope to cling to. I will see them again.

I have realised that nothing on earth right now is more precious than family and friends. They have sustained me, giving me unconditional love and an abundance of hugs, often searching me out when I was hard to find.

And my faith has survived. Deeper now than it was; a blessing coming from the four generations of Christians before me. It is a precious inheritance from their faithful prayers. It feels and looks entirely different. Some aspects of faith don't sit well with me anymore and my expectations seem smaller, but God, thankfully, is bigger than all of them.

As my friend says, my faith has found it's irreducible minimum. I believe there is a God, Jesus is his Son and the Holy Spirit is real. I will spend the rest of my life working out the rest.

My faith sustains me as I choose to continue living. I search for the abundant life promised to us. I long to be truly authentic and hope that in some way my parents can still see me. "A great cloud of witnesses" . . . but I may be misquoting.

And so we live, we learn, we stay open to possibilities, and we will see God; small glimpses in the shadows, fleeting at first, but drawing us on to follow him, and find joy again.