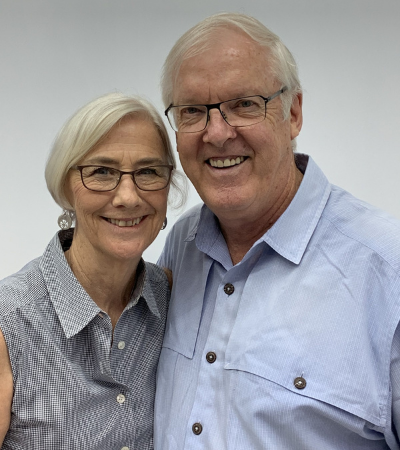 For over 40 years I have been a missionary in the beautiful country of Thailand with my husband, Steve. It has been a life of adventure, following the call of God. However, as a little girl growing up in America, Thailand was the last place I thought I would be living.
Early years
I had given my heart to the Lord at eight years old while listening to a Sunday sermon. I had a revelation of sin for the first time and started weeping quietly. I asked God to forgive me and come into my heart.
Steve and I met when we were still in high school in Memphis, Tennessee. We started dating when we were 17, going on to separate universities but still dating. I studied business education for two years before leaving to work in administration at Memphis Light, Gas and Water.
We married when we were both 21. Soon after we met David and Carol Boyd, who had joined a mission organisation called Youth With A Mission (YWAM). They were working as missionaries in Germany. I remembered being impressed that Carol wasn't just enduring alongside David and the call to missions. She was called just as much as he was and loved the work. They had such generous hearts and gave sacrificially. They never asked for money, even though we found out later they had very little support and trusted God to provide their needs.
Feeling the call
David and Carol were so inspiring to be around. They heard God's voice and obeyed, and as a result shared many miracle stories with us. Steve and I wanted to know more! They told us about the School of Evangelism (SOE) with YWAM. It was very attractive to us as we had such a desire to know God better.
I did have one secret concern. I was worried Steve had married the wrong person, because I wasn't a nurse, a musician or even a teacher – the only professions I thought would be useful on the mission field. I loved administration; in my naivety I wondered how I would be of any use. No one knew about my fears.
The next Sunday David was speaking at our church. In his sermon, he happened to say: "God needs secretaries, administrators and accountants on the mission field." My eyes widened, as I knew God was speaking to me. I let out a sigh of relief that Steve hadn't married the wrong girl after all.
We moved to Lausanne, Switzerland, and spent eight months at the SOE. It was a life-changing experience for both of us. When it came to an end, we had to return to Memphis for Steve to have surgery connected to an accident he'd had as a young teenager. While we were home, we felt God guiding us to stay with YWAM, but we had no money, no insurance and huge hospital bills. Everyone volunteering with YWAM lived by faith, as there was no salary. It was our first step of faith to believe that where God guides, he provides! He has done so faithfully for the last 47 years.
From Switzerland to Thailand
For six years Steve and I were part of YWAM in Lausanne as staff of the same training school that we attended. It included six months of outreach each year from Europe to Africa, mobilising young people for world missions.
It was in the late 1970s that we began to hear about the refugees fleeing the Khmer Rouge from Cambodia along the border of Thailand. We felt God speak to both of us, saying: "I want you to go and serve the refugees."
We worked in refugee camps along the Thai and Cambodian border for 16 years, providing medical assistance, emergency response and hope in Jesus.
YWAM in Thailand grew. We used to have a yearly staff conference in Pattaya, a seaside town about two hours south from Bangkok. Each year our hearts broke to see the increase of open prostitution, tourists flocking to the now bustling town to participate in the booming sex industry. Every conference we prayed intensely for the town and the men and women who were trafficked. Eventually a YWAM staff member moved to the area, and the Tamar Centre was born, meeting the needs of young women so they could leave the sex industry and find new jobs.
One year a team from Northern Ireland came to Pattaya. Some of the members were in a band called Bluetree. They were allowed to play a two-hour set in one of the open bars called The Climax Bar. It seemed incongruous to hear worship songs in that environment. English-speaking tourists began to stop at the bar, not quite believing what they were hearing. It turned into one of the most powerful times of worship. The lead singer started speaking words of life into the city. The words he sang became the song 'God of this City'. I believe the song is prophetic not only for Pattaya, but for the whole of Thailand.
Choosing to trust God
The year I turned 40 was bittersweet for Steve and me, because we were still childless despite the many prayers and words given by those we loved and respected. We looked into adoption, but never seemed to be at the right place at the right time. At one point we were contacted about a baby, born to a teenage mother, who needed a home. As we prayed, we were surprised when we both felt it was not our child. We did not understand, but obeyed. We later found out that the teenage mother had taken her baby back; God had saved us pain and heartache in that situation.
Once, when Steve had been in hospital again for yet another painful operation on scar tissue from his childhood accident, I cried out to God for his healing. I felt God say we had a choice: Steve's healing, a pregnancy and a longed-for baby, or his maximum for our lives. It was one of those sacred moments when I realised the choice really was ours to make – and it would set the direction for our lives. Tearfully we chose his maximum, knowing that, whatever that would mean, we could trust him fully.
Holding on to God's kindness and faithfulness
Initially we had thought we would go to Thailand for three to five months, but now, 40 years later, we are still working with the poor and the vulnerable in Thailand and around the world. We wrote a book about our story in 2014, called Bring Your Eyes and See (YWAM Publishing).
One of my life lessons is from Psalm 145:17: "The Lord is righteous in all his ways and faithful in all his deeds." People often observe that Steve and I love children and do not hold back from them. God has given us some keys for not being bitter over our childlessness. The truth is, God is just and kind, and we hold onto that. We have learned that he understands our grief, hurts alongside us and holds us tighter in those times. His grace is our defence against bitterness (Hebrews 12:15).
Steve and I have always felt called to mercy ministry. Now we are at home in Bangkok, unable to visit family in the USA because of COVID restrictions, I am still working with refugees in the city, who have no identity and no ability to get work or food. I am convinced they are the ones that Jesus would go to.
We have seen the faithfulness of God throughout our lives. He is worthy of following and giving your everything to!
Words by journalist and author Jemimah Wright.