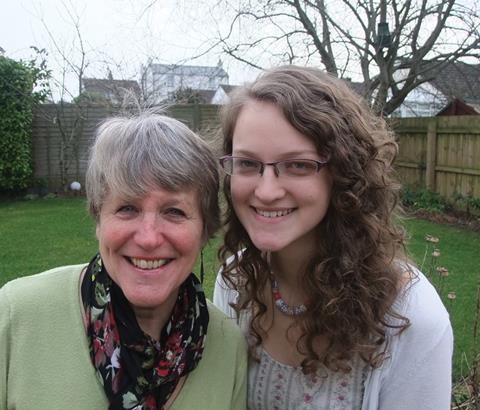 The power of a praying granny

Tracy Spiers talks to two grandmothers and their granddaughters about the importance of praying for future generations

'I pray for my family every day'
Widow Milly Hobbs (91) lives in Barnstaple, Devon. Until her marriage in 1942, Milly was a civil servant working in London. Being a housewife enabled her to have a lot of involvement in her local church, but she says her spiritual work is far from done. She has four children, 13 grandchildren and 27 great grandchildren, with two more on the way. She faithfully prays for each one every day and almost all of them are now Christians.

Just as we have a responsibility for our children's physical welfare, we have a responsibility for their spiritual wellbeing too. I pray for the family every day. It's not a long prayer. I remember each one by name and ask the Lord to watch over them, protect them and keep them close. If there are any specific situations which need praying for such as exams, jobs or illness, I pray for those.

I must admit I find it easier to pray for situations than I do for souls. People have free will and God won't force them to follow him. Yet I'm like the persistent widow. I keep coming to the King, knowing that to pray for their salvation is in accordance to his will. Praying is difficult. I don't always pray in the morning, as my mind is too full. I need to get down with the Lord quietly. He needs my full attention. To help me concentrate – and because I think it is respectful - I pray out loud. Sometimes I am too full of care to pray, so I ask him to help me.

My job of praying for my grandchildren is made easier because their own parents love the Lord. Sometimes I have had very little faith, but have learnt later that God has moved powerfully in one of their lives. I try and be organised and write lists of who and what to pray for. I was the youngest of 10 children, so I now pray for the families of my late brothers and sisters.

I think if you don't have grandchildren, you should look around for other children you can pray for. You'll soon find someone. As well as praying, you must encourage all the time - that is the most important thing, and remember to praise God and thank him for what he's done and what he is going to do. This helps me trust him. He is a faithful God.

A lot of elderly people become very introverted. The thing is to look out all the time and see the needs of others. There is a big world out there that needs our prayers.
'I am where I am because of my grandmother's prayers'
Jennie Watts (31) is pregnant with Milly's 29th great grandchild and lives in High Wycombe, Buckinghamshire with husband Andy and their two-year-old daughter Rebecca. Both are active members of their local church. Jennie has worked for lots of Christian organisations, both in the UK and abroad, but is now a full time mum. She pays tribute to her grandmother and says she hopes to follow her example.
Milly is phenomenal. Every day she prays for all her close relations, my aunts, uncles, my cousins, me, my siblings and our children. In all there are about 60 of us and yet she remembers us all.
I think I am a 'doer' and I have always been involved in church and Christian work, but sometimes I get so involved in 'doing' that I forget to pray. It is so reassuring to know that my grandmother is praying and that gets me through. I really value those prayers and know I wouldn't be as effective without them. As she is now 91, she can't do as much as she did, but she can pray. There is a whole army of elderly people who are faithful prayer warriors and without them the practical work that is done would not be so successful.
Life doesn't always go to plan. At the moment we are trusting God for a job for my husband, we are trying to sell the house and I am expecting! But I grew up watching my parents trust God and my dad in turn watched his parents do the same. It is a generational thing. Timothy had a praying mother and grandmother, and without them he probably wouldn't be in the Bible. I may not have everything in the world's eyes, but as far as my faith is concerned, I am where I want to be and I owe a lot of that to my grandmother.
I believe the best start we can give our children is to pray for them. My Gran has prayed for so many situations for myself and my cousins, from being born, to taking A levels, to starting university, to getting married and it goes on. The majority of us grandchildren and older great grandchildren are Christians and active members of local churches. We are not a perfect family by any means, but if you looked at us as a whole, we wouldn't be typical of the current trends. There are not so many instances of family break-ups and I am sure that has been Gran's spiritual influence.
I am where I am today largely because of her faithful prayers. And if I can be as faithful as she has been when I get older, then that would be a wonderful legacy to give my own grandchildren, if I am fortunate to have any.
'I want to be faithful in prayer'
Ros Chamings (66) lives in Barnstaple, North Devon with her husband Richard. As well as bringing up four children – sadly their third child died at 27 – they have 11 grandchildren, ranging from the age of two to 18 years. She believes that for a Christian grandmother praying isn't an option, but a vital part of her family life.
It's a privilege to pray for my grandchildren. I remember hearing a talk by John Coles at New Wine when we had just become grandparents. He recalled a wedding when he was introduced to an elderly relative for the first time. Her opening line to him was, "I've been praying for you since the moment you were born." It really moved me to think of her faithfulness in prayer and yet she had never met him up until that point. I made a decision then that I wanted to be faithful in prayer for my grandchildren.
With my husband, I pray generally for them every day. We don't pray for success, riches or outward beauty; rather we pray that they will seek the kingdom of God throughout their lives and use the gifts and natural abilities he has given them to share with others, the church and for their own wellbeing. We also pray more specifically when they are taking an exam, have an interview or are travelling abroad. Our eldest granddaughter Nelli went to Uganda last year, so we obviously prayed for her protection. I've noticed though now, that as Nelli has got older, my prayers for her are more of thanksgiving, thanking God for what he is doing in her life. And I hope that will be same for all my grandchildren as they get older.
I tend to pray for them when I am swimming, as I can then give a length to each! I don't think it's an option. If you pray for your children, it's only natural that you will pray for their children too. Simple prayers, such as praying for them to have good friends, both Christian and non-Christian, and that they will know God for themselves is so important.
'Gran is always ready for me'
Nelli Chamings (18) is the eldest of her four siblings and lives with her parents Matthew and Yvonne, close to her grandmother Ros (who she affectionately calls "little grandma" ) in Barnstaple, North Devon. They all attend the Grosvenor Church. Nelli is currently studying for A levels and has been offered a place at Oxford to read English in the autumn.
As a family, we always go to grandma's every Sunday for afternoon tea with lots of cakes. When I was at primary school, because I passed her house on the way home, I was always popping in and spent a lot of time chatting with her. She is so open, accepting, loving and not what you'd describe as a typical grandma. She still finds time and energy to have many of her 11 grandchildren to stay over at her house for rather chaotic sleepovers.
If I have something hard to deal with such as exams, or more recently an interview for university, she and grandad always pray for me. It makes me feel loved and supported because they take an interest in what's important to me and ask me how I have done afterwards. My gran also takes me – and more recently my brothers and sister too - to New Wine because my dad doesn't like camping. These camps have really helped my faith grow.
I think there are times that we forget that our grandmothers are praying for us. But it's important not to take them for granted and to recognise how much of a commitment they make. When you stop and realise this, it makes you appreciate how important a praying granny is in your life