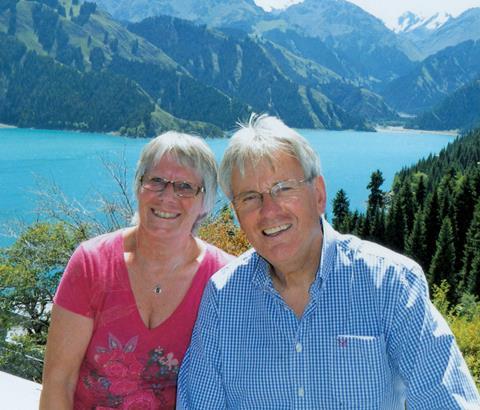 What will you do this year?
As the new year begins, the holiday season seems a long way off. But as we dream about warmer months, it could be a chance to think about doing something different in 2012. Four women have been talking to Tracy Spiers about their holiday experiences
'We helped at a youth camp in China'
Ruth Knapman (63) from Paignton, Devon decided to spend her summer holiday helping out at an outward bound holiday camp for orphaned children in northern China. Together with husband Austen, a steel stockholder, Ruth spent three weeks with a team from around the world to ensure the youngsters enjoyed themselves as well as experiencing love and care. Ruth and Austen have three grown-up children and five grandchildren. Ruth attends Great Parks Chapel in Paignton.
We went out to support a couple we know who were brought up in Devon and who left to set up an organisation in China. As my husband is a trustee of the UK wing of the charity, we wanted to see how they were getting on. Their vision has been to buy a piece of land and run a site where they could offer orphaned and disadvantaged youngsters a holiday. It was encouraging to be involved and to see how the Lord is working there through a small venture such as this.
We helped with three camps during the three weeks and one of them was in an area where there were large ponds full of lotus flowers and tremendous scenery. It is so different from here and it was exciting to be in a different country and live in a completely different culture.
The foster carers all said thank you for showing the youngsters joy and affection. They expressed that they knew where the love came from by pointing to the sky, which was amazing.
We did assault courses in the woods, crafts, lino cuts, sewing (making wrist bands), drawing and colouring, swimming in the large pool and sliding on a large plastic sheet with soapy water, getting soaking wet! Some of us acted out the Prodigal Son story in Chinese and there was lots of lively singing.
It was a very tiring journey involving long flights, but it was worth it. I will definitely go again.
Ruth's tips:
Be prepared to put up with new foods – some will be tasty, others may not be! I loved all the fresh stir fry vegetables and noodles, even the steamed curry flavoured dumplings for breakfast, but the (congee) sloppy rice porridge was disgusting.
Focusing on the mission in hand helps you cope with the basic living accommodation. I recommend a good supply of tissue paper and bottled water if you are working abroad.
Enjoy the experience and just go for it. It makes you appreciate what riches we have at home. As you give out, you get far more back.
'I've become a house sitter'
Sheila Jones (65) from Great Wyrley in the Midlands is a retired researcher and teacher in higher education, and currently an artist. She worships at St Mark's and spent her summer house sitting for a couple in Beaconsfield. A few years ago, she joined a worldwide organisation called Christian House Sitters, whereby one looks after a house for anything from a week to several months. She has so far looked after properties in France, England and New Zealand. Sheila has two grown-up children and four grandsons. She has been widowed for 30 years.
A bout five years ago, I was browsing the internet and wondering if there was an opportunity to house sit in New Zealand, when I came across www.christian-housesitters.com. It is not a house swap, although I could put my house on the website for someone to look after while I am sitting for someone else if I wanted to. It costs just £25 to sign up and it's a matter of seeing what locations and properties fit in with the holiday time you have.
I went to France last year and New Zealand the year before that. The longest time I have spent away is nine months in New Zealand. This year, I stayed in England and went back to a lovely house in Beaconsfield, where I have been several times before.
As a house sitter, you often have to look after the family pets. Sometimes it's cats or dogs, and this year it was also chickens. But in return, I had all the eggs!
It's an affordable way of seeing different parts of the country and visiting other parts of the world. I have enjoyed taking part in worship in other churches and it's lovely to come back and share those experiences.
I usually go on my own, but I have on occasions taken my son or daughter. However, it's important to let the owners know if there is more than one of you going, so they can get the rooms ready.
I would love to go to Canada, but although there have been houses that have come up from time to time, so far they haven't fitted in with my free time.
Sheila's Tips:
If you do house sit, make sure you are there before the owners leave. It enables you to meet them properly and know where things are.
One of the questions asked when you are linked up is whether you would like to be put in touch with one of the house owner's friends. I would say yes and I always try and go to their local church when I am there. It is always good to see how others worship.
Have a spirit of adventure. If you are retired, it helps you get out of the "retirement mindset".

'I stayed home and got involved in community events'
Dawn Dodd (71) from South Milton in Kingsbridge decided to have a 'staycation', preferring to stay at home rather than go away. She spent her holiday serving the community and raising money for charity. This involved organising a sponsored 12-hour sleep-over in the tower of All Saints' Church to raise money for roof funds. Dawn has two sons and a daughter, who she currently looks after. She has six grandchildren and a great granddaughter. She also has an adventurous spirit and has taken part in abseiling, parachute jumps and has been on the longest zip wire in England.
I used to go away on holiday, but because I care for my daughter, have three dogs and a cat, and such a big garden, I find there isn't much time to do that anymore.
My bedroom overlooks the church tower and, one night, I was lying in bed looking at it thinking, "what could I do to raise money towards roof funds?" I realised I could quite easily sleep in the tower, so I asked the community to sponsor me to stay alone there for 12 hours. I am frightened of birds, but I didn't see any. I didn't come across any spiders either. I was locked in at 7pm and let out at 7am the next day. I wasn't frightened, as I knew I could pull on the bell ropes if I needed help!
The church tower is so steep that you have to pull yourself up by a rope, so I just took a blow up mattress and my Bible with me. It was so peaceful, especially when I went down to the church early the next morning. I knew I wasn't alone and I really didn't want to leave. I raised £485.
I also spent the summer helping out at various fetes and community events, including serving cream teas and knitting teddy bears for a tombola stall for Torbay Hospital. I kept one teddy bear back and entered it into the horticultural show and it won second prize. One of my pen and ink drawings also got a second. It's been good to spend the holiday time being involved in different events.
Dawn's tips:
If you look hard enough, you can fill your life and therefore some holiday time. Why not help someone else and make them laugh?
If you stay at home, it enables you to enjoy the garden and do things you perhaps don't get time for, like painting or reading a good book.
I believe everyone has a talent and it may be a chance to develop that gifting. It doesn't cost money to enjoy life.
'I joined the Christian Singles Fellowship'
Patricia Deacon (far left in photo) lives in Eastbourne and is a member of the Christian Singles Fellowship, which organises holidays in the UK for single Christians, including those who are widowed and divorced. She attends All Souls Church in Eastbourne and worked as an administrator for the Universities and Colleges Christian Fellowship (UCCF) before she retired. She has been on several holidays with CSF.
As a single person, it can be hard to find holiday companions, but when you go with a group like this, there are always others who are in a similar situation. We have some great times together, make some good friends, keep in touch and find we are able to give each other support.
Last summer, I spent a week at Scottish Churches House, an ecumenical conference centre on the Cathedral Square in Dunblane. Sadly, it is now closed and so we were some of the last people to stay there. As it was in central Scotland, it meant we did lots of sight-seeing – immersed in history at Stirling Castle one day, impressed with modern engineering at the Falkirk Wheel the next.
On other holidays we have enjoyed walks with stunning scenery, such as around Windermere in winter. Evening activities might include a barn dance, a concert or a quiz. Everything is optional. We have a morning thought for the day and an evening epilogue. On Sunday evenings, we are invited to bring something devotional to share. We want the Lord Jesus Christ to be central.
We like to support the local church and attend their morning service. Once, there was quite a large group of us and we were given a warm welcome. On that Sunday the subject was Christian marriage, which rather amused us.
I'm very glad to find something that is suitable for me as a single person and to know that I will not be marginalised, but feel at home.
Patricia's Tips:
Be brave and try it. A lot of people are apprehensive at first if they have never been before, but they soon feel at home. We are a very accepting group.
Be prepared to take an interest in other people.
If you feel a week is too long to start with, why not try one of our weekend breaks away? If you like it you can book a longer holiday. Go to: www.christiansinglesfellowship.co.uk