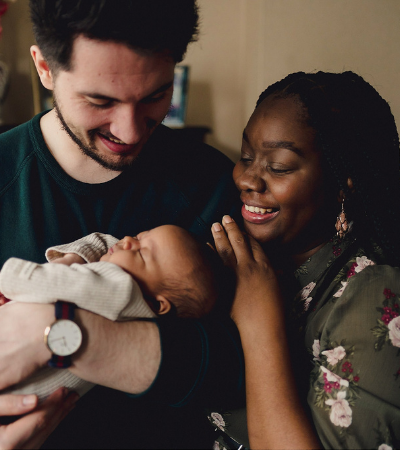 I was born in Paddington, London, as were my mother and father. They sadly separated when I was very young and my dad was mostly absent, but Mum taught me to pray, so I spoke with God from a young age.
Struggling to fit in
During primary school, we left London when Mum bought her first home in Guildford. I got on well at school, but I was the only black girl, so I was always different.
In November 1994, when I was 14, Mum and I visited a church in London. It was a baptism service. There was a last call for anyone who wanted to get baptised. That day Mum and I both gave our hearts to the Lord and were baptised.
The church was majority black, and you'd have thought I would feel more at home, but I was actually teased. I had my hair a particular way to fit in Guildford with all the white kids, and then a different way to fit in London with all the black kids.
By the time I was 16, I was trying to find out who I was. I left the church and started looking for love and validation in all the wrong places. At a party I met a boy who was charming. All the girls liked him, but he liked me! Having tried so hard to fit in everywhere else, to suddenly feel wanted was amazing.
I started seeing this guy, and ended up getting pregnant. I couldn't tell Mum, so my aunt told her for me. All she could do was cry for me because she had found it so hard as a young single mum.
Without a doubt, I wanted to keep my baby and raise him the best I could. I also knew I had to do that with Jesus at the centre. I started to read my Bible again, repented and wanted to seek God.
I went back to church. But at the end of the service, Mum was told that I was no longer allowed to attend – I think they thought I was a bad example to other teenagers. She was furious. I felt rejected and returned to old, worldly comforts. I was 18 when my son Demain was born and, a year later, I got pregnant with my son Tyvon.
Finding family
During my second pregnancy, I realised the life the world had to offer was not for me. The partying, drinking and smoking did not satisfy and neither did an ungodly relationship. At this point, I felt alone and broken.
When I gave birth to Ty at 19 I was given my own place in Woolwich by the local council. I had no family in the area and it was tough.
I discovered Isaiah 54:4-5 during my first pregnancy, and read it over and over: "Do not be afraid; you will not be put to shame. Do not fear disgrace; you will not be humiliated.
You will forget the shame of your youth and remember no more the reproach of your widowhood. For your Maker is your husband— the Lord Almighty is his name."
I was a mess, and I was on my own. But the verses from Isaiah were true. God was always my very first point of support.
One day I was pushing my double buggy up a hill when an older guy from across the road invited me to church. I decided to visit and later this same gentleman asked me: "What is your surname?" I told him, and he then asked: "Is your grandfather Sigree Brown?" I said "Yes."
"You're my cousin! We're family!" he exclaimed. I was shocked, and fell into his arms and wept.
God knew I needed more than a church because I had already been rejected by a church. I needed family too. That is how God works.
During this time, I went to college to study Media, English and Business. Later on, I completed a degree with a first-class honours in Business Entrepreneurship.
Placing the future in God's hands
In a dream, I felt God tell me to leave London and move to Northampton in 2008. People thought I was crazy moving out to nowhere, but I knew God was asking me to, and I got offered a new school for the boys, house and job in Northampton all on the same day.
I joined Elim Church Northampton. I raised my boys on my own for 17 years, but was often tempted to settle for men that were not good enough or were lukewarm in their faith. However I knew deep down that if a man wasn't what I'd like my sons to be like, a relationship couldn't happen. There were times I even tried to manipulate God into making them 'the one', because I felt, in my brokenness, that I still needed a man to validate me in order for the world to stop judging me.
One day I said to God: "Lord, you know what I need in my life. I want to get married but if it's at aged 50, 60 or if I never do, so be it. Not only do I trust in you, but I also trust in your timing. All I want to do is serve you."
I started a youth club called 'Rubies, Diamonds and Pearls'. Then I became the women's ministry team leader at Elim and met Dominic while serving. He is ten years younger than me, so I wasn't interested at first. He did media, and praise and worship, so we worked together a lot and found we could talk about anything! After a long day in the church office, eventually, he asked me out for dinner. We got married in 2017, and in 2020 we had our little boy, Justice-Theodore.
Supporting others
During my single-motherhood season, I made a vow to God that I would give back and support other women because no woman should have to do it all alone. I founded The Hope Table, an online space where every woman has a seat at the table. It helps build faith, entrepreneurship and community among women.
Through my journey, God showed me his love and provision, and now I want others to know that too. Many women are missing from churches, tables and positions. They were rejected with judgment when they should have been embraced with love and grace. I look back and see the wrong turns I made, but, as an unwed mother, I also saw God transform my mourning into gladness and ashes into a crown.
When others say you are not enough to be seated here, God says you are enough, just as you are. If you are a single mother, trust that God is there for you and your children every step of the way.
Dominic's story
I got to know Shovorne in church. I knew she was beautiful from the moment I spoke to her. I didn't know right away she was going to be my wife, but God dropped hints about her for the next year.
After spending time with her in the office at church, it became impossible for me not to love Shovorne. She was fun to talk to, had a great laugh and smile, was dedicated in her studies all while still being devoted to her boys and God.
I knew her sons from helping at youth church before I properly spoke to Shovorne. Getting to know them more put me at ease very quickly. They made it very clear that they loved their mum and that I need to look after her with all my heart, which I hope I do.
For more information about The Hope Table