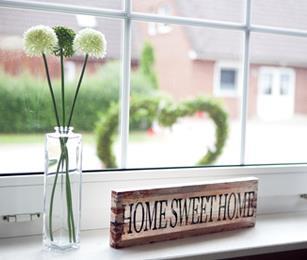 Home at last!

We all need a place to retreat from the world. Jo Swinney considers what turns a house into a home
Home is one of the deepest human longings. All of us crave somewhere to belong, a place where we are known, where we have the right to stay, where we can welcome others or retreat to rest.

While home can mean many things, from family to culture to neighbourhood to church, for most of us one of the most fundamental meanings of home is our address. Whether it be a flat, a canal boat, a rented room or mortgage-free, five-bedroomed, detached house – if it is the place the postman can expect to find us and we have a key to the front door, it has the potential to be home. I say potential because you can find home without a house and you can have a house and discover it doesn't feel like home at all.

I have lived in over 20 houses in my almost-40 years of life. When I was born, my parents lived in accommodation provided by the school where my father taught. We moved for him to study for ordination, and then again for the curacy.

When I was five, our family relocated to Portugal to found A Rocha, a Christian environmental charity, moving three times before settling for eight years in a large farmhouse that was a study centre and community hub as well as our home.

Since leaving school I've lived in a concrete shell in rural Zimbabwe, a red-bricked terrace with paper-thin walls in Birmingham, a huge wooden house with a sofa on the front porch in Vancouver, Canada and a gorgeous, yellow stone villa in the South of France. There have been houses I've loved and houses I've felt trapped in, houses that fitted me like a second skin and houses that I apologised for as I welcomed people at the front door.

The house I am fortunate enough to call home at the moment comes with my husband's job as an associate vicar. It has a wood-burning stove, a light and spacious kitchen, high ceilings and a garden with an apple tree. It is not too big and not too small, and I love it with all my heart. I know we won't be here forever, but for as long as we are here it is home.

Over the years I've thought a lot about how to make home in the places I've lived. Here are some of my gleanings:

Cultivate contentment
In the 2011 documentary Happy, a rickshaw puller in an Indian slum visibly glows with pride as he describes his home, a wooden platform with a flimsy room. "There are no walls," he says, "so there is a cooling breeze all through the night."

Paul wrote in Philippians, "I have learned to be content whatever the circumstances. I know what it is to be in need, and I know what it is to have plenty. I have learned the secret of being content in any and every situation" (4:11,12). One of the fastest routes to contentment is gratitude, and there is always something to be grateful for, even if it is as basic as clean running water and a lockable door.

When we first moved to Gerrards Cross, where my husband Shawn was a youth pastor, I was thrilled with our house. Our previous home had been underground, a basement suite in Vancouver and the move above the surface of the earth was altogether delightful. However, I have to confess that after a few years living in one of the most privileged areas of the country, some self-pity began to creep in. I started to think it was rather hard for me to manage without a playroom or an en-suite. I envied the plush carpets, utility rooms and back gardens of my friends. And the more I let myself criticise our more than adequate housing, the less it felt like home.

Be a good steward
Whether you have a mortgage or a tenancy agreement, taking good care of your place is a good way to make it home, as well as being one of the ways we can honour God (see Colossians 3:23). This might be as simple as keeping things clean and tidy, or it may involve a bigger investment of time and money – perhaps cleaning the gutters, scrubbing the grout from between the bathroom tiles, or replacing rotting window frames. God gave Adam and Eve the job of cultivating the earth: delegated responsibility for what was ultimately his creation. We don't need technical ownership of our house to live in it respectfully and well.

Aesthetics matter!
God delights in beauty and has made a universe that glorifies him in its sheer gorgeousness: "The heavens declare the glory of God; the skies proclaim the work of his hands" (Psalm 19:1). We are made in his image and part of what that means is we are created to be beauty-makers and appreciators. One of the ways I have turned houses into homes is by putting pictures on the walls, ornaments on shelves, cushions and throws over sofas, plants and lamps in corners – pleasing, meaningful objects everywhere that make me happy when I see them.

My friend Sophie, a fellow vicar's wife, is a master at making superficially awful houses feel like warm, inviting homes on a tight budget. She finds furniture on its last legs and gives it a bit of love and a coat of paint, sews cushion covers and bunting out of discarded curtains, and comes up with ingenious ways of distracting attention away from tasteless fittings.

Indulge in creature comforts
In my early twenties I spent a year sharing a room with someone I'd not met before. The room had no furniture apart from some bunk beds and the wooden floor was dusty and bare. It was pretty bleak, but I was determined to make it work. Although I had very little money (too little for a room to myself), I invested in a pretty rug and a side light. Somewhere warm for my toes to land as I emerged into the chilly air each morning made all the difference.

Each of us will have different ideas of how to be comfortable. My husband needs his own armchair to feel at home. My friend Rachel needs to keep things toasty. My grandmother needed her environment to be clean and ordered. A house where you feel comfortable stands a good chance of being a house where you feel at home.

People are the heart of the home
Whether we live on our own, with just one other, or in a beehive of multiple residents, it is often the people who come in and out of our space who make us feel at home. One of the best ways to create a home out of a house is to invite others into it, to make them welcome and to make memories together within the four walls.

Put down roots
We will never feel truly at home in our houses if we still think of the last place we lived as home, or the place before that, or the house where we grew up, or our parents' house. My friend Fi's story is a poignant reminder of the need to let go of our attachment when we move on: "I grew up in the same house and didn't move out until I got married, so that house felt well and truly like home.

"When I was in my mid-teens, mum died of cancer. Three years later I got married and, shortly after, dad remarried. I had a new husband and a new house, but I still saw my parents' house as my home and I couldn't bear seeing things change or being moved about. I became wildly possessive. I remember a physical sense of relief the day they sold the house and moved on. Suddenly, I felt able to leave the past and fully immerse myself in making my new home with Tim, filling it with our own memories." Our houses won't be homes unless we put our roots down there.
But is it right to love our homes?
This is a topic I consider in my book. As Christians living in hope of a permanent heavenly home, is it right for us to find security in bricks and mortar? Can we love Jesus, who had nowhere to lay his head and asked his first friends to come with him on an itinerant adventure, and also love our comfortable, well-appointed semi?

I believe the Christian life is rarely a matter of excavating a solid principle and sticking by it. Yes, Jesus did tell the rich young ruler to sell all he had and follow him (Mark 10:21), but he also enjoyed staying with his friends Mary, Martha and Lazarus, and he seemed to have no issues with their status as home owners. Yes, Jesus did call people to radical sacrifice and obedience, but he also feasted and celebrated and turned water into wine.

When God made his human creations, he gave them each other and he put them in a garden-home. He didn't say, "I am all the home you need". We don't need to choose between loving God and loving our physical surroundings. We can and we must do both.

That being said, as Christians we are part of God's kingdom, a kingdom with priorities and values sometimes at odds with the prevailing culture. In wealthy nations like ours there is something of an obsession with property. Magazines and endless television programmes keep us all up to date on interior design lest we should be tempted to stop tinkering (a disaster for the DIY industry), and people stretch themselves to financial breaking point for a rung on the infamous ladder.

According to the website interiordesign.net, "as modern life gets busier and more pressured, our homes have become our sanctuaries. Centred around simplicity, serenity and seamlessness, the interior reflects our need to switch off and detox." Christians seek sanctuary and peace in Christ. And we know our treasure is somewhere safe from a popped housing bubble, repossession or flood.

I recently received the following e-mail from a friend: "Dear Jo, sorry for the delayed response – we had a house fire so life has been a bit disrupted. All OK though fortunately! It was awful, but God has been amazing and put people there to help us at just the right time. No one was hurt but we do have to move out of our house for a few months. Never mind: we are thankful for having a rented house."

To me, this perfectly captures a right perspective on housing. Yes, it is important and our houses are often the place we feel most at home. But we have a more secure, permanent and valuable home in God's love.

+ Jo Swinney is an author, speaker and the editor of Preach magazine.
Her latest book, Home: the quest to belong ISBN 978 1473 648654 (Hodder & Stoughton) is out June 2017