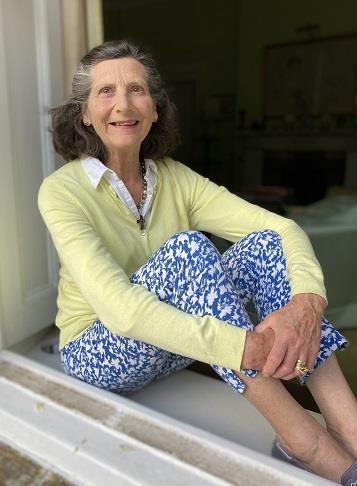 I was born in May 1945. I was six weeks premature and only weighed four pounds. My father was still away fighting as the Second World War was not yet over, so my mother and I were taken by rickety ambulance from Royston, in Hertfordshire, to the Isle of Wight, where my grandparents lived.
I have an older sister, April, and another sister, Lizzie, five years younger than me. My father was an officer in the Royal Engineers and very clever, as were both my sisters, but I had dyslexia, which held me back.
I hated school because of the dyslexia.
I have always had memory problems as a result of it. I remember my whole class having to learn a poem: every other girl got it, but I could only just about remember the first line!
I left school at 16, as soon as I could, and had no idea of what I wanted to do in life. My options seemed very limited as I didn't feel very clever. I was also painfully shy and insecure, so I found social situations quite difficult. I did a cordon bleu cookery course at Tante Marie in Woking, and then I went to the Lucie Clayton Modelling School in Knightsbridge. I went for a few modelling jobs, but I wasn't serious about it. Jean Shrimpton was the top model of the time – she had long blonde hair, so I was a very different look. Despite pursuing modelling for a short period, I never had confidence in my looks, or thought I was particularly pretty.
Growing up I called myself a Christian and would say I was 'Church of England' on forms, but I didn't know if God really existed.
In fact, when I was in my early 20s, I remember walking home from work one day, thinking: "What's the point of praying? My prayers never get answered." So I decided not to pray anymore. But God is so gracious and, although I turned my back on him, he didn't turn his back on me.
I was living in Fulham, London, but I was fairly miserable. I wasn't enjoying life very much. My self-esteem was so low. I remember walking down the road one day thinking: "I don't want to have any children, because I don't want them to be like me." I realised later that not wanting children was more about my own feelings of failure, because I didn't want to give birth to children who were failures too.
I met my future husband, Johnny, when I was about 24.
He used to own a house in Sardinia with friends, and my best friend Lu and I were employed to go out as cooks one summer. He talked about God all the time, like he really believed he was real. I knew Johnny was an intelligent man, so I began to wonder about God again. Johnny told me about a Stewards' Trust prayer group in London, which I then went to weekly. When I went home to my parents, I took myself off to a church in Camberley. I can't remember getting anything out of those services, but I was seeking God. It was a very slow process, but bit by bit I began to realise that Jesus was real, he loved me and died for me, and I gave my life to him.
I was 29 when we got married, but God had spoken to me about Johnny in the years between.
For most of that time it looked very unlikely that we would ever get married! But, one of the first times I heard God speak to me, he told me I was going to marry Johnny. I was working in London at the time, and went home to my parents' for the weekend. I was lying in bed, tossing and turning because I was unhappy about life. I had a job I didn't enjoy and, to be honest, I didn't like living in London. I was feeling really anxious about my future. Suddenly, I got this amazing sense of peace, and I felt God say I was going to marry Johnny Wright. I had known him for a few years at that point, but we were never in a serious relationship. There was no voice, no thunder; just a deep knowledge, a gift of faith, and it kept me going.
God continued to give me little encouragements, as the relationship didn't seem to be going anywhere. We went on holiday with some friends, fishing in Iceland. There were no fish, so Johnny was really upset about it and was not being very nice. I went for walk behind the farmhouse where we were staying. There was a stream with a little waterfall on a hill. I said to the Lord: "If I am going to marry Johnny, please stop the waterfall." And he stopped it!
It was as if a piece of glass was put in front of the water; I could see the water at the top, and the water at the bottom, but the waterfall had stopped. I was in such a state about it that I asked the Lord to do it a second time, and he did!
Back in London, circumstances hadn't really changed, and I was feeling discouraged again. I was coming home from work on the bus, and the route passed a church that was always dark and locked. So I said: "OK Lord, please put all the lights on in that church if you want me to marry Johnny." I came round the corner in the bus, and the church was completely lit up. That was the only time I had seen it with lights on.
God's word proved true, and Johnny proposed.
People sometimes marvel at the clear signs I had, but I often say, if you get them, it is because you are going to need them!
God gave the Israelites dramatic signs when they came out of Egypt – a pillar of fire by night and a pillar of smoke by day. They needed those signs as they were about to face even more tests.
I believe God gave me the signs so I knew without a shadow of a doubt that I was supposed to be married to Johnny. We had many difficult years, living off very little money, Johnny got cancer twice, and then, from 1990 to 1992, my husband was on trial. We knew he was innocent, and believed God was about to do something wonderful through the whole process, but it was trial by jury, and the jury decided he must be guilty, even though there was no evidence. He was sentenced to six months in prison. It was devastating, but God kept me in a cocoon of peace the whole time. While Johnny was in prison our home was robbed, and that was scary, but again, God protected us. It was in the toughest time that he showed me he really is a very present help in times of trouble.
Of course back then it was the done thing to have children and when I had my first child I felt truly content and fulfilled for the first time in my life.
I found I was quite good at being a mother, after being not that good in all the other jobs I had! We had Francis, Jemimah and David, but then I discovered I was pregnant again, even though we were not trying.
I told Johnny at breakfast that I thought I was expecting another baby. We went into the little room in our house that we use as a chapel, and we prayed. God said: "You are going to have twins!" It was a bit of a shock. When I was at the doctors, they said there was something wrong with the pregnancy because I was too big for my dates. But when I had the scan, they saw two little heartbeats, and James and John were born safely without complications. I was constantly exhausted when all the children were little, but they have been my greatest joy. I have felt that being a mother was my calling, and I gave myself to it wholeheartedly.
Twenty years ago, I decided I wanted to help my memory, and ward off anything like Alzheimer's.
I also wanted to know more of the word of God. So I starting memorising scripture. I have memorised 1 and 2 Thessalonians, Jude, over 70 psalms and specific verses referring to faith and healing. I declare the healing verses daily over my husband as he is currently suffering from prostate cancer.
I have always been shy and reticent, and a bit insecure with a low self-image, which I think a lot of women have.
So I think I have sometimes appeared unfriendly, which isn't how I am. I have learned that if you are smiley, friendly and encouraging, it changes an atmosphere. I have also learned the importance of living each day as if it could be your last, and to stay in communion with the Holy Spirit. That means keeping short accounts, forgiving quickly and not taking offence – which is easier said than done!
This is the first in a series of Life Lessons. Enjoyed it? Let us know emailing womanalive@premier.org.uk or via our social media channels (@WomanAliveUK)