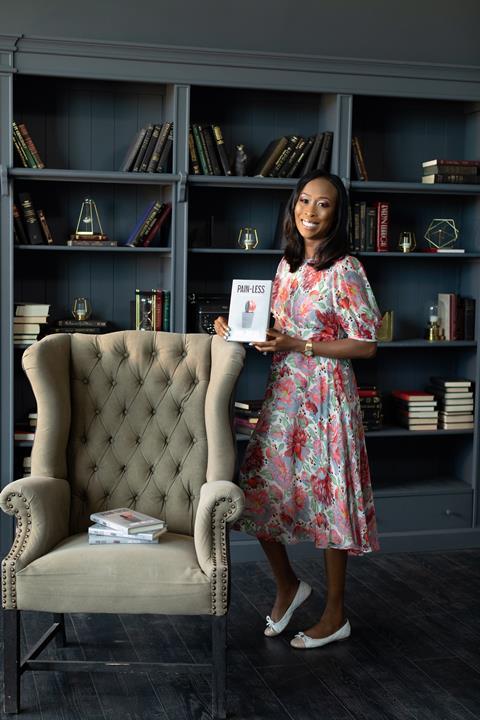 It was the middle of the night when Anne Welsh woke up to a terrifying yet familiar pain. "It's hard to explain to anyone who has never suffered a sickle cell crisis just how agonising it is. Imagine being hit with a hammer over and over again until pain swamps your whole body and you literally can't breathe. It's so bad it feels like you're dying and you don't even care as at least then the pain will stop."
Beautifully dressed and immaculately made up, Anne appears radiant and exudes confidence. Few would guess she's spent her whole life fighting debilitating sickle cell disease (SCD), a genetic haemoglobin disorder in which red blood cells have a curved sickle shape so they carry less oxygen. These sickles can get stuck in smaller blood vessels, provoking a dangerous sickle cell crisis, which cuts off oxygen supply to vital organs and triggers extreme pain. There are currently around 15,000 SCD sufferers in the UK, while globally 300,000–500,000 SCD babies are born annually with as many as 50 per cent dying before their fifth birthday.
A mysterious illness
Anne was born in Nigeria in 1980, a precious little sister for Eric, and everything seemed fine until mysterious symptoms started to appear – swollen arms and stomach and, later, after moving to the UK, bouts of hysterical crying when Anne would roll on the floor in agony. An SCD test was ordered and came back negative, but a second test prompted by Anne's strange passion for eating foam at nursery revealed the shocking truth that Anne did indeed have the disease.
Anne's illness quickly started to dominate her life. She couldn't join in playground games or sports activities at school, making it hard to form friendships, while her frequent absences made her fall behind in lessons. "I felt different from everyone else and became more and more isolated."
The family returned to Nigeria, thinking the warmer climate would help, only to encounter fresh problems. Medical care was patchy and children with SCD were often bullied because people believed the disease was linked to witchcraft. Worst of all, Anne's beloved brother Eric died from a post-surgery infection. "I was devastated. I felt the wrong child had died and I knew other people thought so too."
However, God revealed his hand was on Anne's life when she needed urgent hospital treatment 100 kilometres away. Overwhelmed by Anne's pain and haunted by Eric's loss, Anne's father stopped driving to pray. "Oh God, I can't go all that way if Anne won't survive. Please give me a sign." Reassurance came as Anne's father was filled with the most unexpected emotion – hope – and a deep conviction that all would be well. God wanted this little girl to live.
Fighting to succeed
Anne's teenage years were turbulent. "I would rage at God, 'Why did you pick me to go through all this pain?' I couldn't understand how he could let me suffer if he truly loved me." Anne longed to be like everyone else yet social events often turned into disasters, such as the pool party where Anne was paralysed by crippling pain after just ten minutes in the pool and ended up in hospital. It was not surprising that she became severely depressed. "I felt SCD was not just depriving me of health but of my life. Every time I tried to take a step forward, I got knocked back."
Anne was convinced she was stupid as she'd got so far behind in her education, but things improved when she returned to the UK. Studying hard, she grew steadily in confidence and gained a 2:1 degree in Accounting and Finance and a Masters in Investment Management before landing a highpowered asset management job at Lehman Brothers. The pressurised world of corporate business did not intimidate her: "I was a fighter thanks to my battles with SCD. I knew I could achieve whatever I set my mind to." Anne quickly carved out her own niche, pioneering good workplace practice for ethnic minorities and people with disabilities, and later founded her own consultancy firm, Arise Consult.
Finding joy through pain
SCD crises were still frequent but Anne was learning to live her 'best life' when the pain was less, and as she realised afresh how miraculous it was that she was still alive, she sensed a growing call from God to be a voice for SCD. She became chairperson of the UK Sickle Cell Society, campaigning vigorously for better attitudes and treatments.
Anne also became a huge influencer on social media thanks to her Instagram account, where she shows that having SCD or any other chronic illness need not hold you back. "I thought I would die at 21 and never get married or have children but God blessed me with a loving supportive husband and two beautiful children."
She was less confident when she felt prompted to write a book sharing her own experience of SCD. "It was out of my comfort zone as I knew I had to be honest to connect with people, but exposing my life felt scary. I even did a half-day fast to be absolutely sure I was hearing God right. I was so relieved to get his clear go-ahead: 'You need to do this.'"
Published in June 2019 to coincide with World Sickle Cell Day, Pain-Less is warm and personal with lots of helpful advice, which she hopes will inspire others. "I used to see SCD as a curse, but it's been a source of blessing too, uniting my family in a very special way.
"When I was younger, I got so frustrated with SCD's impact on my life. I'd feel I was building a sandcastle with huge effort, only for it to be washed away. Now God has taught me to build the sandcastle, enjoy it while it's there and, if it gets knocked down, to take a deep breath and rebuild, knowing God is with me. God has used my pain to make me the person I am today, transforming me into someone who feels positive about life and sees the bigger picture of all God's blessings."
Words by Clare Blake
ANNE'S TIPS FOR COPING WITH SCD (or other chronic illness)
• Take baby steps – set achievable goals to avoid discouragement
• Love your body – eat healthy foods, get good rest and try to include some exercise each day
• Be honest about your condition – don't be scared to ask for help
• Don't let your illness dominate – look for the good in each day
• Believe God has a purpose for your life – what's yours?
• Top up your love tank – stay strong with love from God, your family and friends
Useful information for sickle cell individuals and families can be found at sicklecellsociety.org Helpline: 020 8963 7794, open Mon-Wed: 10am-5pm.
Anne Welsh is an internationally recognised author, entrepreneur and philanthropist. Her book, Pain-less: Living with pain, finding joy (SilverWood Books), is available now. Find out more about her at annewelsh.com