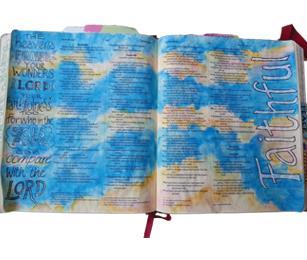 Struggling with your Bible reading? Perhaps it's time to try something new.

Excited by how her art journal was transforming both her Bible study and prayer times, Deborah Gregg is now encouraging and teaching others how to engage creatively with Scripture. She has found that her Bible art journal has given her a passion for God's Word.

Three years ago, I was going through a really tough time with some family issues. During this incredibly testing time, I just kept fixing my eyes on Jesus. To be honest, it was all I could do. I would imagine myself clinging to him, as if I had chained myself to the mast of a ship in the storm. I wasn't going anywhere without him! My prayers were short, deep and desperate. He was faithful, as he always is, and we began to gradually come through that difficult time and enter a new season.

Despite trusting in God throughout that time, it had left me feeling very empty. I was invited along to a women's gathering in Milton Keynes called Come Closer, and that evening I really felt God touched my life and brought me much closer to him, as he began a real work of healing and restoration.

The next day, I was praying, "Lord, I want this closeness to stay." I knew that I needed to read the Bible more, in order to walk closer with God, so I simply prayed an honest prayer: "Lord, I find it hard to read your Word. I always seem to do it for a while but then give up. This time, Lord, it needs to be different. Please show me how."

Then I just felt the Lord give me the words 'art journal' and I knew instantly that was the key to unlock my passion for God's Word. I went straight out and bought an A5 sketchbook for £1 and started my first journal.

I began reading the Bible – really reading, searching for his truth and listening for his voice. When a verse seemed to be special to me, I began to record it creatively in my journal, and date stamped the page. I also tucked prayers into little envelopes and stuck them in. I used pens, pencils, scrapbook papers, ripped up magazine images, watercolour and acrylic paints, stamps and stickers – whatever I had. I just had fun expressing the truth of God's Word in a creative way in my journal.

I found that I was hungry for God and his Word and looked for ways to take in his truth throughout the day. I listened to an audio Bible while getting up in the mornings and to Christian podcasts and sermons while walking the dog. I signed up to a few e-mail devotionals from Bible Gateway, and blogs by Ann Voskamp, Emily P Freeman and others, and would read their Bible-based encouragement e-mails at lunchtime. And I'd read my Bible quietly and pray. When I felt drawn to a particular verse or passage, or lyrics from a hymn or song, I'd begin to record it in my Bible art journal.

I've found this has helped me to remember key verses, and then I've been able to apply the verses to situations and in prayer, because I can recall them more easily.

Doing something creative is widely recognised as an excellent way of expressing feelings and emotions, and is fantastic for de-stressing and relaxation. Just look at the huge popularity of art therapy colouring books and Zentangle doodles at the moment. Imagine the impact of combining art with the Word of God – which is living and active – what a powerful combination! It's not just relaxing, but transformational.

What I wasn't expecting was that it would transform me in so many ways. I've found that as I've been soaking in the Word of God, I've become much more selective about how I use my time, and my choice of TV programmes, books and music has really changed. I'm far from perfect, but I feel I am living with more purpose than before and enjoying the process of living out my faith.

I thought that my Bible art journal was just a conversation between me and God, but after a few months, I felt led to share it with my friend Emma, and she asked me to share at a Come Closer women's gathering. I had never done anything quite like that before, but I stepped out and shared what I'd been learning, and a number of the women said they would like to start their own journal.

I then began to run Bible Art Journaling For Beginners workshops, mostly from my home in Milton Keynes and at my church – St Mary's C of E, Bletchley. Last summer, I had the immense privilege of hosting workshops at New Wine for over 70 people from churches across the UK. I can't tell you how exciting and encouraging it is to pass on my passion for God's Word and to help equip others as they start their own journey into Bible art journaling.

Now my friend Emma and I have set up a small business Faith Treasury (www.faithtreasury.com), where we sell a range of starter kits for those who like the idea of Bible journaling, but are not sure where to start.

There is a huge online community of Christians who love to do Bible art journaling, mostly based in the States, so I felt led to start the Bible Art Journaling UK Facebook group, to connect with others here in the UK to share God's Word and our artwork, learn tips and techniques, arrange meet-ups and workshops, and encourage one another.

Our group has grown steadily and currently has about 500 members from all across the UK and overseas, from all different backgrounds and churches. The secret privacy setting of the group gives us freedom to post pictures, questions and comments without annoying all our Facebook friends and family! I've had the privilege of meeting up with many new friends from the group in person, and we are really growing into a wonderful supportive community. The group has a shared weekly blog where many of us contribute words of encouragement, our Bible art, and generally share what is on our hearts. (http://bibleartjournalinguk.blogspot.co.uk/)

I also keep a blog about my faith art journal (https://graceandgifts.wordpress.com) in which I share photos of my journal. I like to explain more about the creative process, pass on some tips and include some devotional words about what God has been showing me through his Word. It has been a real blessing to share my heart on the blog in this way.

Looking back on my journey over the last few years, I can see a deepening and strengthening of my faith as my life has been built upon his Word. I have seen how simply seeking God from a place of brokenness and emptiness, and being open and willing to follow his leading has brought transformation, renewal, joy and opportunities that are far beyond anything I could ever have imagined. Ephesians 3:20–21 really resonates with me: "Now to him who is able to do immeasurably more than all we ask or imagine, according to his power which is at work in us, to him be glory in the church and in Christ Jesus throughout all generations for ever and ever! Amen."
Interested in starting your own Bible art journal?
Buy a cheap sketchbook, then you won't be worried about making mistakes and will feel free to just go for it!

For a 'mixed media' Bible art journal, you can use whatever you have and whatever you like! Coloured pens, pencils, scrapbook papers, stickers, material scraps, threads and yarn, stamps and ink pads, paints and glitter pens. Borrow from your children and grandchildren!

Experiment with collage, glueing in images from ripped up magazines and brochures that fit with a verse you want to illustrate.

If you are stuck with a blank page – just pick a colour and cover the background with that colour, or perhaps stripes, then add your words on top.

Feel free 'to cheat' – use the internet to search for images to print and stick in, or to trace. You can also type verses out in a lovely font to print and stick into your journal.

Check out Pinterest, YouTube and blogs online for art journaling and hand lettering tutorials to learn some new techniques.

Put the date on each page – it will serve as a reminder to you of what God has been showing you from his Word at that time.

Get together and journal with a few friends or with your children, grandchildren or church groups! It's great for people of all ages and abilities.

Consider trying a Journaling Bible. These are specially published Bibles with a margin down the side which can be used for writing notes or creating art. Read online reviews and choose a translation and style that works for you. You may find you need some different art products (such as clear gesso) and techniques as the pages are very thin! Check out Rebekah R Jones online for her excellent tutorials www.rebekahrjones.com

For Journaling Bibles, try a test page in the preface or back of the Bible, to try out some of your art supplies before you start.

Contact me at deborah@faithtreasury.com to ask to join the Bible Art Journaling UK Facebook group, or to find out more about Bible art journaling and workshops.