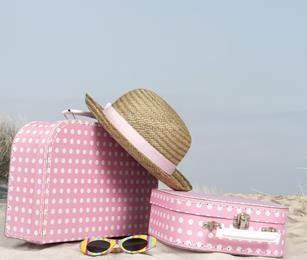 If you've spent the holiday season at home because you can't face planning a holiday on your own and have no one to go with, you're not alone. So, could it all be different next year? Sue Williams searches out some answers
I dread school breaking up," admits Val, a teacher. "All my regular activities are on hold and everyone I know seems to disappear off to fabulous locations. I'm wracked with envy when my friends come home, all tanned and relaxed, after their fortnight away. Last year, I'm embarrassed to say I told people I'd deliberately chosen a staycation because I was looking forward to redecorating my flat. Yet while I resent not having a proper holiday, I also feel selfish for wanting one."

The older you are – particularly if you arrive at singleness through separation, divorce or bereavement – the less likely you are to have a peer group available to go on holiday with. So, what do you do? All too often, it comes down to muddling through, making do with second-best possibilities. The whole issue can seem so complicated and fraught, you could be forgiven for abandoning the idea altogether. Holidays – who needs 'em?

"You do!" insists Jo, a counsellor from London. "Rest isn't optional, it's essential. God's very keen on holidays; after all, what did he create on day seven? A day off! The Bible is full of pauses which God embedded in the faith calendar. Some – like the Feast of Tabernacles – sound rather like modern Christian conventions. It's a key spiritual principle to take time out from the everyday bustle to unwind and talk to God, and one which Jesus prioritised.

"Research proves that everyone benefits from having short-term, mid-term and long-term goals. Holidays make a perfect mid-term project; we enjoy planning them, we relish the anticipation before we go, and once we're back they provide a fund of happy memories."

Lauren, who was widowed at 27, agrees. "I couldn't face thinking about holidays without Ben, but it was bleak having no highlight in my diary to look forward to," she says. "I went to a few Christian festivals after he died, but although I enjoyed them, somehow they never felt like proper holidays. What I desperately missed was the sort of travelling I'd shared with Ben – exploring different places, trying new things, making my own choices ... I didn't see how, as a single, I could ever access that again."

So, is it possible? And if so – where do you start looking?
First stop – your church noticeboard

Chrissy and husband Mike's church contains a sizeable percentage of singles and always offers a range of holiday choices. The default choice for many members – especially one-parent families – is their popular summer camp, with its unique blend of fellowship, spiritual input and break from routine. "We also run trips to festivals, promote opportunities for short-term mission and publicise retreats for those preferring peace and quiet," she says. "And this year, we're teaming up with another local congregation to organise a package tour of Bible lands."

However, not all churches do this. What if there's nothing happening where you worship? "Ask around," Chrissy recommends. "Check the newsletter. Ask the deacons. Talk to friends from other congregations – maybe another local fellowship is running a trip you'd enjoy. But remember – it only takes one proactive person to initiate something. Maybe God's giving you a nudge! You could be surprised how many other people will be absolutely delighted that somebody's got the ball rolling!"
Getting the essentials right

Every successful holiday needs planning, and the first step is identifying what you actually want. "Prayerfully imagine what your perfect vacation would look like," Jo recommends. "Take your personality into account – are you gregarious and energised by company? Or do you crave space and solitude? Do you love the buzz of a city or are you revitalised by beautiful scenery? Is there a hobby or sport you've always longed to try, or is doing absolutely nothing what really appeals?"

For Lauren, the key motivator was spiritual. "I'd begun to feel a strong urge to rediscover the real me. At church, lovely though everyone was, I was always 'the young widow' – I wanted to go somewhere nobody knew me or my history, where I could simply open up and be myself."

A crucial factor that's often overlooked in planning is the level of company you're comfortable with ... and this can be tricky to get right.

"Most of us would prefer some level of holiday companionship, but ideally we'd like it on our own terms," Jo says. "Few of us are at ease going it alone – it takes determination and can be lonely, and women travelling solo undoubtedly risk attracting unwelcome attention. Yet group holidays aren't always the answer either. Close fellowship is a wonderful thing, but it can be overwhelmingly isolating to discover you're the only unattached person in a sea of kids and couples."

However, identifying what you want is one thing – finding someone to go with quite another. So, how did Kate, Moira and Janet resolve that problem?
The travelling companion

Holidaying solo isn't only a challenge for the unmarried. When their three lively sons were teenagers, Kate and husband Pete went on a few family cycling holidays. One problem – she loved it; he didn't. With kids now grown and flown, Kate had resigned herself to never going again until she met divorcée Liz at a training course. "We started chatting, discovered we were both Christians and loved cycling. Liz didn't have anyone to hit the trail with either, so we decided we'd go together. Result – we're now Bike Buddies! Although we live miles apart, we've paired up for a cycling tour for the past four summers. My advice? Stay open to possibilities – God might bring along a holiday buddy when you least expect it."

Which also happened to Moira, 52. "I'm a culture-vulture. I love city breaks – walking, sightseeing, art galleries and museums. I've gone away by myself in the past, but it's much nicer to go with someone who enjoys the same things. I was delighted to unexpectedly find a travelling companion." By chance, Moira found herself sitting next to retired headmistress Esther at a charity function, and found they had lots in common despite a 15-year age difference. "We've been on several long weekends now – Madrid, Bruges and Prague," says Moira. "It's great having company – and even better avoiding single room supplements!"

So, what makes a good travelling companion? "Getting on well isn't enough," Moira stresses. "Before committing to a longer vacation, I'd recommend taking a weekend break first. It'll be fun and allow you to test the dynamics of the relationship. Be realistic about the practicalities that can make or break a holiday. Are you OK sharing a room? Do you get up and go to bed at similar times? Are your stamina levels and spending power compatible? And – crucially – does she snore?"
Flying solo

Maybe you haven't found a holiday buddy or, like Lauren, you'd rather go away with people you don't know. If so, travelling with a Christian operator offers a safe context, with the confidence of shared values and expectations. As individuals form a high proportion of the clientele of Christian holiday companies, their needs are well catered for and the range of choices surprisingly wide – embracing individual retreats, overseas tours, mission breaks, activity holidays and special-interest weeks. Advertisements in Christian publications are great places to start looking.

Janet, 37, did exactly that. Rather than face another Christmas alone, she decided to go away. She'd always been outdoorsy, so a ski holiday appealed. "It was a scary feeling – but exciting, too!" she says. "My main fear was people assuming I was on the prowl for a man. I wanted a holiday, not a week of speed-dating! But I needn't have worried. What I appreciated most was being able to talk over my concerns with the tour company before booking. I asked about the mix of people going – I didn't want to be the only over-20, or the token woman! But it was brilliant. Most of us turned out to have come on our own and everyone made friends fast. I met lots of lovely people, and will definitely go again."
Make it happen!

Planning a solo holiday is like everything when you're on your own; you have to be proactive or it simply won't happen. The prospect may feel daunting at first, but take a deep breath – and go for it. Bon Voyage!
If you're holidaying alone …

• Do some research – Christian tour operators' house-styles vary, so ask around or look at online reviews to get a feel for what they're like.

• Cultivate a positive, upbeat and independent attitude when you're away. Be friendly (but not too friendly), be prepared to mix, and avoid being clingy.

• Activity or hobby holidays are great for making friends and learning a new skill is a great leveller. There's nothing like making mistakes for fast bonding and giggles!

If you'd like a holiday buddy …

+ If there is no one in your circle that you could link up with, Sue says the 'Friends' page in Yours magazine (online at www.yours.co.uk ) often features small ads from Christian women seeking holiday companions or why not put your own small ad in Woman Alive?.