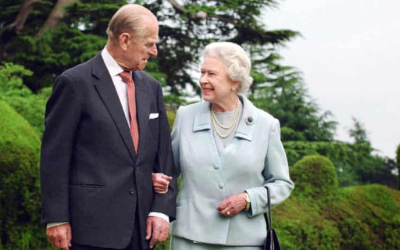 Prince Philip and Queen Elizabeth married in an era when most women had to leave work for marriage. Instead, it was Philip who had to leave his successful naval career behind when Elizabeth became Queen in 1952. For the rest of his life he had no formal role in State affairs and, in public, always walked a few steps behind his wife.
Many of the tributes made since his death on Friday, 9 April, have referred to his selfless support for the Queen and the nation. "You have to make compromises. That's life. I accepted it. I tried to make the best of it," he once said.
Dedicated service – and deep love
The sacrifices Prince Philip made as the world's most famous husband were not lost on his wife. In a speech to mark their golden wedding in 1997, the Queen said: "He has, quite simply, been my strength and stay all these years."
In his tribute to the Duke, Archbishop of Canterbury, Justin Welby, gave thanks to God "for his extraordinary life of dedicated service" and added: "He consistently put the interests of others ahead of his own and, in so doing, provided an outstanding example of Christian service."
The Archbishop also referred to the role of faith in their 73-year marriage: "Theirs was a marriage grounded in friendship and mutual respect and sustained by shared faith in Christ."
As many photographs of the couple show, there was an endearing sparkle between them. A casual glance can speak volumes. Caught off guard, the looks they exchanged suggest they enjoyed deep affection and warmth. Cameras often captured the Queen giggling at a quip from the Prince; the razor-sharp, down-to-earth wit that sometimes got him into trouble.
The Prince's faith
Unlike the Queen, who has made frequent references to her Christian faith, Prince Philip was a very private man, but the motto on his coat of arms was "God is my help". When I was on a research trip to Sandringham, working on The Servant Queen and the King She Serves, I asked if the Prince attended church when the cameras weren't watching. I was assured that he was a regular worshipper in private as well as on public occasions.
Further research, prompted by a scene in the fictional Netflix series The Crown, revealed that one of his significant achievements was to establish St George's House in the grounds of Windsor Castle to bring together influential people in business, government, society and the Church. His aim was to overcome some of the major challenges in contemporary society through dialogue, backed by prayer three times a day in St George's Chapel, the chapel in which Prince Philip's funeral will be held.
A busy royal
Although he had no official constitutional role, Prince Philip was an energetic supporter of many charities and for many years he was the busiest royal. His interests spanned scientific and technological research and development, the welfare of young people, education, conservation, the environment and the encouragement of sport.
The Duke of Edinburgh's Award scheme had a major impact on the lives of millions of young people around the world, my own daughter included. I met the Duke at the Award presentation and saw how his wit and humour quickly put people at their ease.
Serving his Queen
Prince Philip had a difficult start in life, as more of a refugee than a royal. His parents separated. He attended several different schools, and was shunted from one relative to another, finally finding stability at school in Scotland and then in the Royal Navy. His mother, Princess Alice, had a breakdown and eventually became a nun, but lived out the last two years of her life with the royal family in Buckingham Palace. In 1994 Prince Philip described her as "a person with deep religious faith", faith which she had expressed in selfless service to others – a faith her son imitated in his own life of service to Queen and country.
Catherine Butcher is communications director for HOPE Together. She co-authored (with Mark Greene) The Servant Queen and the King She Serves, which was published by HOPE Together, Bible Society and LICC.
Photograph: Fiona Hanson/AFP/Getty