Have you ever returned from a Christian conference, camp or retreat and wished you could hold on to the sense of joy or peace you experienced at it? Dr Gemma Simmonds is a sister with the Congregation of Jesus and she has written a book to help us bring retreat practices into daily life. She shared some of her own story with Premier's Maria Rodrigues.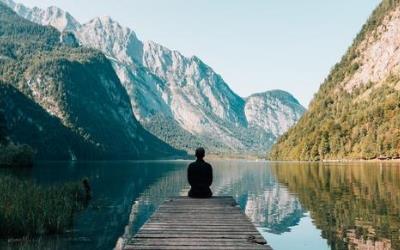 How have retreats affected you and your relationship with God?
Oh, hugely. Everyone thinks that nuns live this very peaceful, quiet life. For me, it's life in the fast lane the whole time. I live a very busy, very pressurised life. We follow the pattern of life of the Jesuit order, the rule of St Ignatius of Loyola. Ignatius was writing his rule, and his spiritual advice, for men who were on the mission, who were on the move the whole time. So there weren't going to be long hours of silence and beautiful contemplation in the dark chapel; it was aimed at contemplation on the move.
I've written this book for people who can't necessarily get away for long periods, but who really do need a bit of centring, a bit of focusing and reconnecting. It can be so easy to get a bit disconnected - when we're living such busy lives we hardly know what's going on within ourselves. So I want to remind us all that we can actually just step back occasionally. However busy your day, there can be little moments, little spaces of time, where you can just breathe, reconnect and refocus.
The idea of a DIY retreat can sound like quite an adventure, but for anyone who's unfamiliar with the term 'retreat', how is it different to perhaps just doing a prayer time with God each day?
The idea is that it's something very focused and purposeful. Usually, there would be a bit of a plan on a retreat, just to carry you along. You can get retreats for one day or two days, a week or even a whole month, which is a huge chunk of time. But however long it is for, the idea is just to just step back from things and get a bit of perspective, like Jesus did regularly. Also it takes us time to wind down, so the idea is that it helps us to do that and to enjoy quality time with God.
Have you ever tried a silent retreat?
Yes I did a month of silence, which my family and friends would, you know, fall about laughing about really, but oddly enough, the silence doesn't feel threatening. It feels very full, not only of your own thoughts and prayers, but, eventually, it becomes a very companionable silence with God. Rather, like the elderly couples you see just sitting together, not talking, but almost communicating in silence. They've said all that needs to be said, and just want to sit and be together. That's how it is with a long retreat with God. I wrote this book for people who can't go away for various reasons, to help them engage more deeply with God.
To listen to the full interview click here. Dr Gemma Simmonds book is called Dancing at the Still Point: Retreat practices for a busy life (SPCK) and is publishing on 12 July.