Melanie Gush tells her story of adventure with God: selling her family's home to move on a boat with her husband and three teenage girls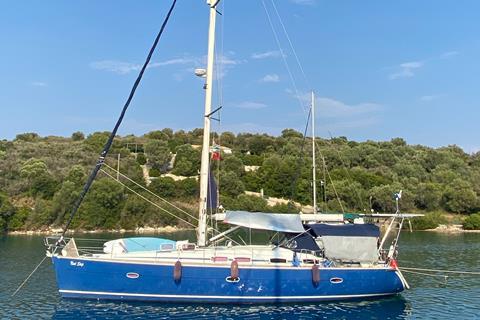 Matt and Melanie Gush had started a new Vineyard church in London, were raising three daughters and Matt was working as a finance business partner for a supermarket chain when they realised they needed a change in life.
Melanie explains: "Matt was working long hours but it just wasn't the right fit for him – definitely not a job designed for a man of adventure! In 2019 he took a sabbatical and we went back home to South Africa for six weeks. That was when we started to think about doing something different in our lives."
When Melanie asked her husband what he felt passionate about, he said he would really like to buy a boat and sail around the world. Melanie agreed that that was what they should do.
Matt's aunt and uncle had done the same thing in the early 1990s. Matt used to sail, and his aunt and uncle keep their boat in the Mediterranean so the last holiday they did as a family before COVID was to visit their boat: "We took the girls with us and they loved it."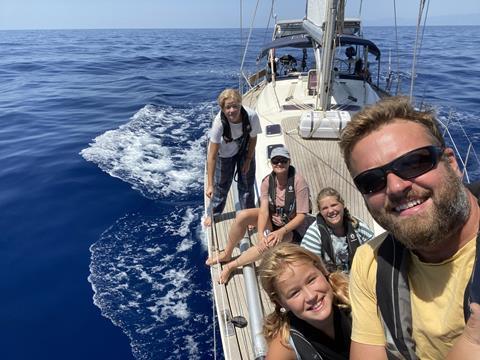 Taking the first steps
Matt and Melanie decided they had to take a step of faith and, in December 2019, Matt handed in his notice at work and they worked through handing over the leadership of the church over the next twelve months.
"Lockdown was helpful, as the kids began to learn how to do home schooling, and we started researching into buying a boat. We managed to sell our home in Carshalton quickly. We exchanged and completed in November 2020 and then had nowhere to go, so we stayed in a friend's tiny flat in Morden."
All this time they were searching for a suitable boat to buy, but it seemed impossible. "One morning, we were lying in bed, thinking and praying about it. I said to Matt: 'Maybe we should have one more look?' We looked online one more time, and there she was – our boat – a 46-foot blue yacht (I had always wanted a blue boat).
"She had all the things we needed and was in perfect condition. She was on sale for our maximum of budget, and they always say that your purchase price has to be something like 80 per cent or 70 per cent of your budget. So you can't blow your whole budget on the boat, but she was literally our whole budget.
"Despite that, I really felt we had to go for it; I knew she was our boat. The same thing happened when we bought our house. I had walked past it two years prior, and felt it was going to be our home."
The yacht owner accepted their offer and the Gushs got the keys at the end of February 2021.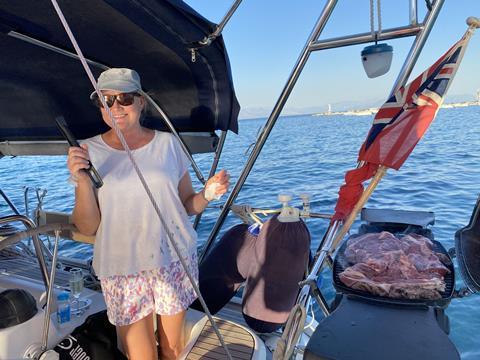 Setting sail
"On the 13 March 2021 we put her in the water in Southampton and moved on straight away. It was so exciting, but at the same time terrifying. The first week, we had snow and hail. Every now and then Matt and I would look at each other and think: 'What have we done?'
"We found ourselves an instructor who came on board with us for eight days. He was so good with the girls. We all learned how to drive the boat, dock the boat, pull the sails out and other little practical tips like saving water and battery life. The girls got their Competent Crew certificates, which they were so proud of, and Matt and I got our skipper's licence."
We left for Spain on the 8 August 2021, and the first two days were horrendous
From then on, they slowly made their way down to Falmouth, where they started preparing to cross the Bay of Biscay to Spain.
"We'd done a few overnight sails, but we'd never done days and days at sea. The Bay of Biscay is notorious for being very unpredictable, so we were quite nervous about what we might encounter.
"We spent two weeks in Falmouth in some very stormy weather preparing the boat and ourselves for the five-day crossing. We left for Spain on the 8 August 2021, and the first two days were horrendous.
"The weather was so bad. We learned a very important lesson: never leave the day after a storm. Nobody had told us that the storm unsettles the water so the waves get big after the event. It takes a day for the sea state to settle down.
"Matthew is a sailor, but gets seasick. We'd left at 4am, and he hadn't had any breakfast, so of course he started being ill. Maddi, our youngest, also started getting ill, and Charlie, the middle one, didn't know what to do, so she stayed downstairs. Bella, our eldest who's now 16, and I had to take over.
"I think I prayed constantly, 'Please, Lord, don't let us sink!'
"At one stage in the middle of the night, the boat seemed to be singing to me. It was like I was hallucinating, but I think the angels were singing to me. I thought: 'Okay, I'm not alone. God will always be with us. Our holy angels have come with us, and they're protecting the boat and keeping us going forward."
The family hit Spain right at the bottom of the Bay of Biscay and then spent the first month and a half hopping down the coast.
Settling into a new life
"Northern Spain has the most beautiful inlets and bays; you can anchor all around, and they're beautifully protected from the wind and the waves. The water was warm, and we were all very happy.
"Then we did the west coast of Portugal, towards the Algarve, which was slightly rougher as the coast is really rugged and it's quite exposed. We also heard that orcas were interacting with sail ships, taking bites out of the rudders and even sinking a couple of boats.
When we first left, England, I said to Matt: 'I've got my normal Matthew back.' It was incredible to see the change in him
"Thankfully, we never came across an orca while we were doing that coastline, but we did meet quite a few people whose boats were damaged and had to have them taken out of the water.
"Matt has now retrained as a life coach, and he got a contract with a company to write a coaching course. He was meeting the CEO of the company in Corfu in July 2022 so we did a quick journey from Tunisia to Malta, Sicily and Italy. From Italy we did in a 36-hour sail to Corfu, and then spent the rest of the summer floating about the Ionian Islands.
"Our daughters are now twelve, 14 and 16. The two older ones are doing their international GCSEs with the Oxford home learning curriculum. The younger one is key stage three, so I'm teaching her.
"When we first left England, I said to Matt: 'I've got my normal Matthew back.' It was incredible to see the change in him.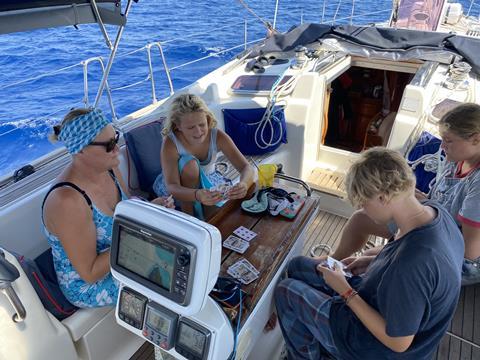 God's constant presence
"Through this experience I have learned that we're not alone. It doesn't matter where you are or what you're doing, you are never alone. God is always with you, and he will always carry you.
"When it's really rough, and we don't have enough food onboard, or we've run out of water or the gas is running out, I now pause and say: 'It's OK. I'm not alone. God has us in his hands.
"The other thing has been learning to recognise God's voice and how he speaks to each of us individually. That small whisper can be so powerful in prompting you to make decisions.
"When we were first asking God what direction to take next in life, we felt God say: 'I'm showing you the next step', which is so amazing because when we found our boat we discovered that she is called Next Step!
"Even though we've just been floating on the sea, God has still been showing us the next step and is lighting up the stones on the pathway as we're going. He hasn't given us the big picture, so we don't know how long we will be doing this. We don't know what will come tomorrow, but it's OK because he's with us all the time. We will never regret our decision to follow him on this adventure."
Follow the family's ongoing adventures at: @thegushcrew

Jemimah Wright is Deputy Editor of Woman Alive. She has authored three biographies, and most recently is the author of the historical fiction novel Isabella's Voyage.
View full Profile