Don't end up on Santa's (or God's) naughty list by buying cheap fashion items from disreputable brands this Christmas, warns marketing executive and affordable fashion fan Cynthia Ajayi.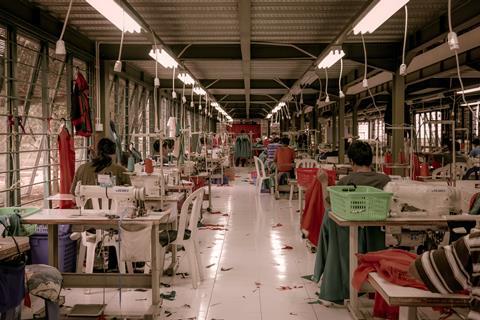 What do you think the wise men (or women) would bring as gifts if Jesus was born in 2021? A babygrow from Primark, pyjamas from Shein and a blanket from PatPat, perhaps? Sounds like an interesting list, but what do all these outlets have in common? They're all considered to be giants of fast fashion…but based on recent revelations in the news, I doubt many of the major players will be making it onto Santa's nice list.
Fast fashion is a highly profitable and often exploitative business model, with clothes mass-produced and then sold at low prices. Brands like these have been accused of all sorts – factory workers doing ridiculously long hours in unsafe conditions, piles of clothes ending up in landfill and even inappropriate advertising aimed at children. As Christians, we should be asking: who makes the clothes we wear, and in what conditions?
Small decisions matter
We are entering into the season of giving, and it is estimated that Brits spend about £750 more in December than in any other month. A significant percentage of this will be spent on clothing and footwear. The Bible says we should be in the world but not of it, so how can we remain fashionable without being swept away by the culture of throwaway fashion?
As good stewards of our finances, we should be aware of where and how our garments are produced, and make our buying decisions based on the facts. Buying from ethical and environmentally friendly brands can come with a hefty price tag, but even if we're not in a position to spend megabucks, small changes can have a big impact.
As Christians, we should be asking: who makes the clothes we wear, and in what conditions?
Less is more
Whether we're putting together a gift wish list, ordering new Christmas jumpers/pyjamas/duvet sets, or buying gifts for others, we should choose goods from companies that are doing their bit for humankind and the planet. Before buying, ask yourself: what are the values and beliefs of this brand? Is there a better choice I can make with this purchase? Can I afford to spend a little more for peace of mind? Can I buy from a small, local business?
Avoid those cheap fashion bargains and plastic toys. Go for the less is more approach and buy items that are timeless and will last. Before you go to the usual places, check out sites like ethicalbranddirectory.com or the Good On You app. Take your time when you shop and make informed decisions.
Don't forget second-hand
You can get way more than just frumpy old cardigans in charity shops these days. Some sell new clothes donated by high street stories and many sell barely worn clothes from top brands. If you prefer to buy online, there are various second-hand clothes apps to choose from. If you have to buy fast fashion, this might at least prevent other people's purchases ending up in landfill.
Another option is to host a fashion swap. Get your friends together, stick some Christmas carols on, roll out the mulled wine and have a look through your besties' wardrobes. You might just find a new favourite pair of jeans, a sparkly Christmas frock or a coat you never imagined could look so good on you!
As Christians we should buy in a way that aligns with our values.
Think twice
No one is expecting you to give up on fashion and move to a farm where you can grow your own food and make your own clothes (as appealing as that might sound!). But as Christians we should buy in a way that aligns with our values. So before you press 'buy now', think twice.

Christian fashionista Cynthia Ajayi is media and marketing executive at The Women's Organisation. She is also a freelance event host, podcaster and has her own YouTube channel, where she shares her passion for affordable fashion. Follow her on Twitter and Instagram @Cynthersizer.
View full Profile