Oven gloves at the ready… we're making a Platinum jubilee pudding! And it's just the kind of wholesome fun writer Lauren Windle loves.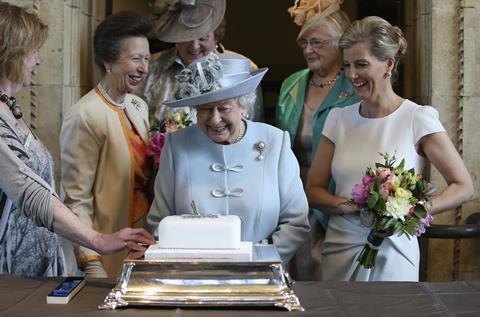 It's the royal summons we didn't know we needed but yesterday's announcement that the Queen is looking for the perfect pudding for her Platinum jubilee got me (and my oven) all fired up. What a wonderfully fun way to mark the monarch's milestone, and ideal for the whole family.
If you possibly can, why not get involved and see if you can create a dessert with the longevity of 1953's coronation chicken? The competition will be hosted by fancy food shop Fortnum and Masons and they roped in baking royalty to judge the creations including Mary Berry, Masterchef's Monica Galetti and the Queen's own head chef Mark Flanagan.
Flanagan offered a bit of advice for those who are attempting to steal the royal heart and stomach. He suggested that you keep it simple, opt for 'subtle and elegant' rather than 'fussy and overcomplicated' – which is probably great advice for life too.
So, what will you go for? How about an Elizabeth Sponge? The classic Victoria Sponge but with a modern twist? Or why not make Eliza-beef mince pies with the original meaty mince? Maybe a Dubonnet drizzle after her favourite tipple? Or perhaps a honey cake shaped as a Queen Bee? Alright, I'll stop.
Allow your kids to dream up flavour combinations, draw out designs and come up with quirky names for their creations. The excitement of entering the competition coupled with the sugar high from licking the mixing spoon would have been enough to make eight-year-old me burst. Not only has the Queen offered us the potential of a new pudding that we can all enjoy for years to come but, more importantly, she invited us all to take part in a family-friendly activity.
I'm marking 2022 as the year of achieving, creating and enjoying in a wholesome way. The way I truly believe God designed us derive pleasure and fulfilment in our lives. And I'm starting by baking the Queen a cake. Who's with me?
You need to get your entries in before February 4 and anyone over the age of eight can apply, although I'm sure you could collaborate with younger bakers and apply on their behalf.

Lauren Windle is a journalist, author and presenter who focuses on faith, recovery and love. Her debut non-fiction book Notes On Love: Being Single and Dating in a Marriage Obsessed Church (SPCK) is out now.
View full Profile